All who know the two of us know that we have an ongoing love affair with the ocean. The salty air seems to breathe romance, and the sunlight along the coast has a magical element like no other. When the inspiration came for a vintage inspired elopement session along the Carolina coast, it just seemed natural to ask the lovely Natasha and her husband Seth (who already live near the beach) to work with us on this inspiration. They've been married for almost two years now, and are so cute and in love together- perfectly fitting for the story we wanted to tell of a yesteryear couple.
It was supposed to be a big affair. Her parents had lavishly planned every detail of this glamorous southern wedding and invited the largest crowd that Wilmington had seen in quite some time. But at the heart of these lovebirds, they were wanderers, nomads in love with each other and a little tired of all of the wedding planning and enormous amount of money that was being spent on the wedding details of what had started out as a very simple love. They were just a boy and girl who had fallen in love out of high school, and spent the last few years carelessly kicking up sand along the seashore … snuggling together under a blanket under summer stars while the cool air whispered through the oat grass. 
"Let's just run away and get married", she whispered to him. 
It was something that had crossed their minds many times. They were so ready to just start their new life together, and sometimes it felt like all of the wedding planning just complicated, well – love itself. Their love was simple, and quiet, and filled with lots of intimate moments where the only noise was the rustling of the wind through the live oak trees at Carolina Beach.
On a spontaneous whim, and just a few weeks before the wedding, they decided to run away with the one thing that they both held dearest in life .. each other …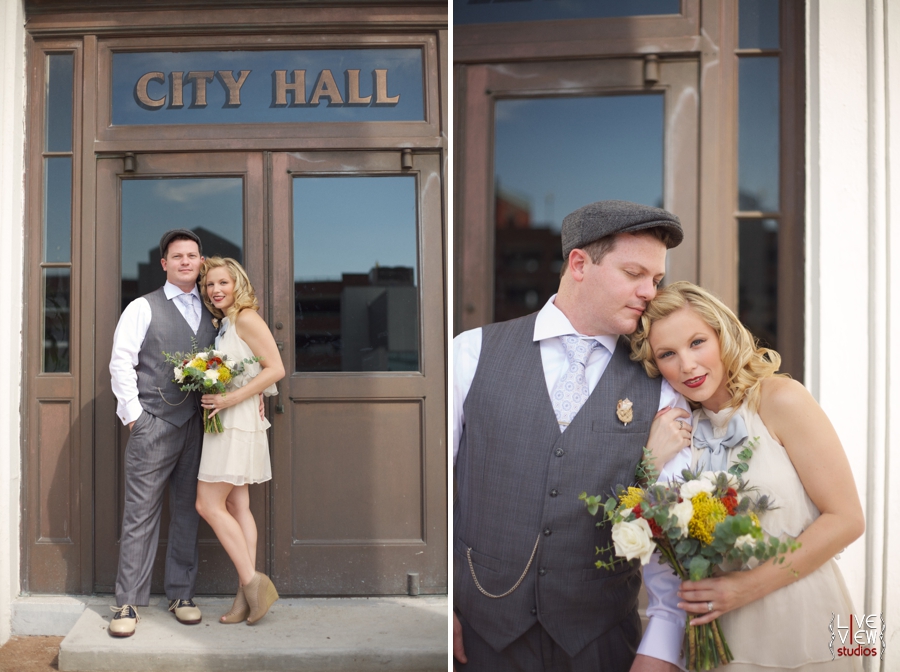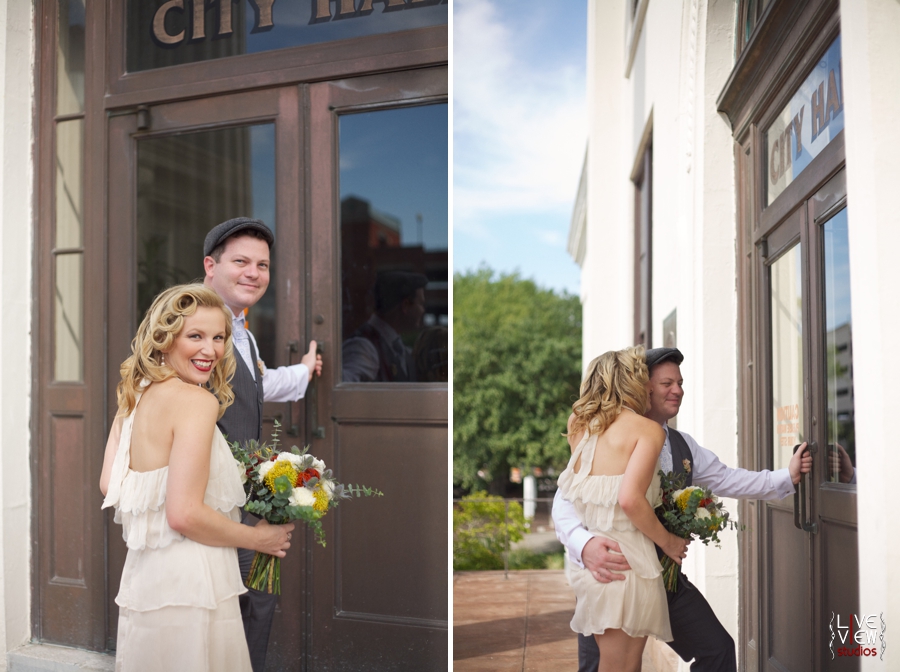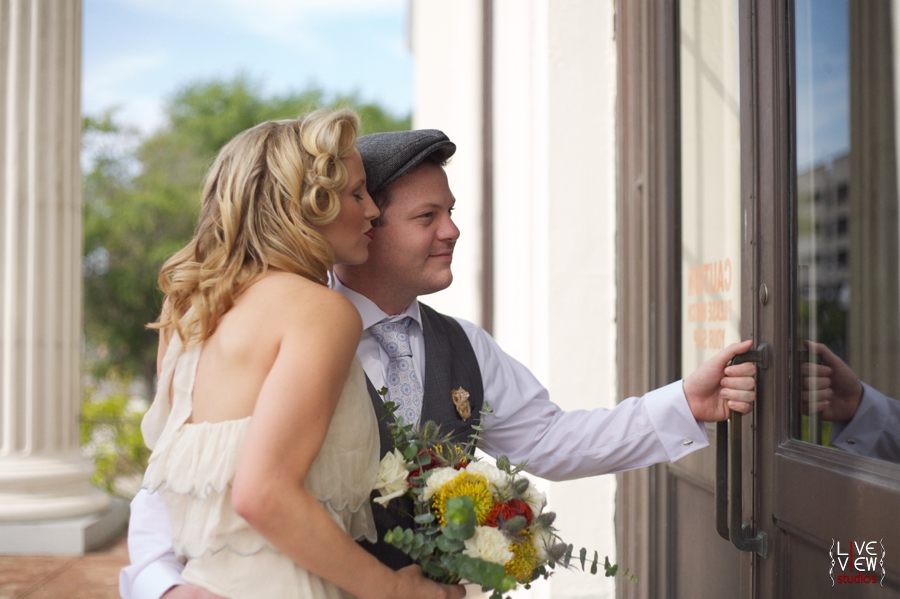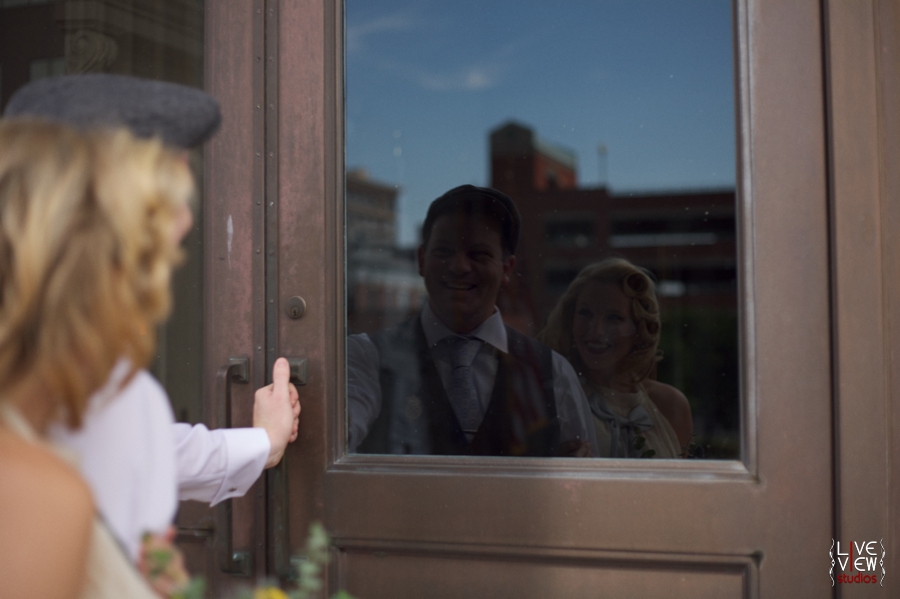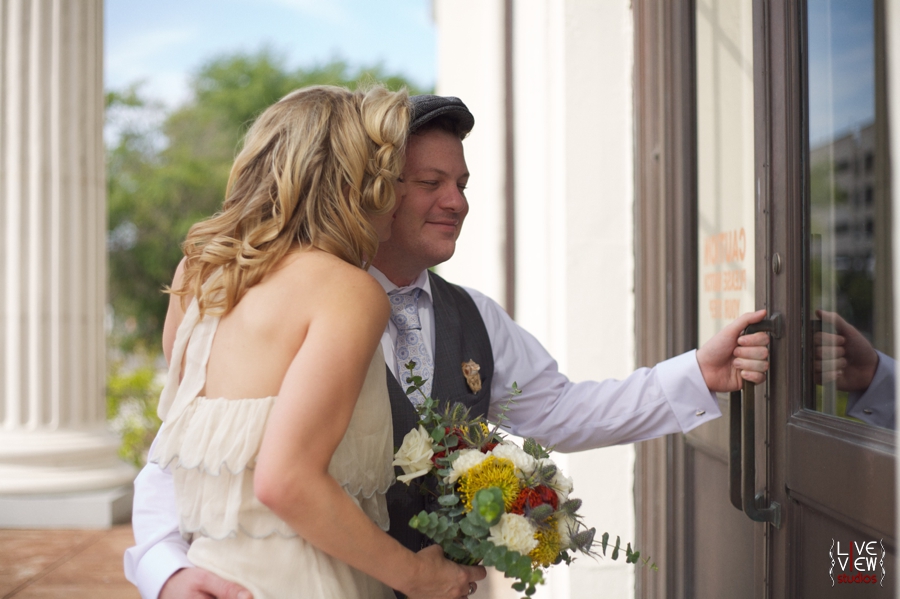 A quick trip to the courthouse made it all official …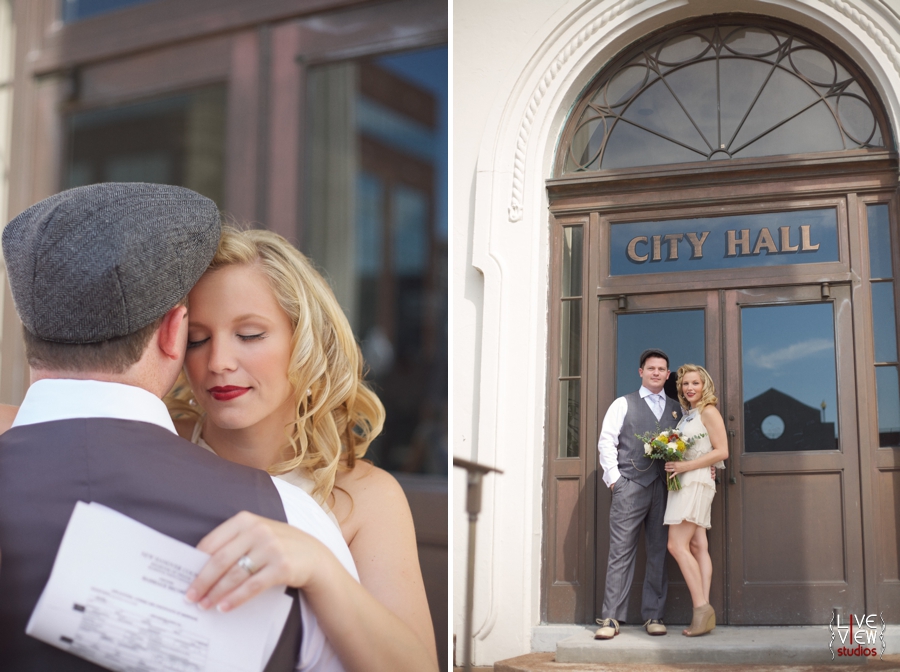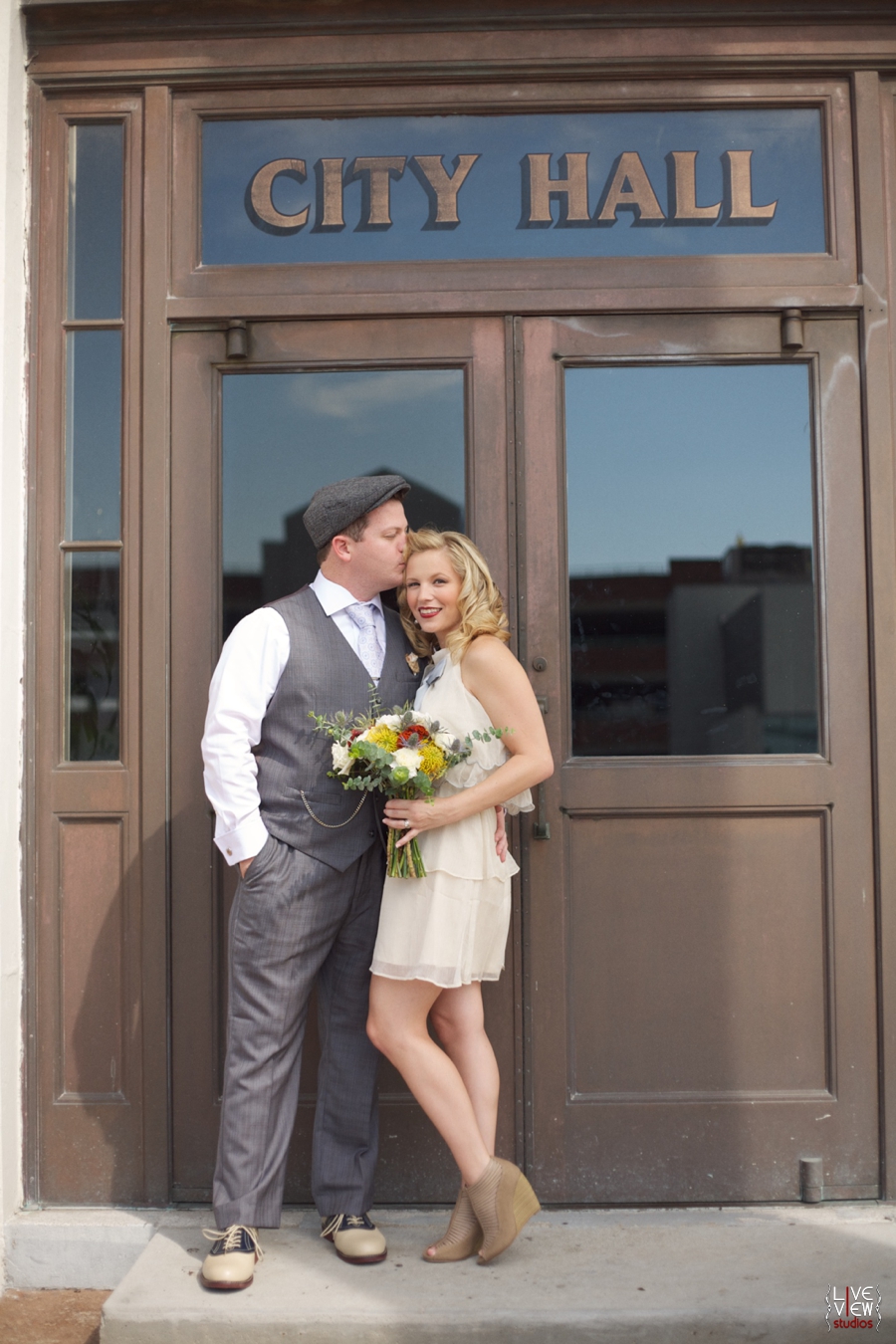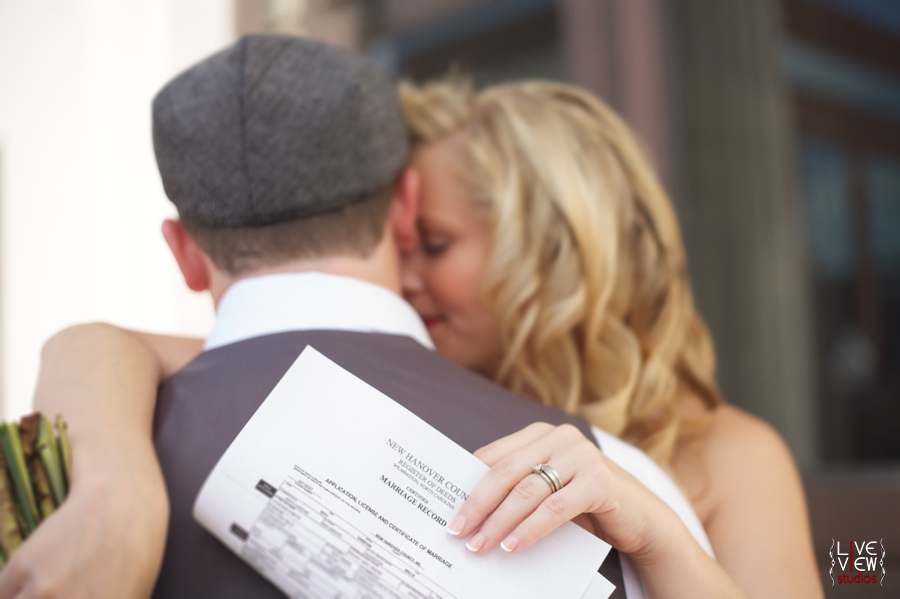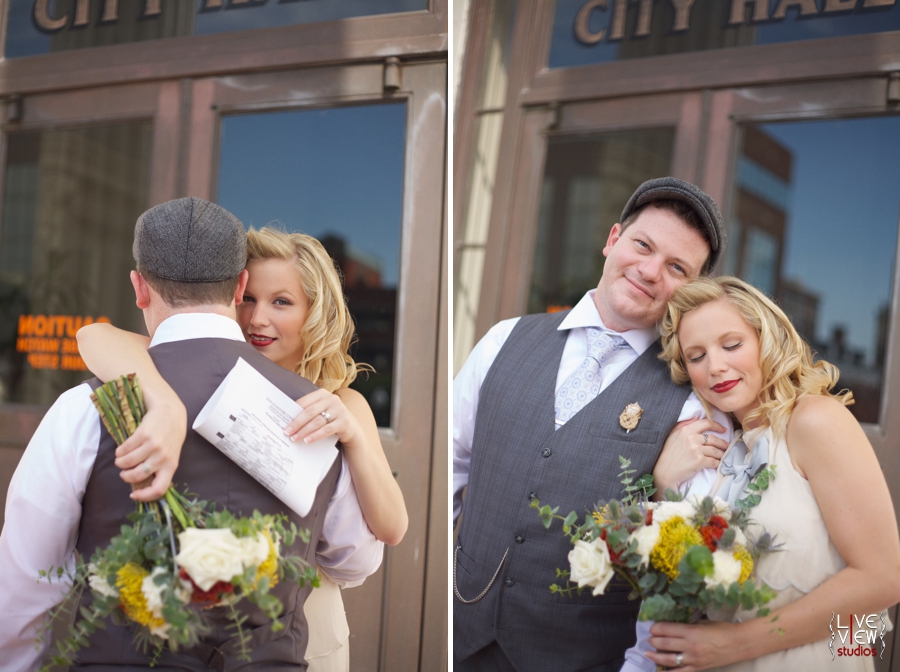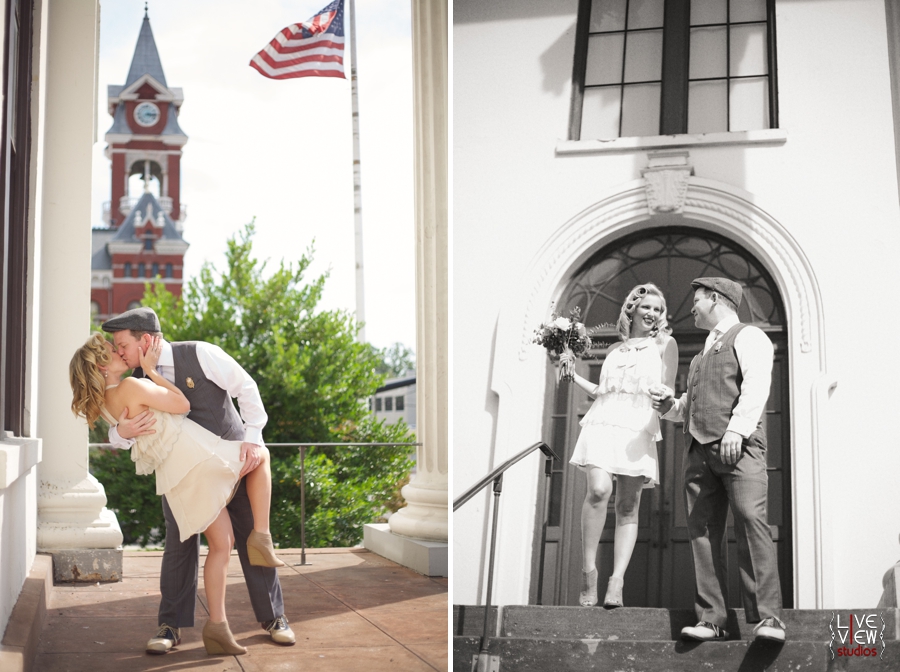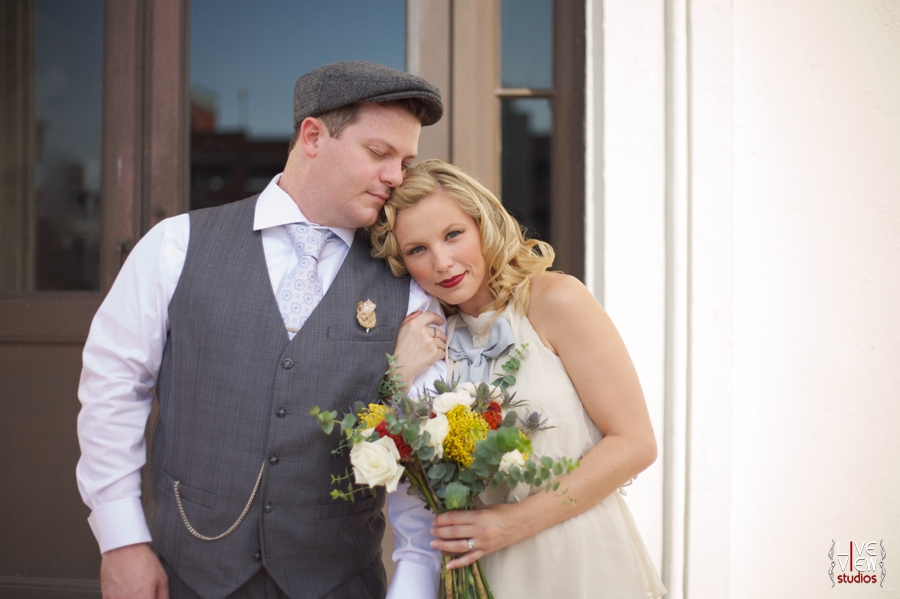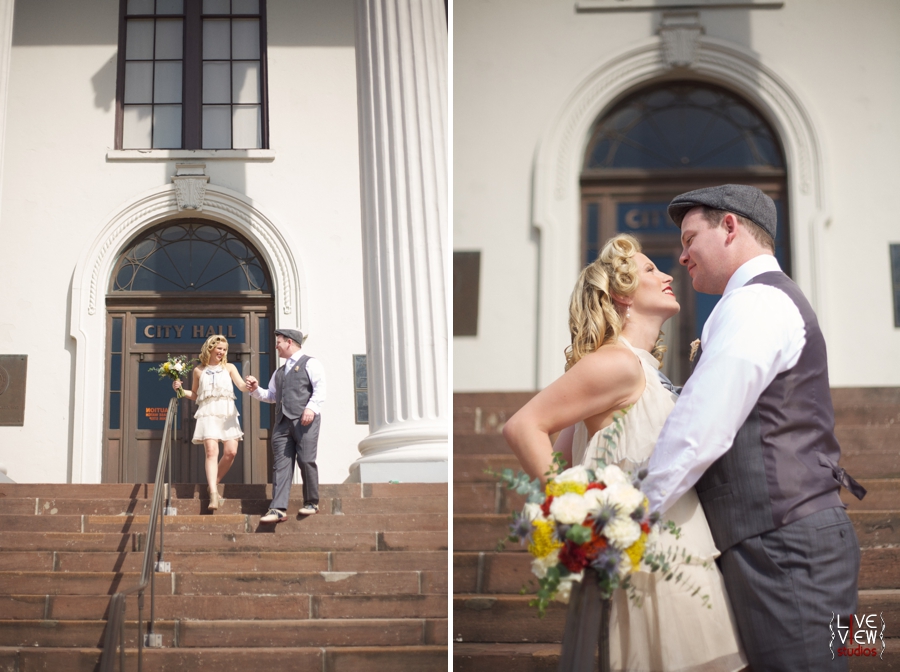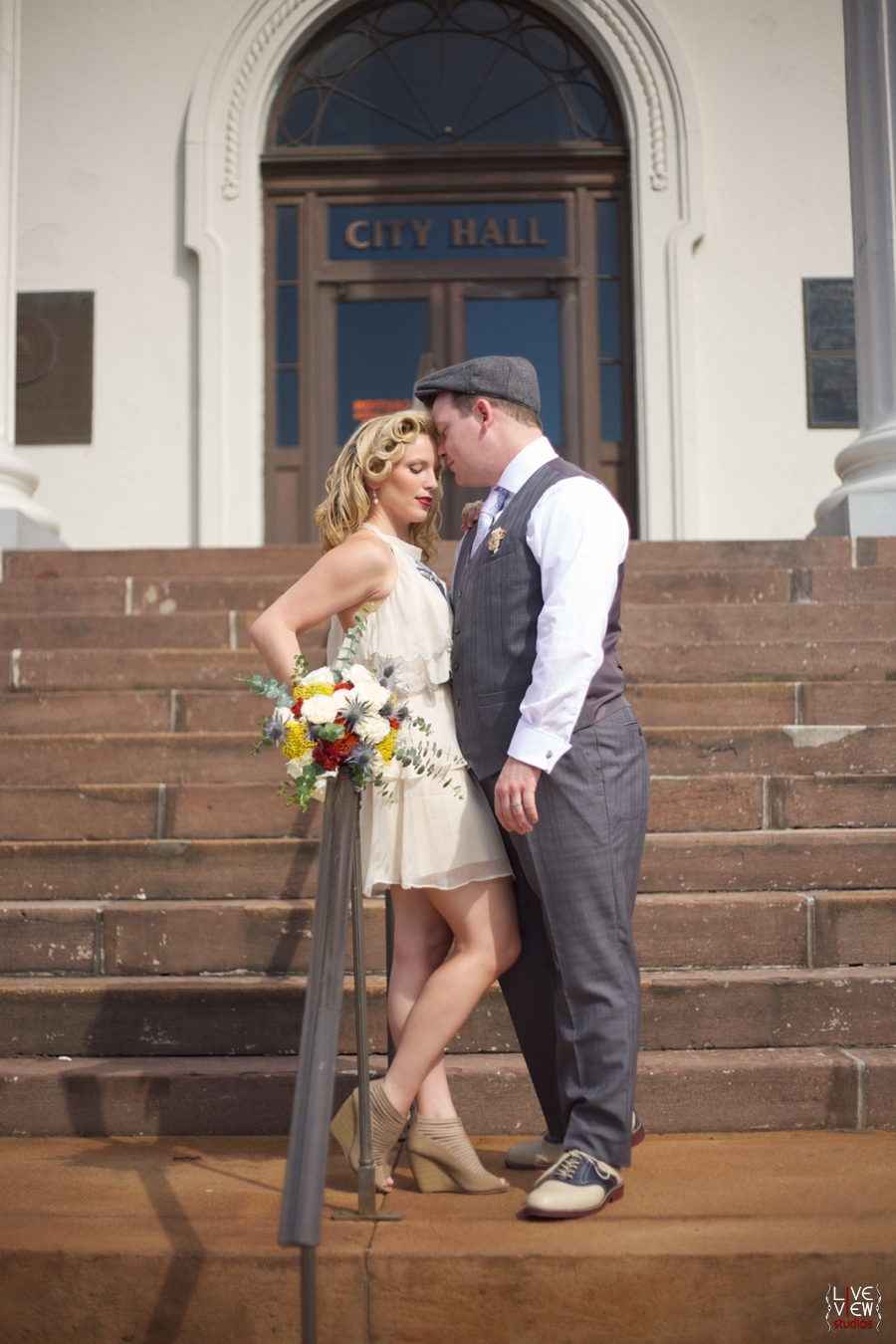 Natasha and Seth, you two just have such natural chemistry with each other! xoxo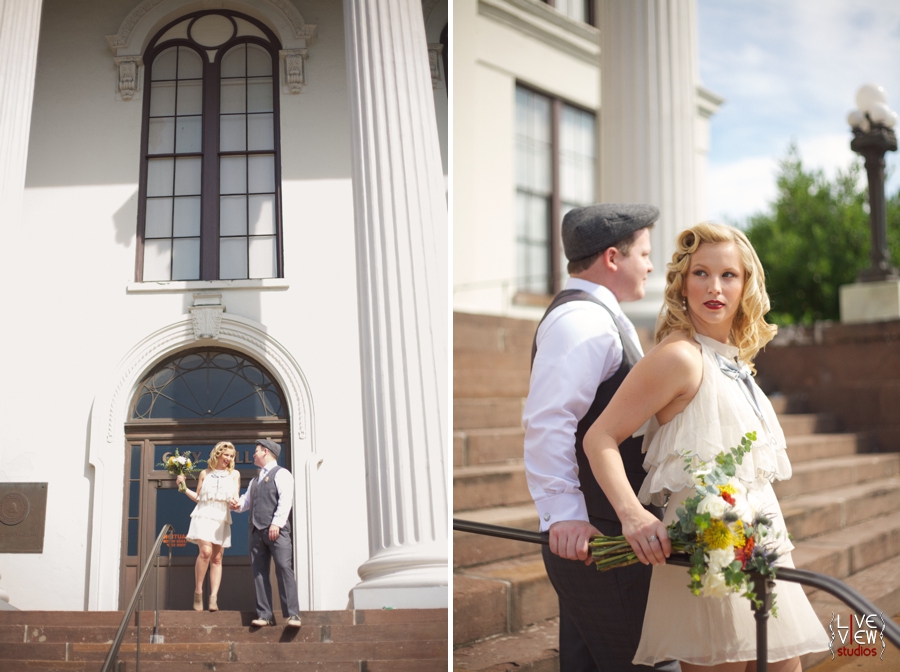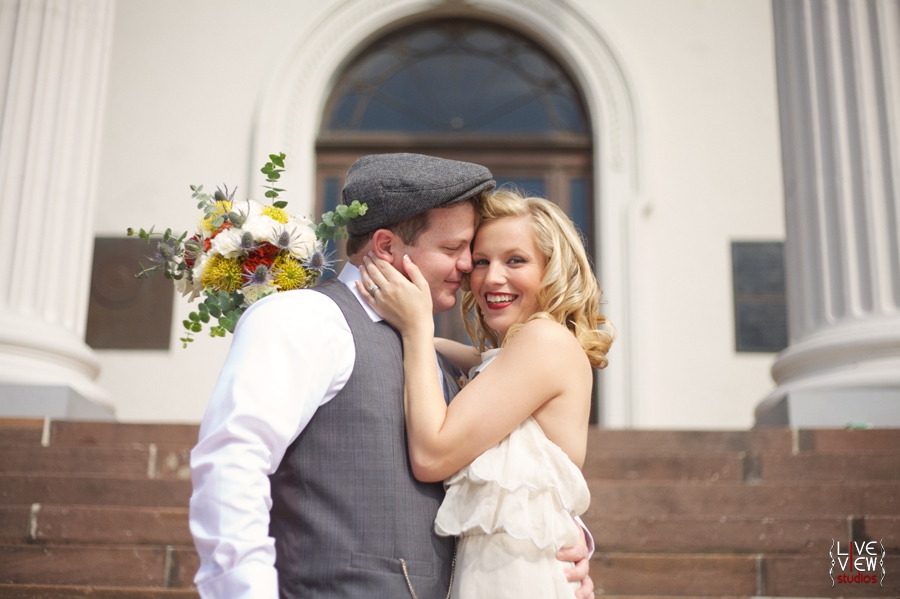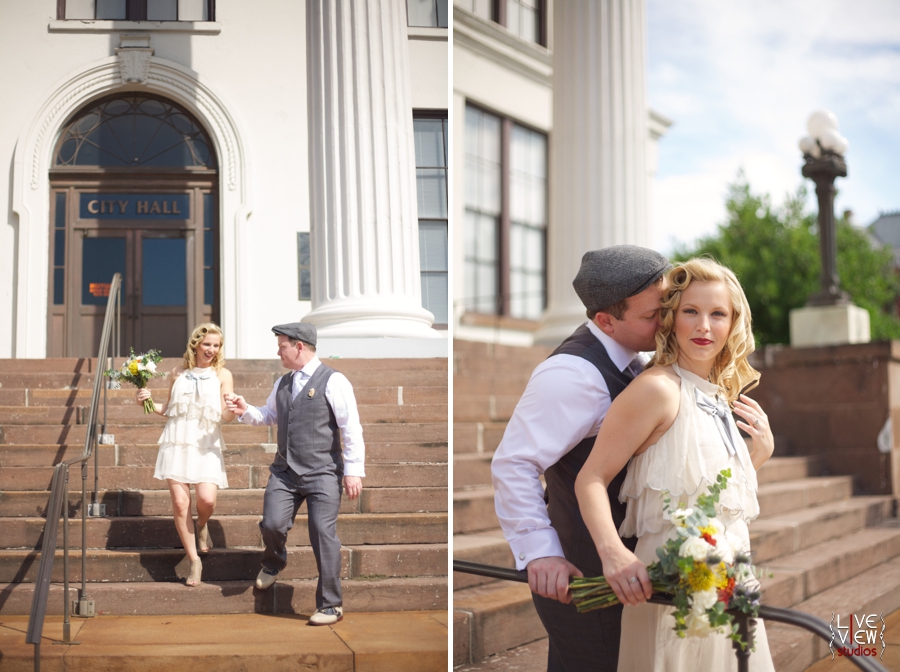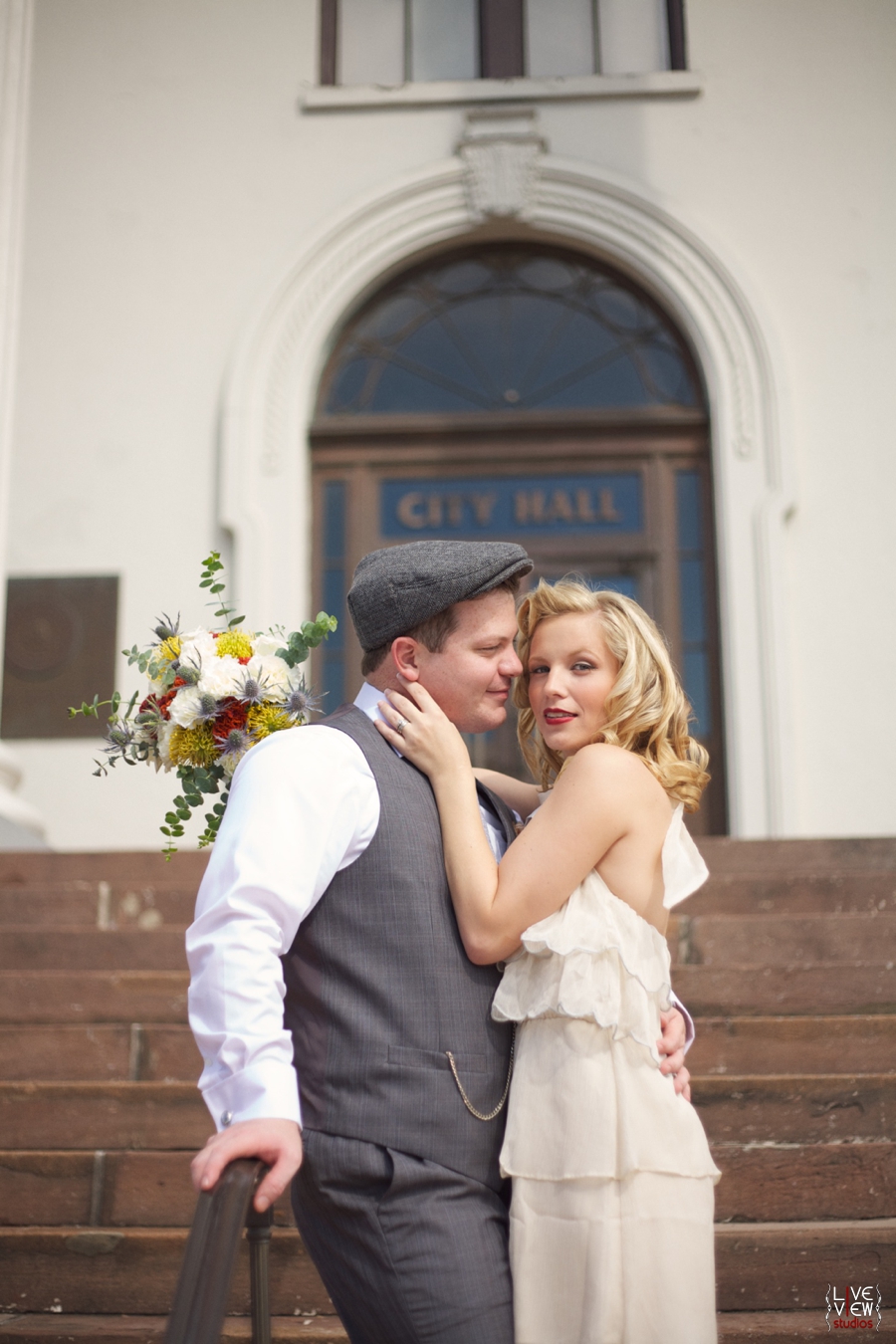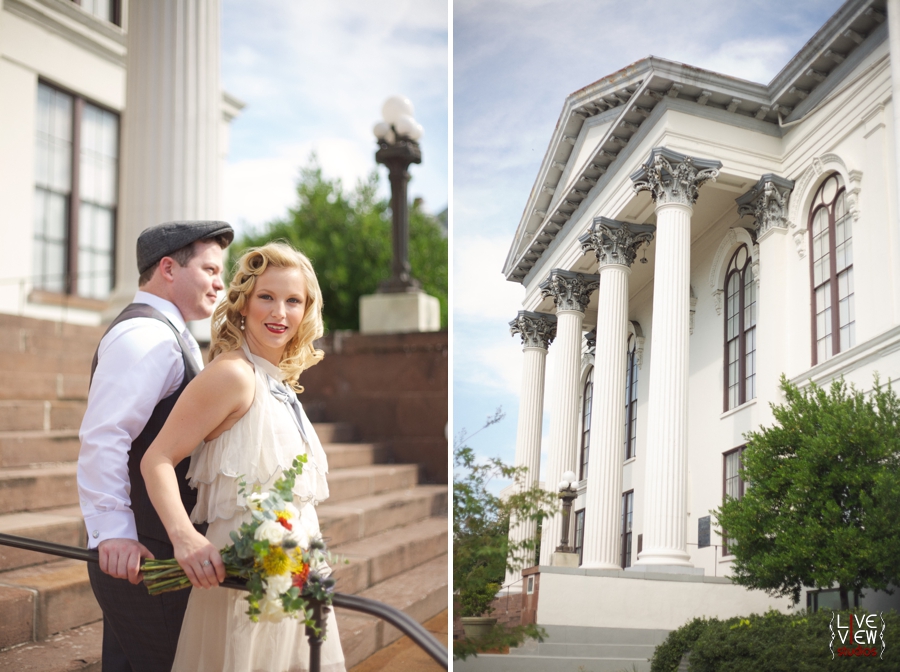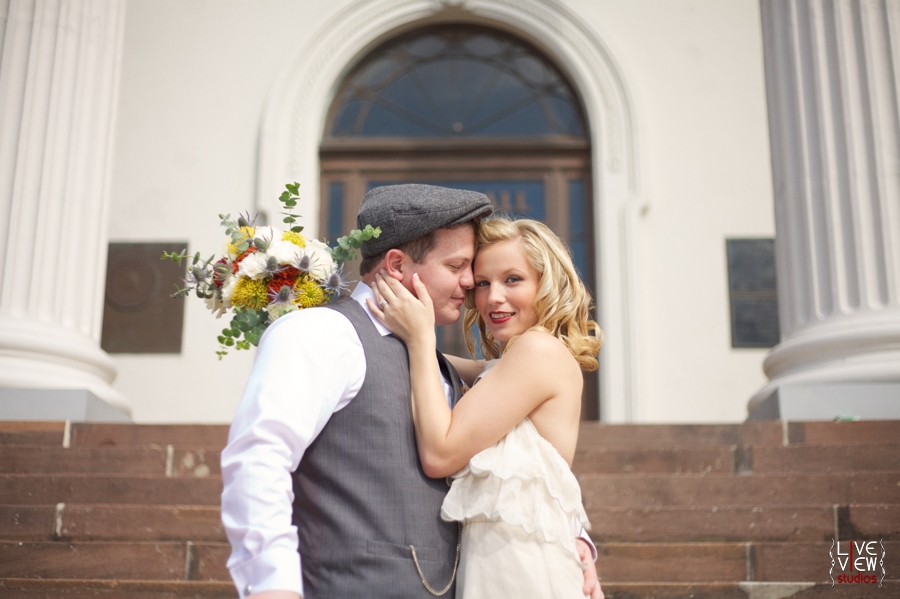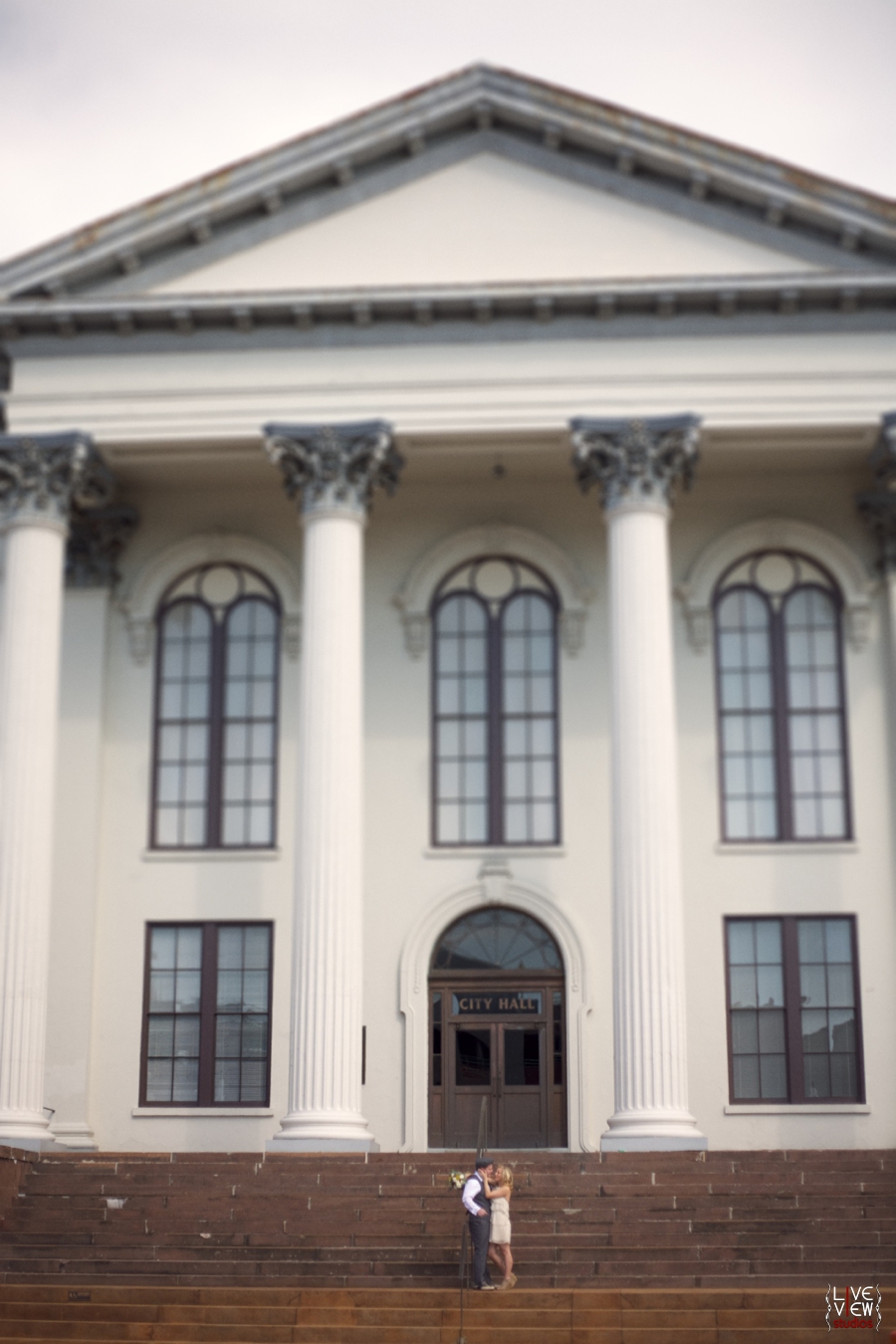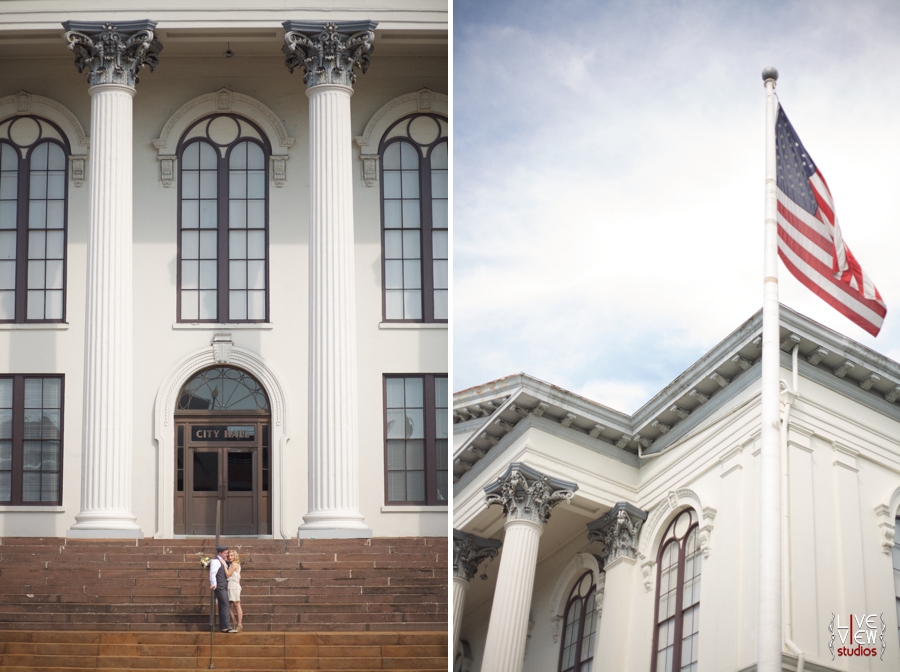 One of our yesteryear couple's (and Natasha and Seth's as well!) favorite places is the iconic Britt's Donut Shop along the Carolina Beach boardwalk … so in between making it official and their small beach gathering, they had to stop in for a quick treat …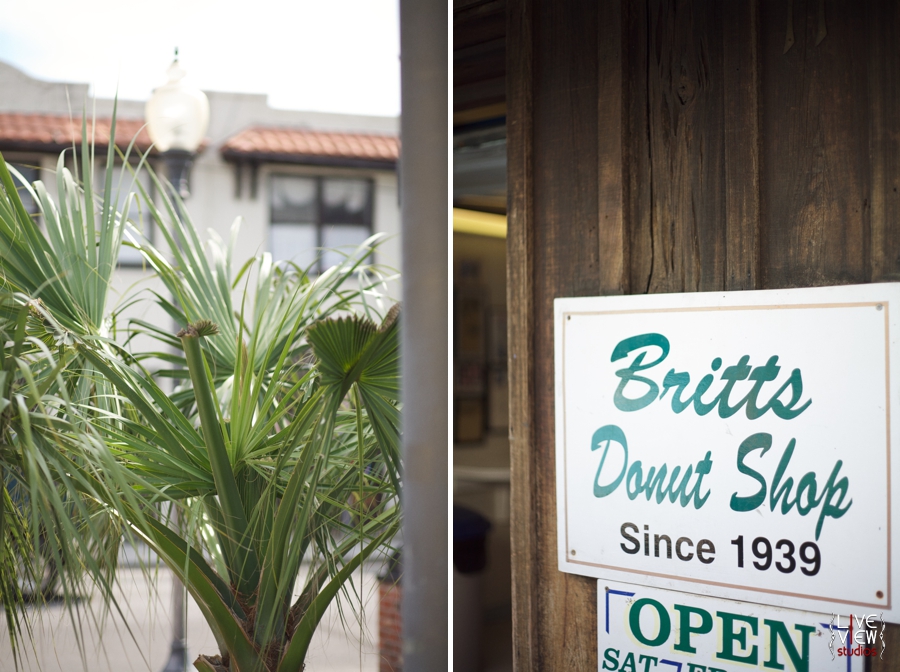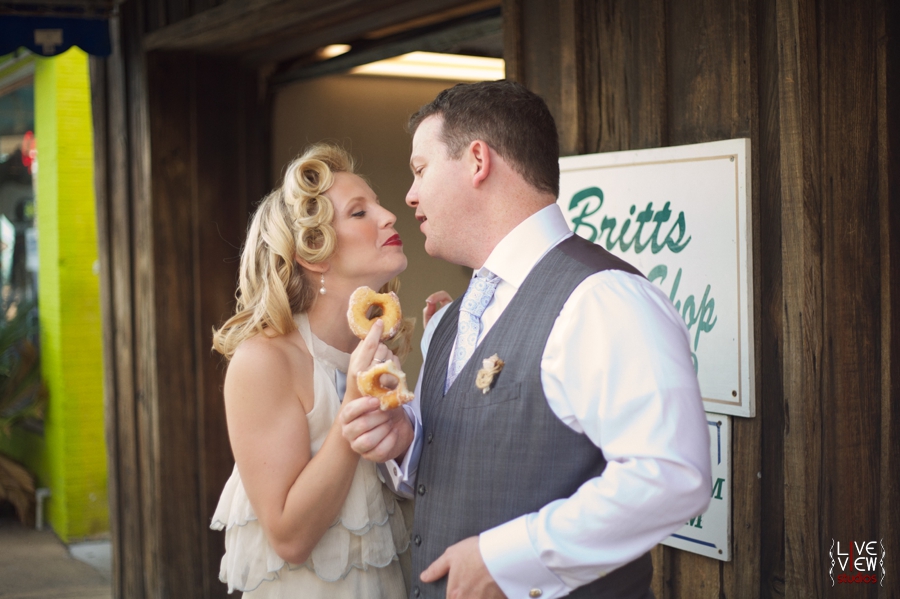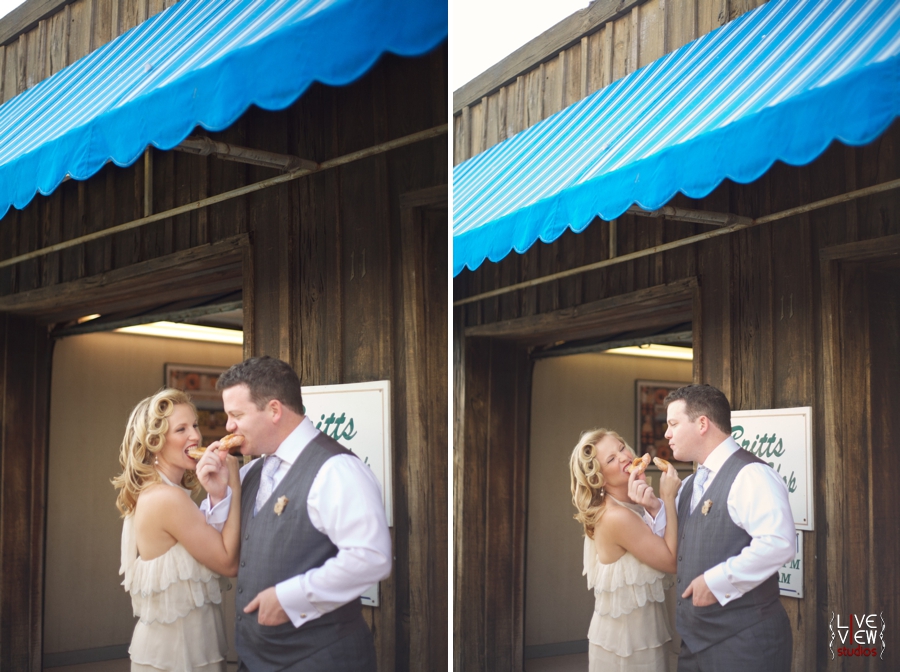 So, this boy and girl decided afterwards to gather just a few of their closest friends for an intimate beach gathering … a simple affair with seafood appetizers and local key lime pie. They gathered what they needed along the way and headed to the beach to watch the sun go down together.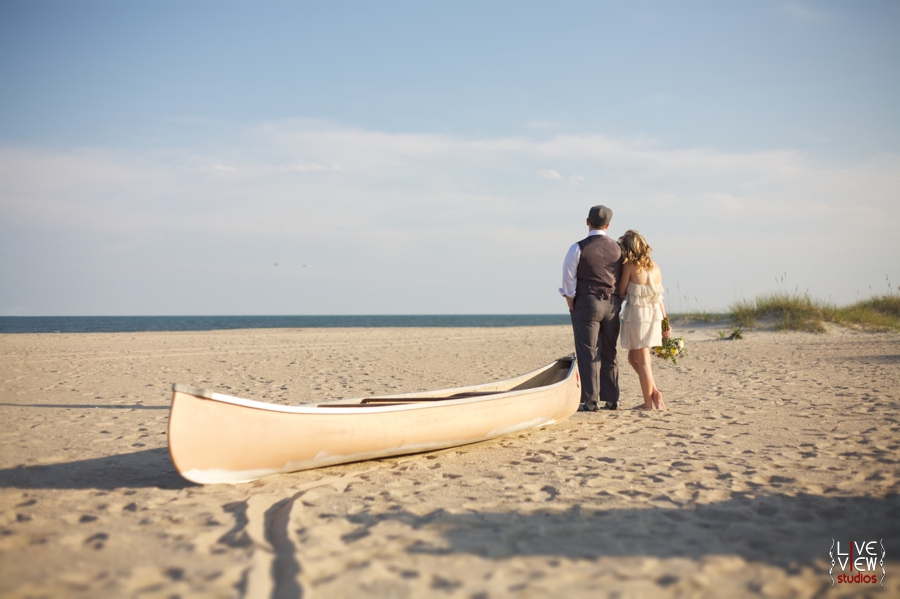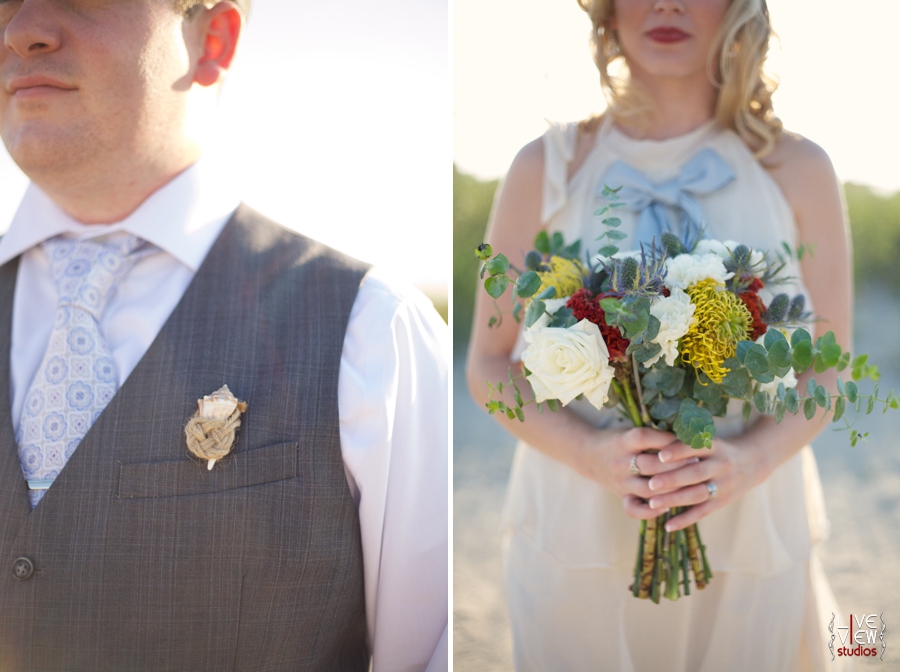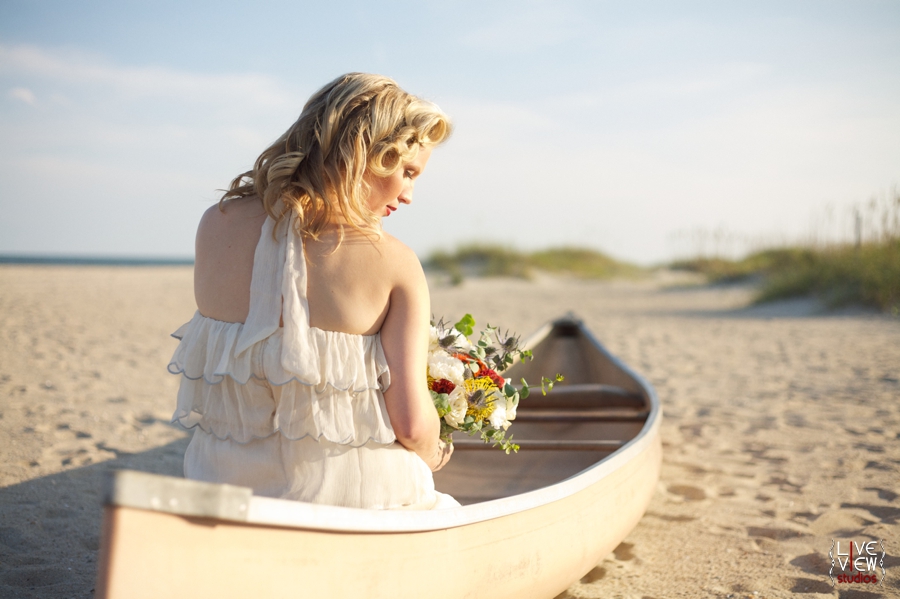 Natasha, it's easy to see why Seth is so smitten with you. You are positively gorgeous and sweet! :)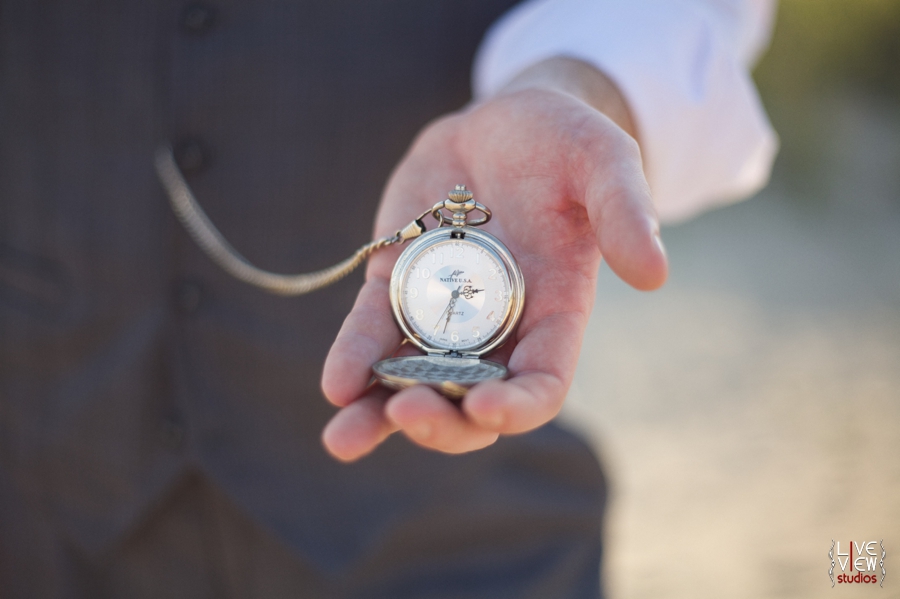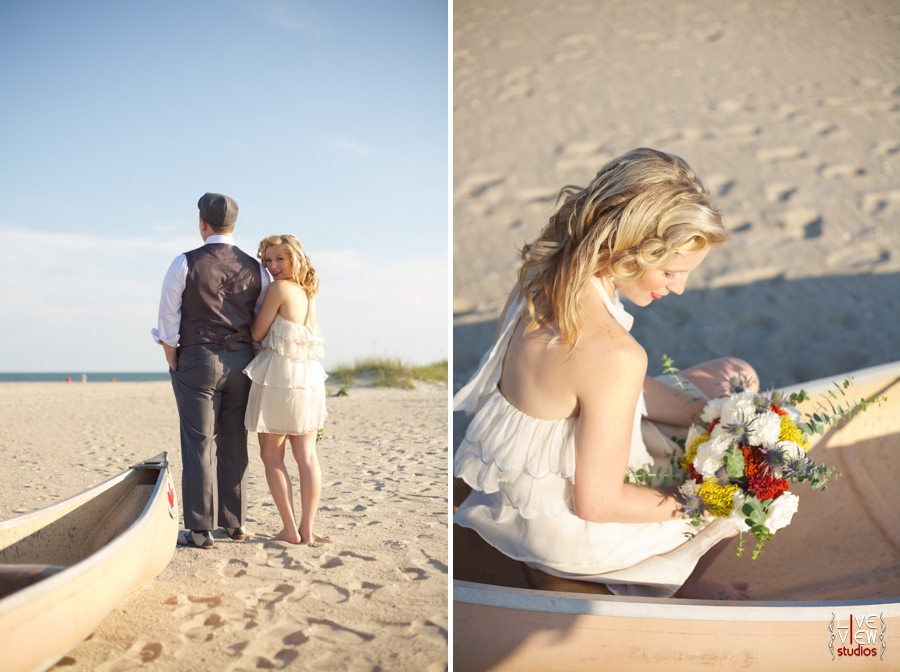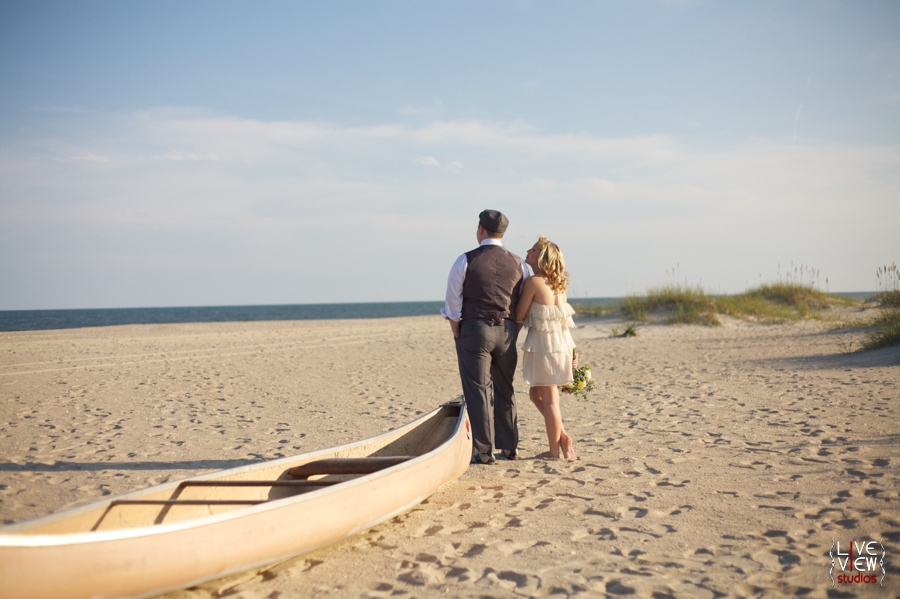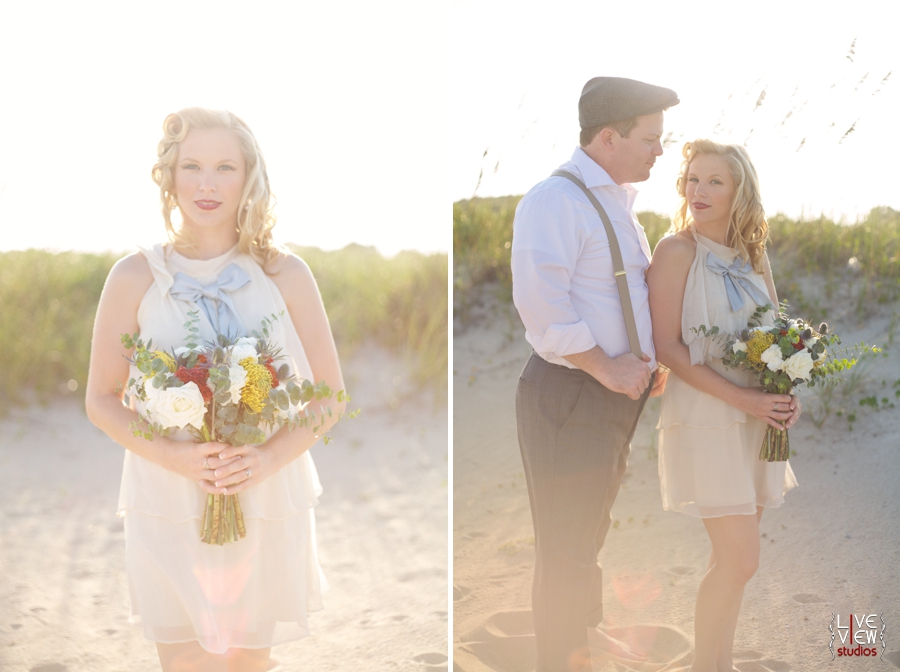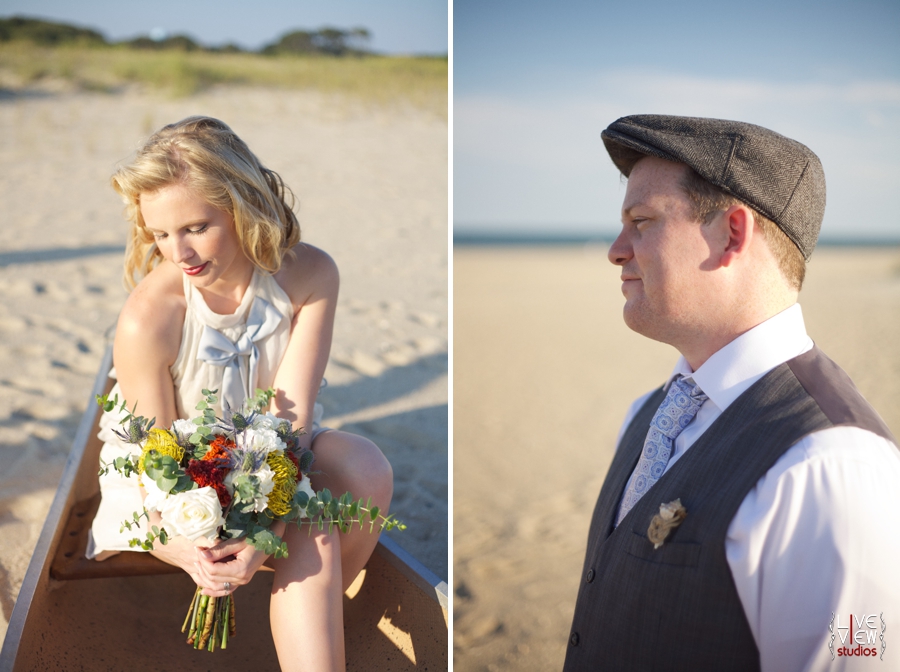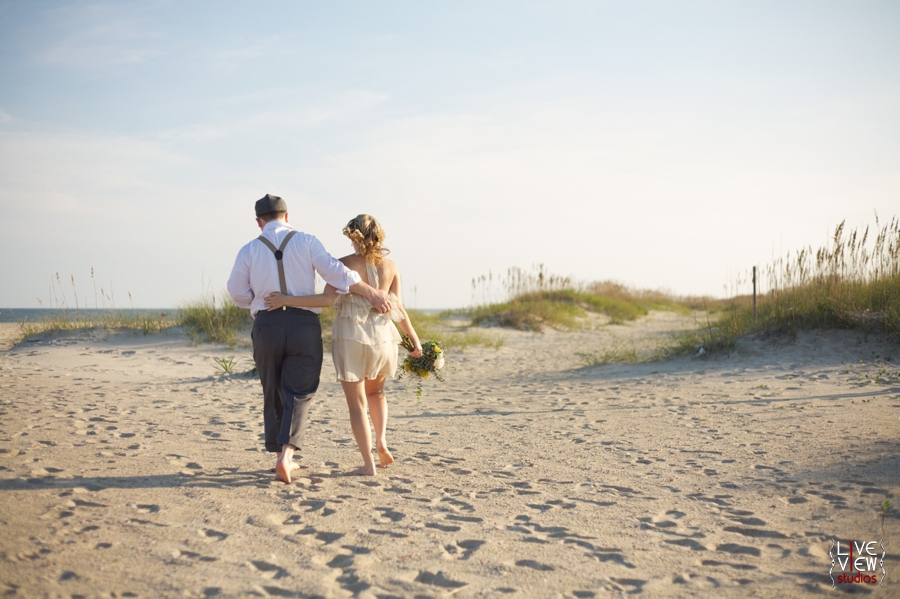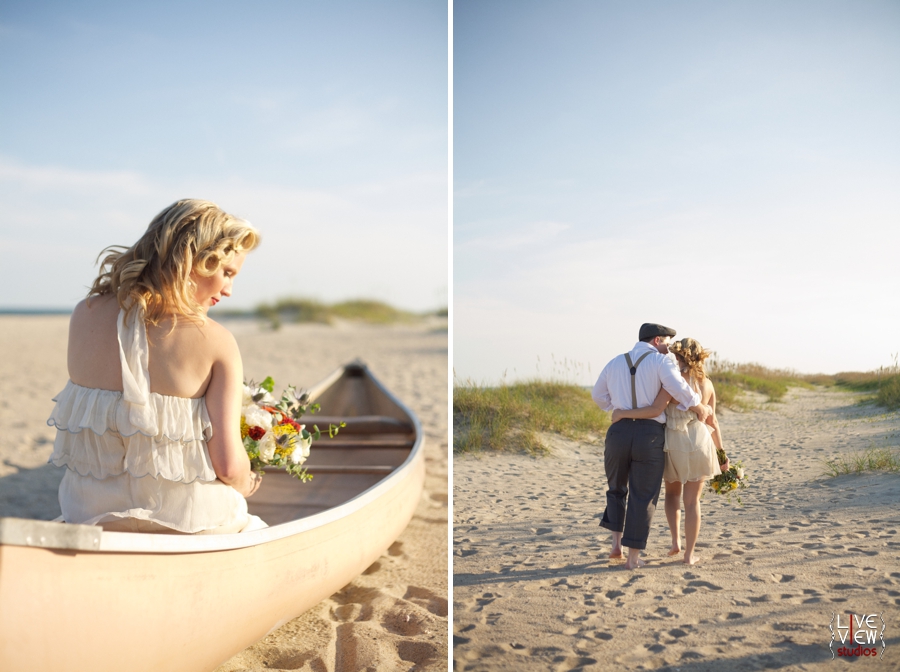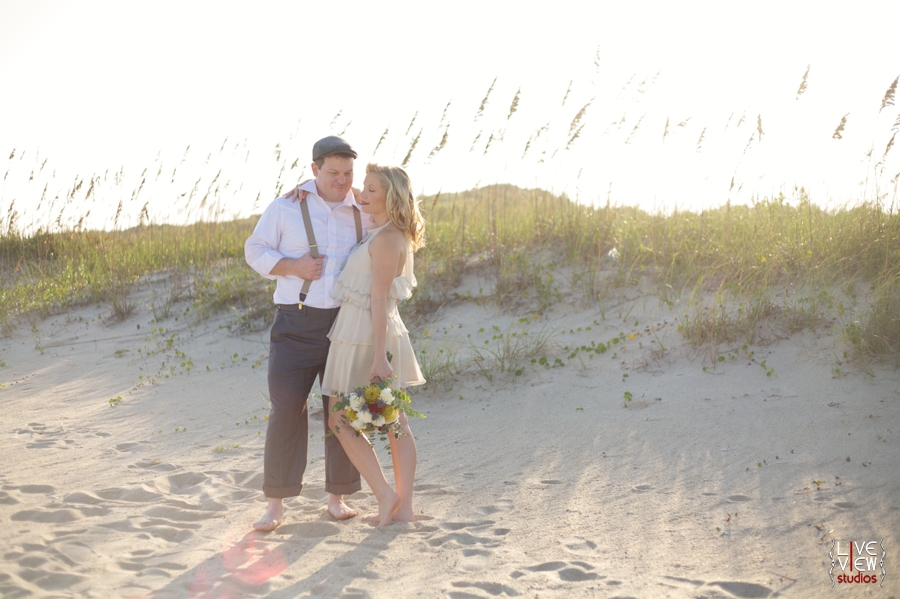 The way they look at each other .. pure love.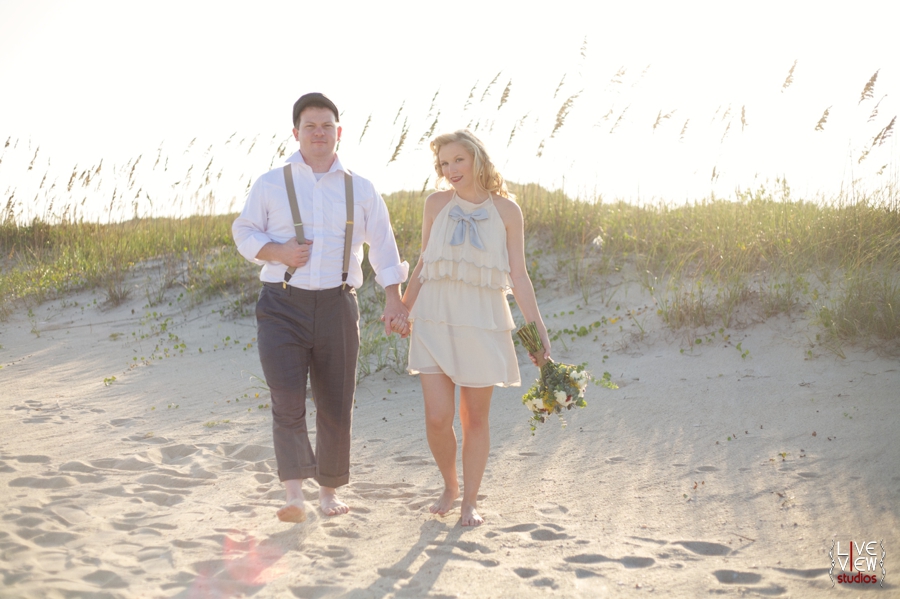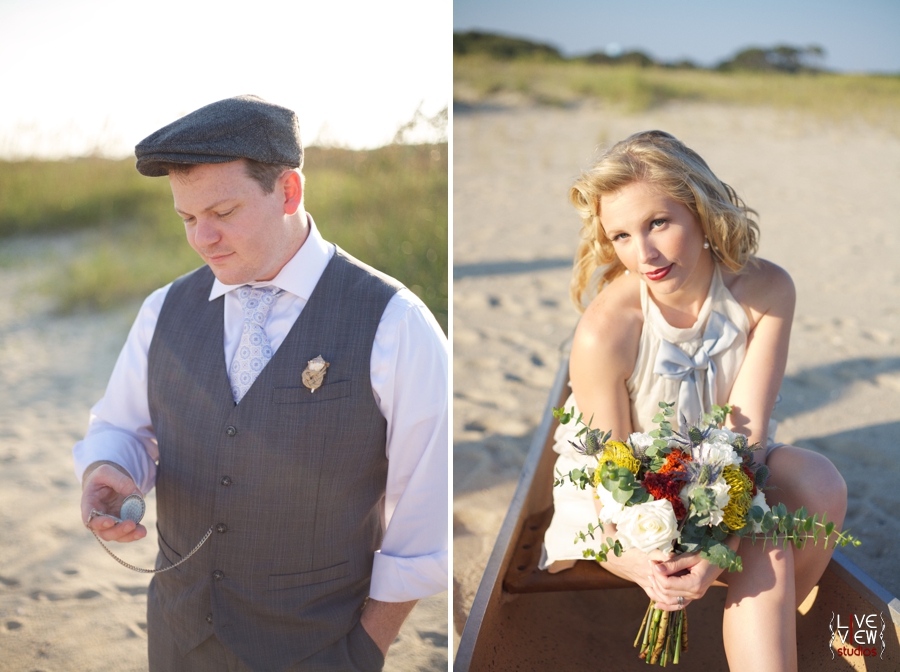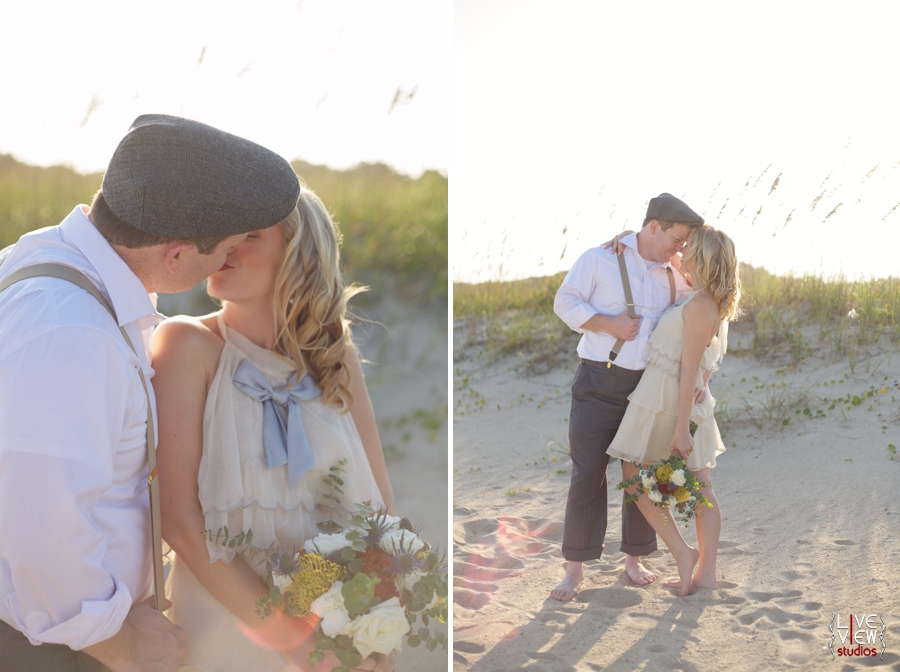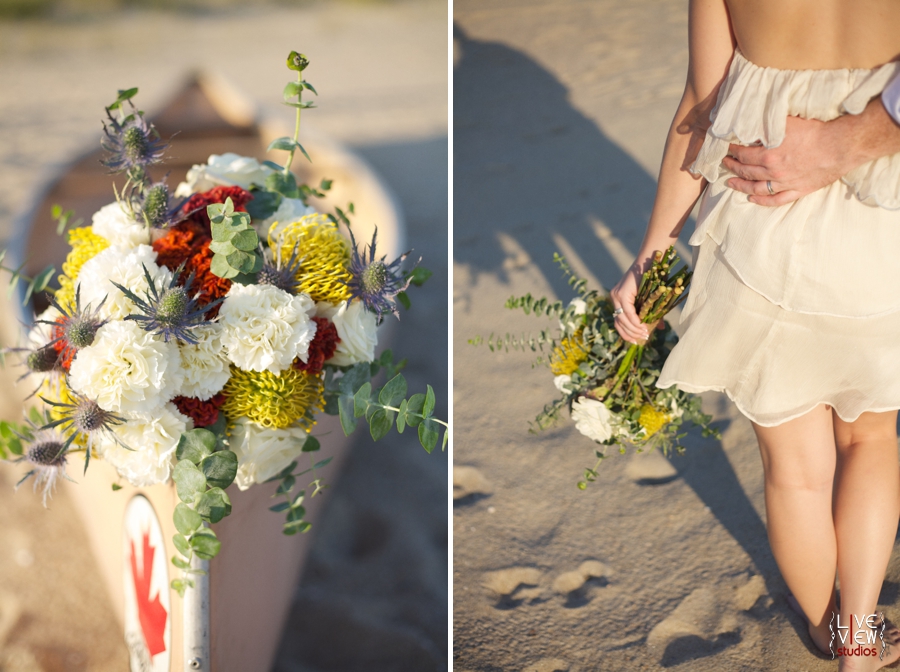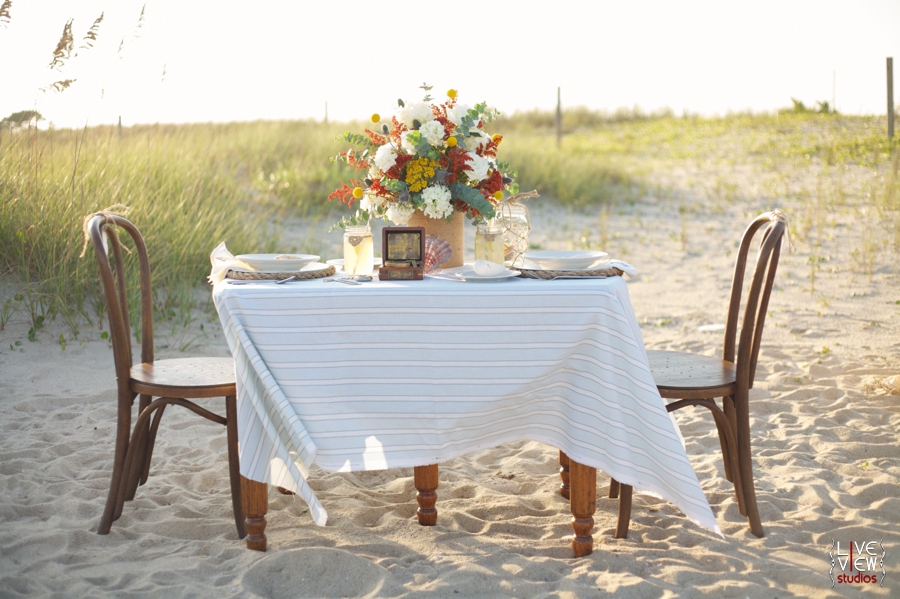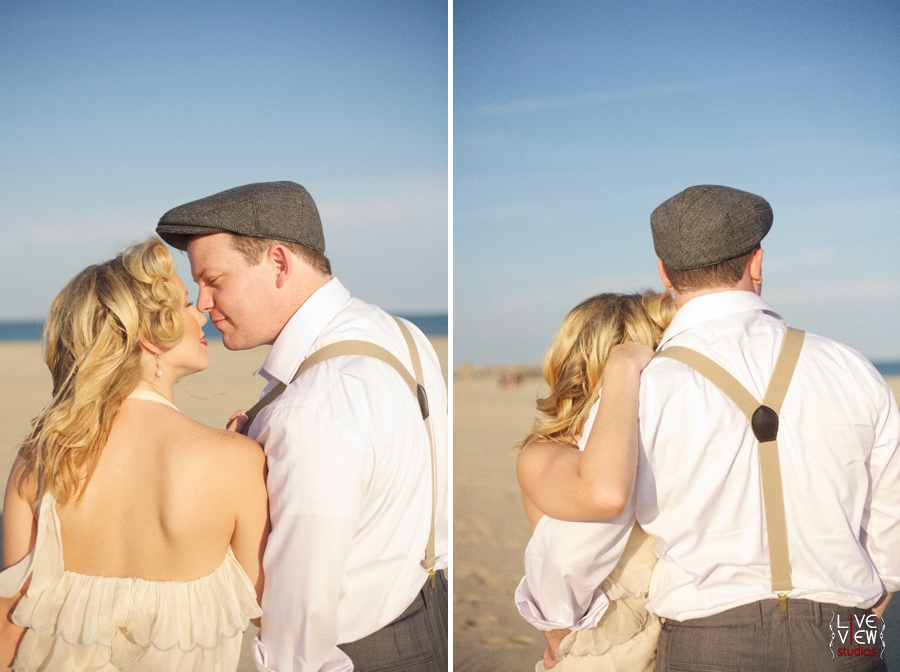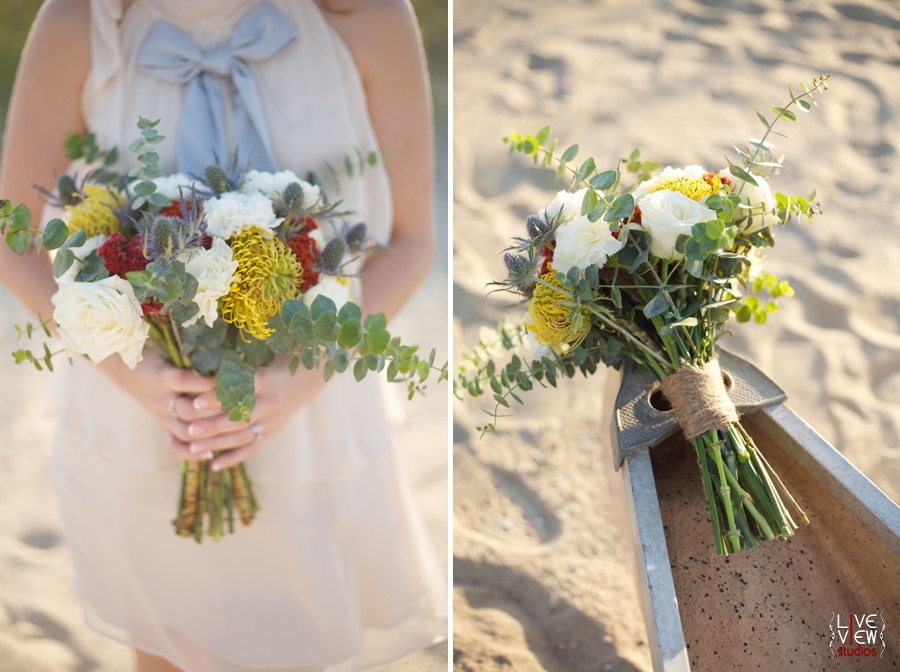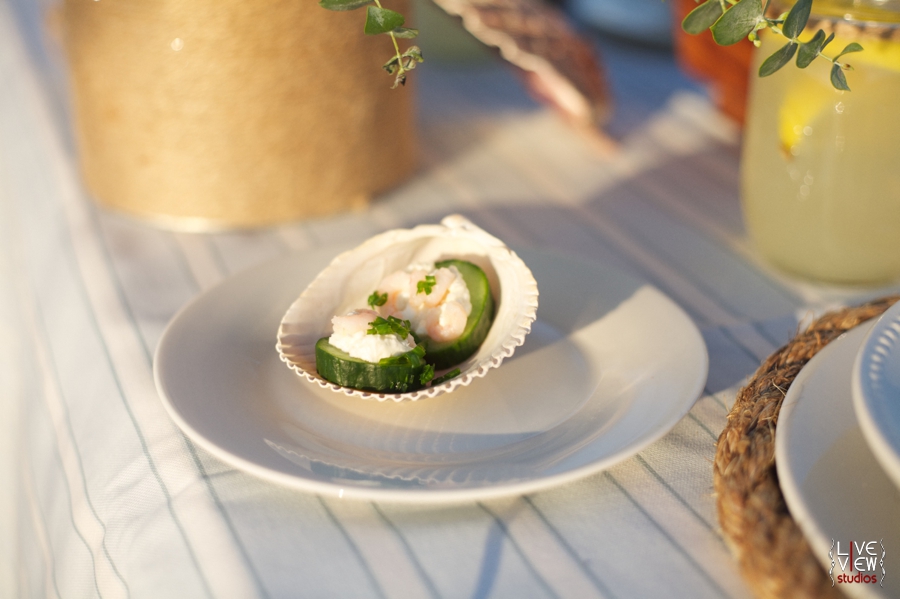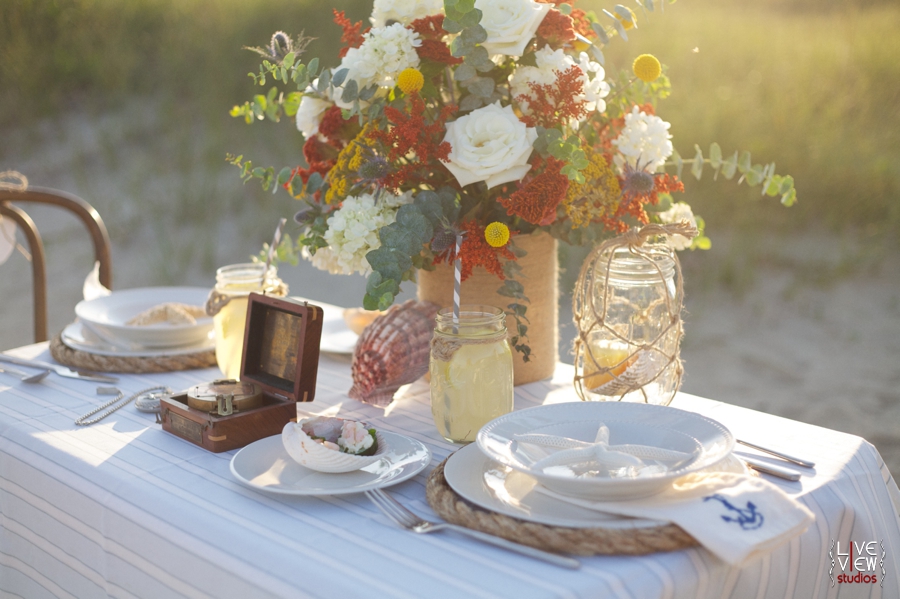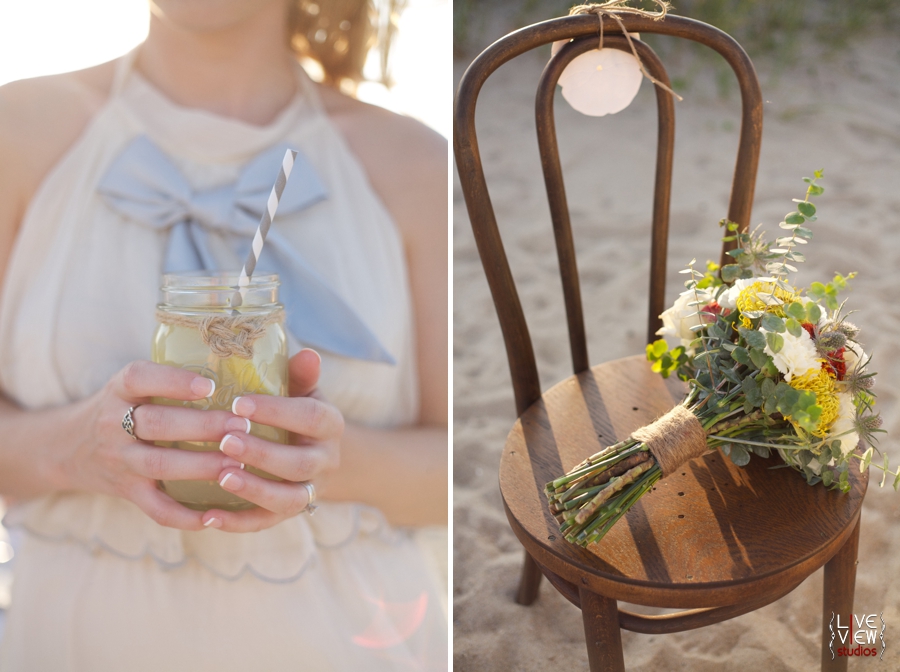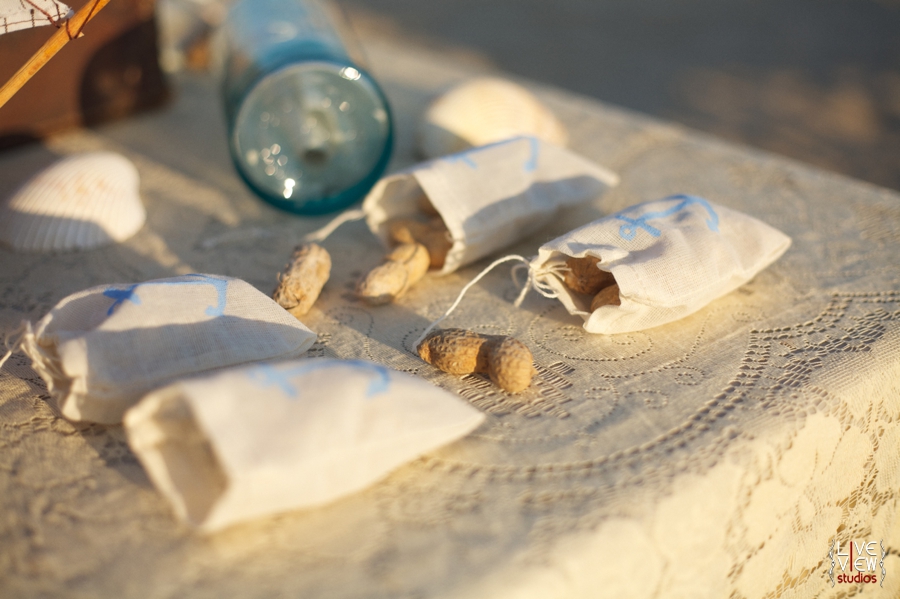 Carolina-grown peanuts in hand painted muslin bags served as little gifts for their guests.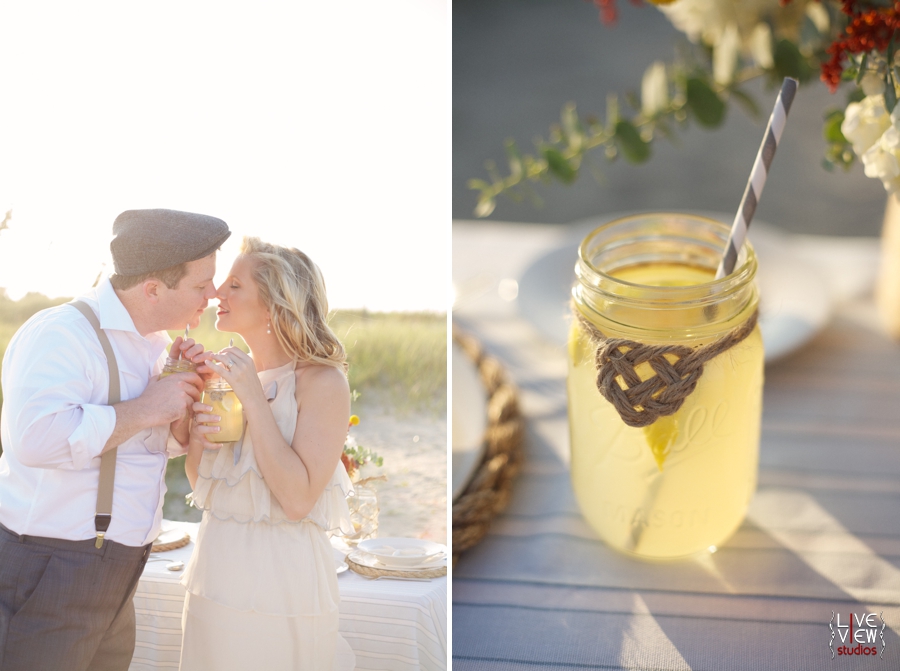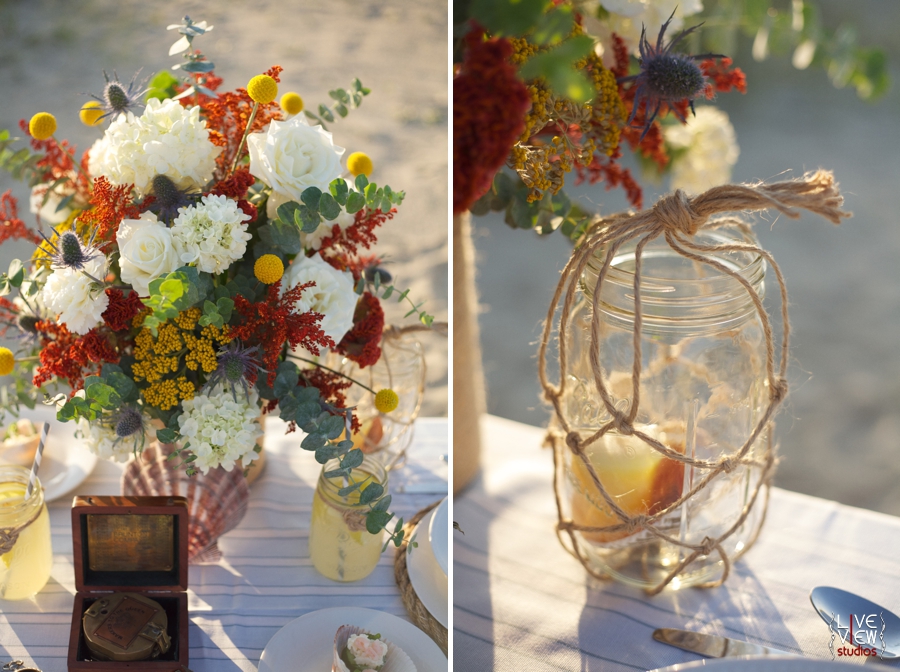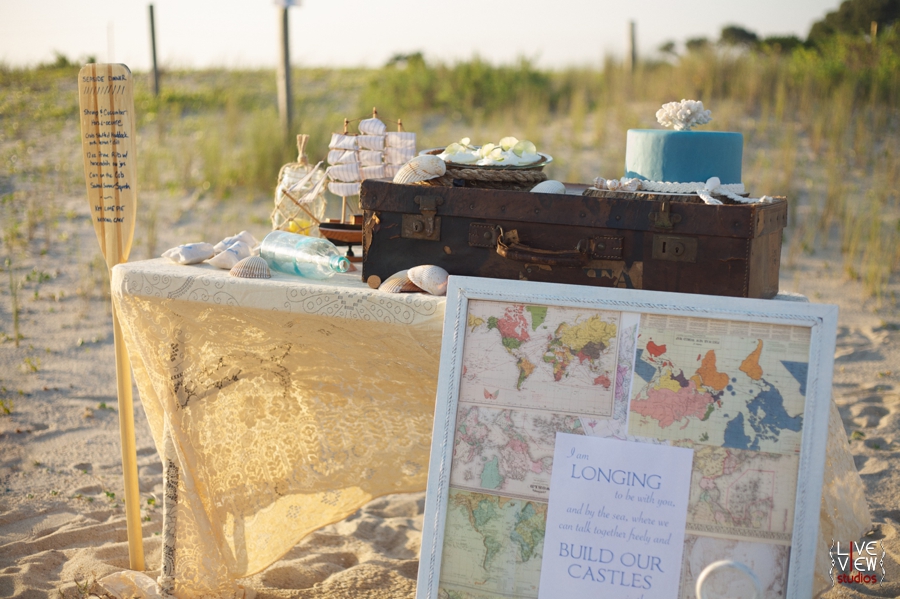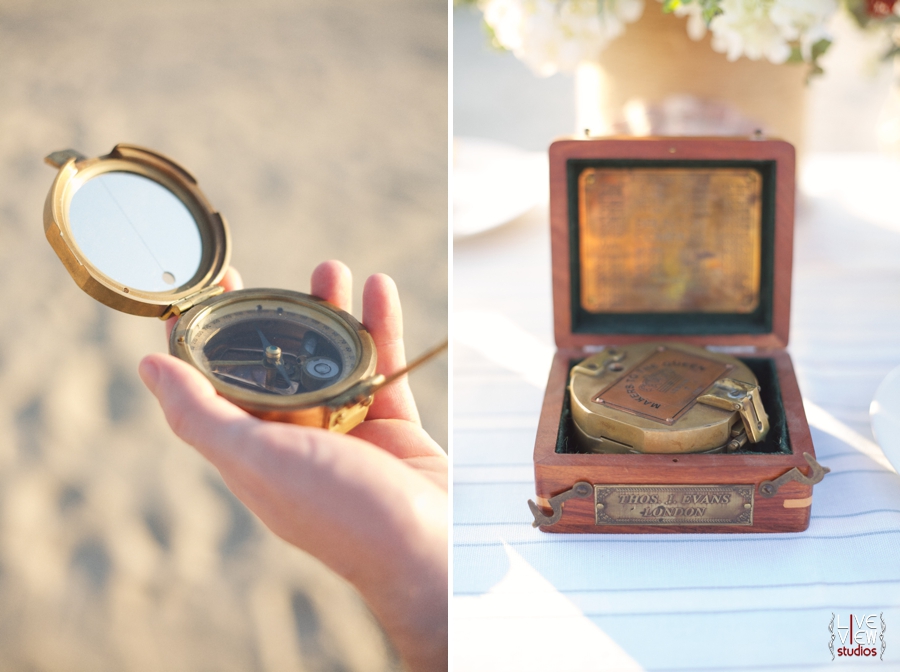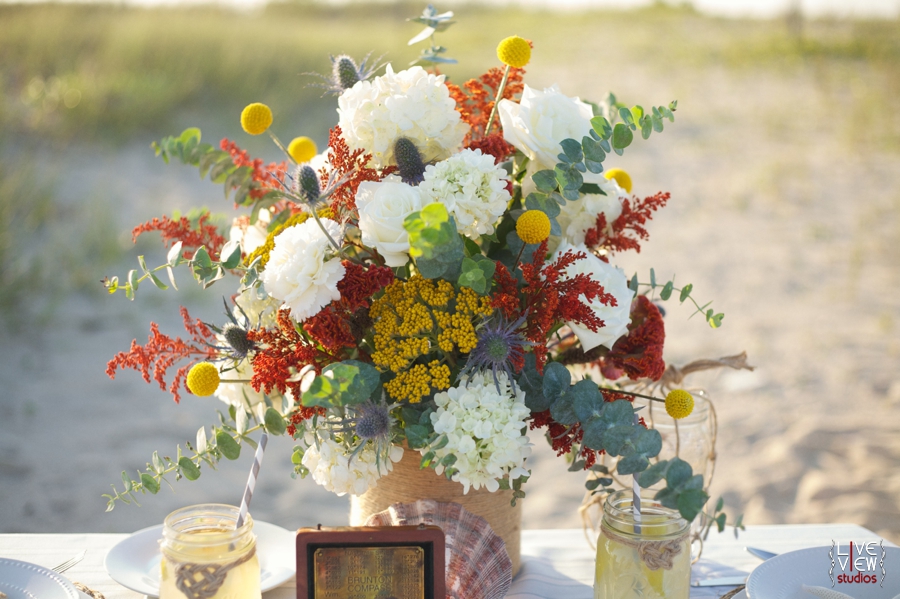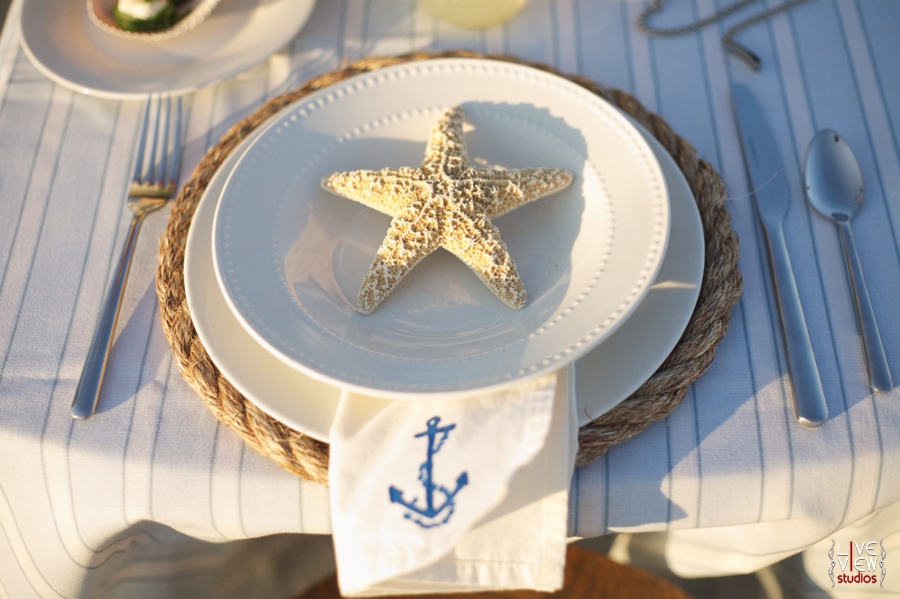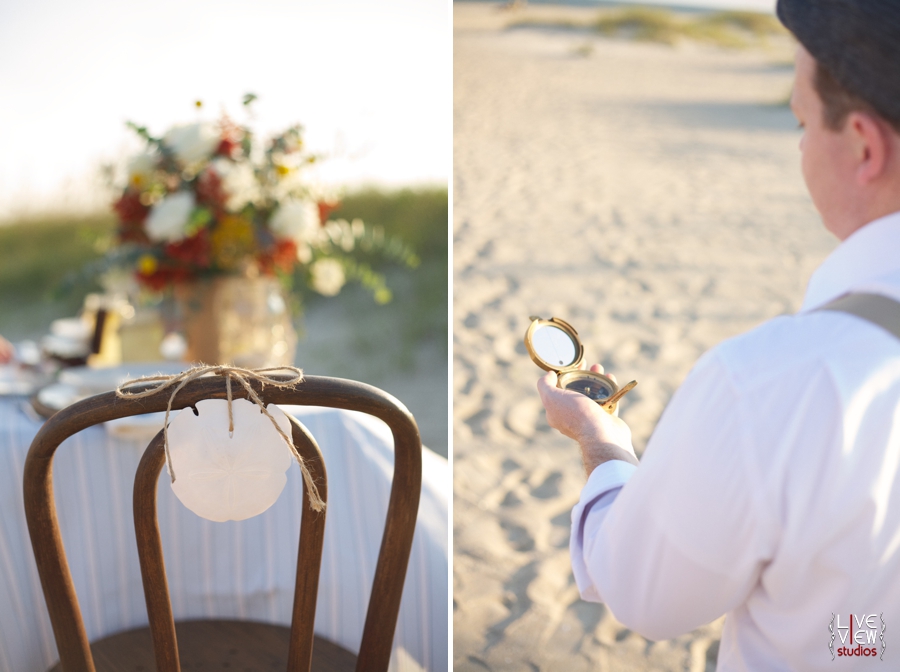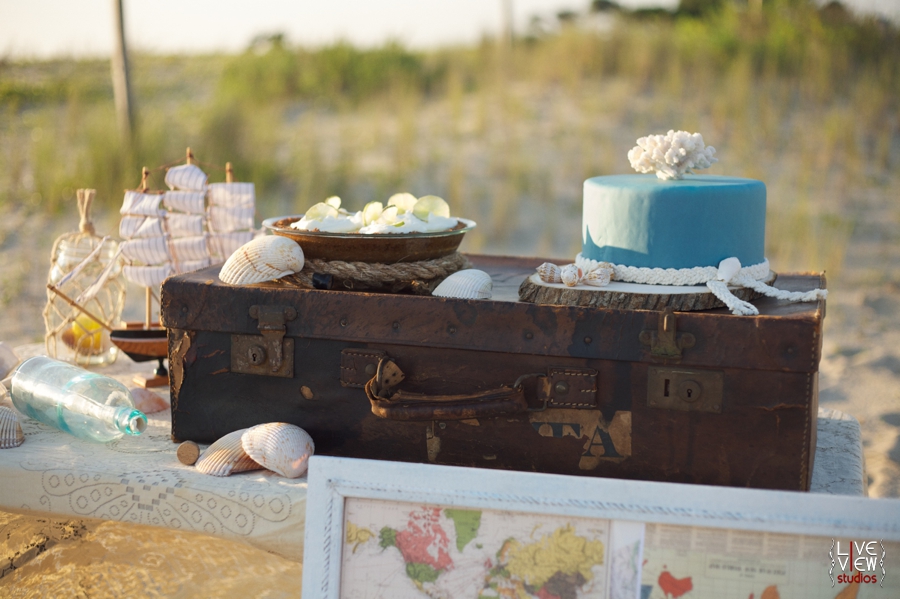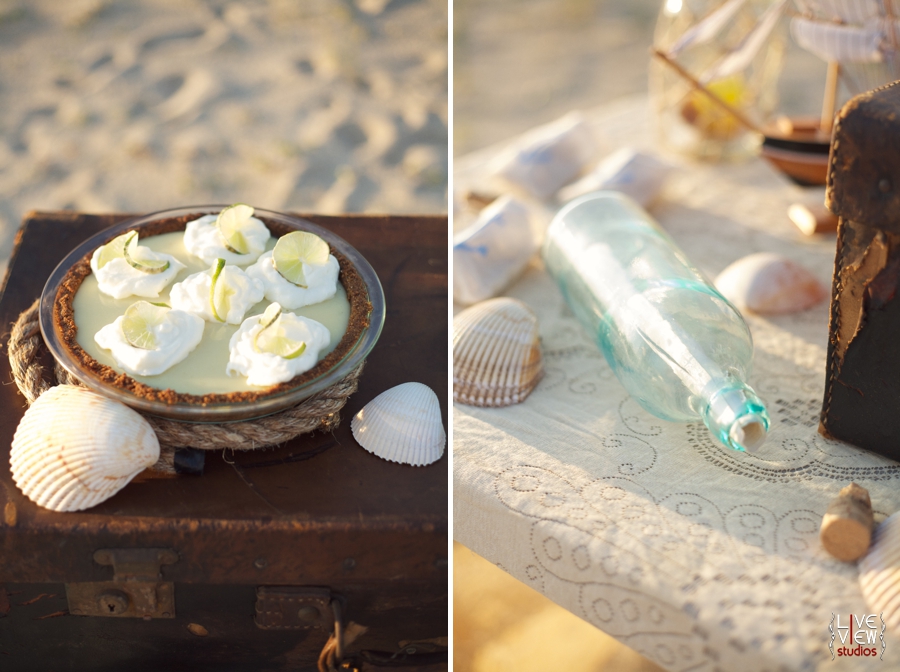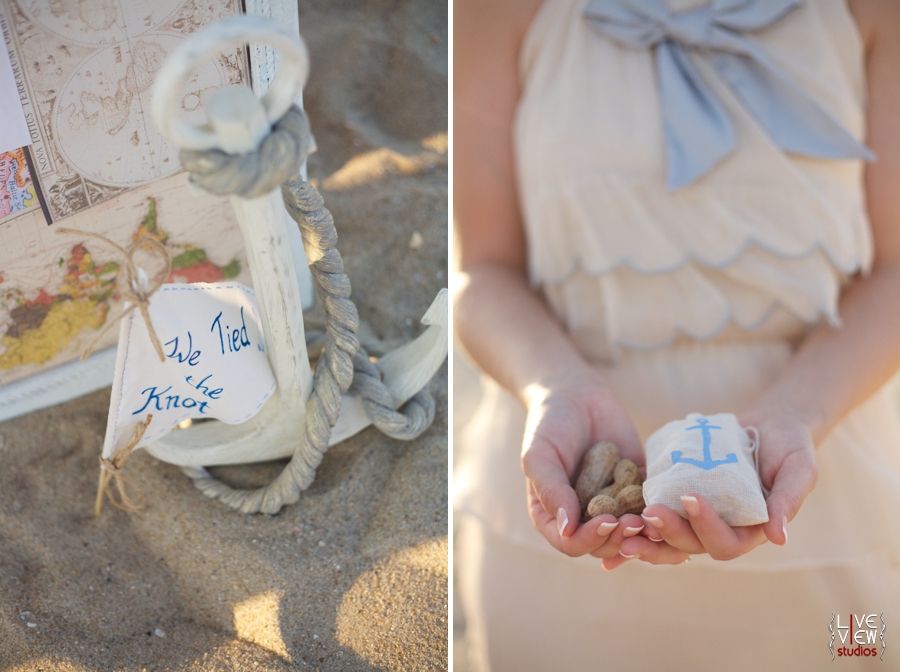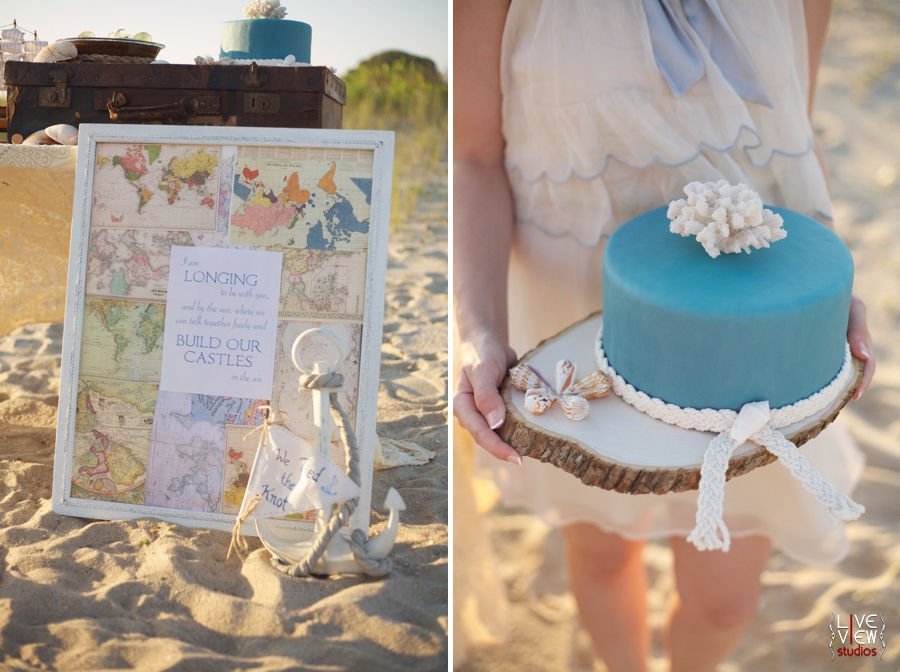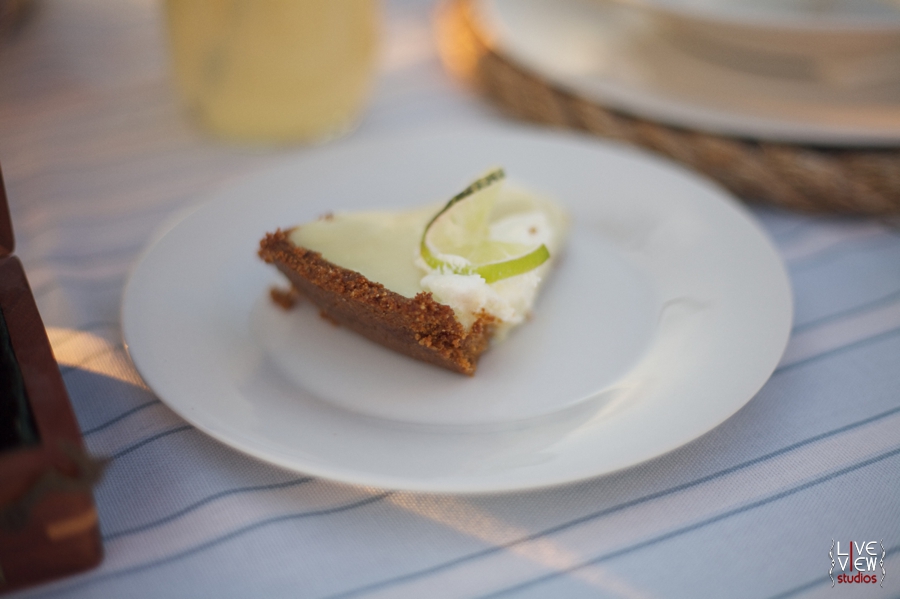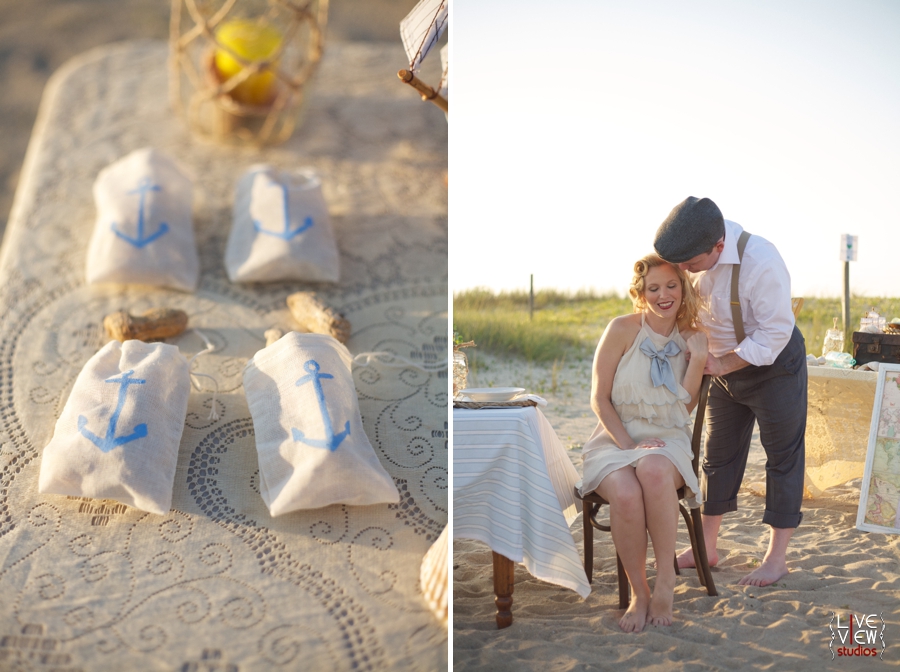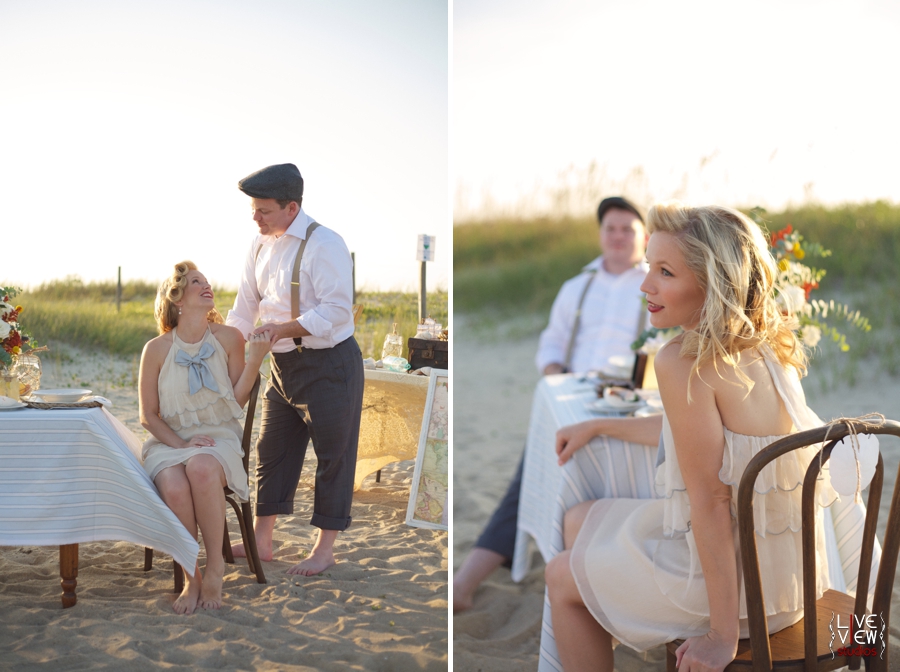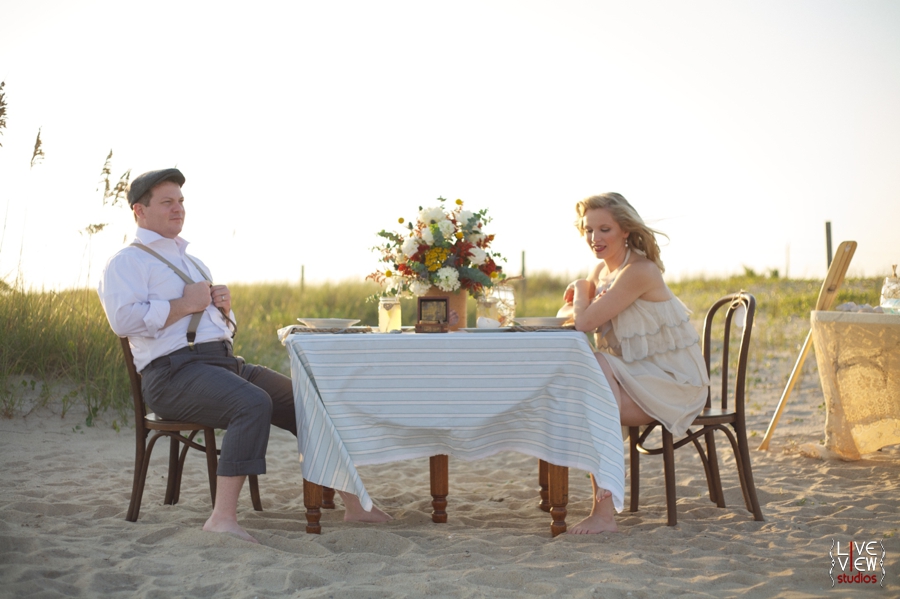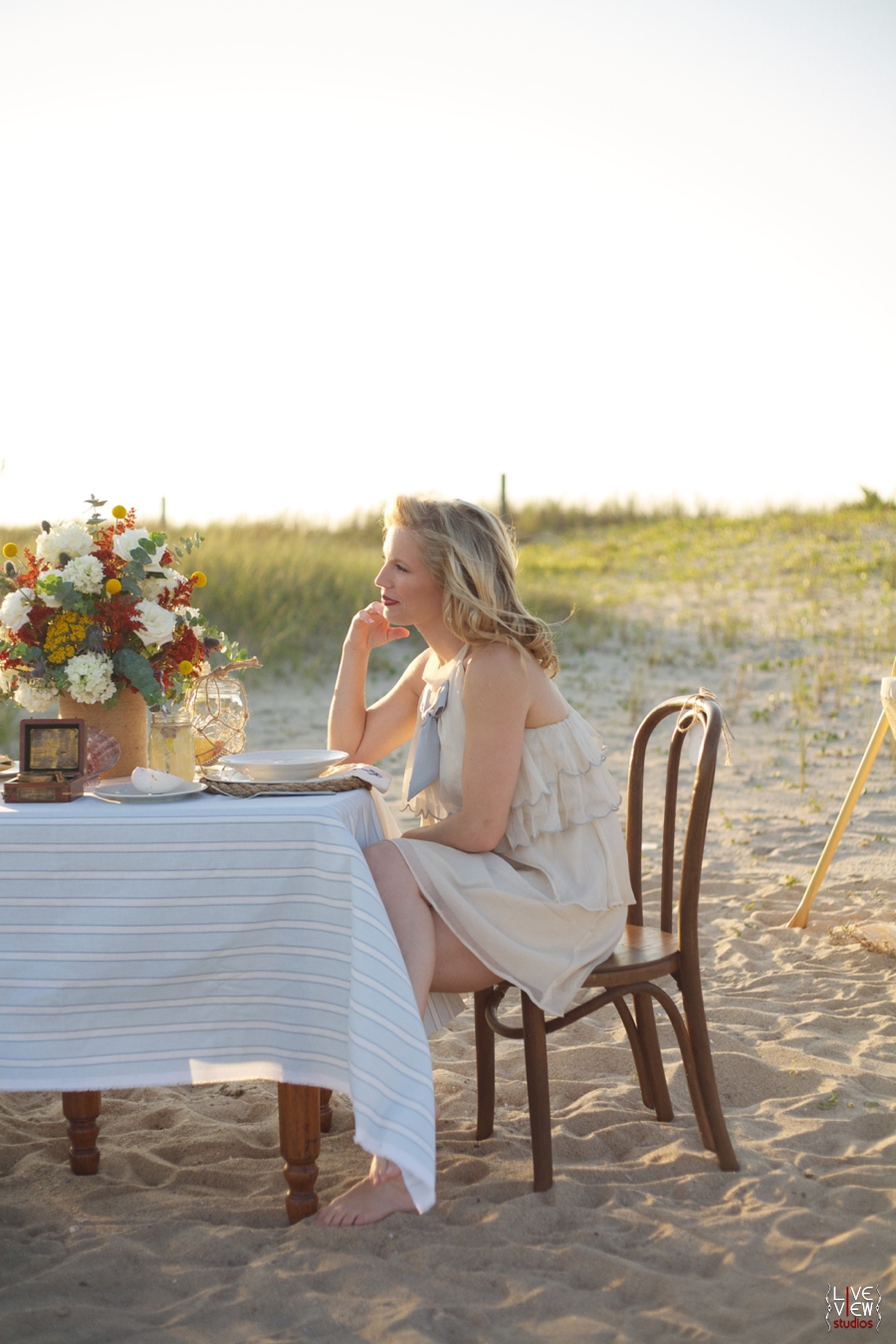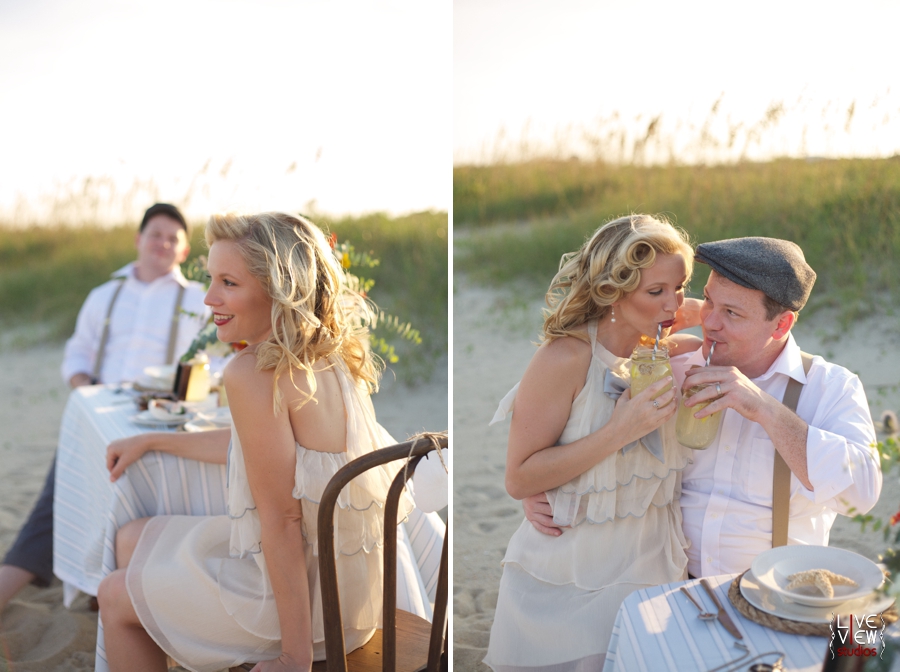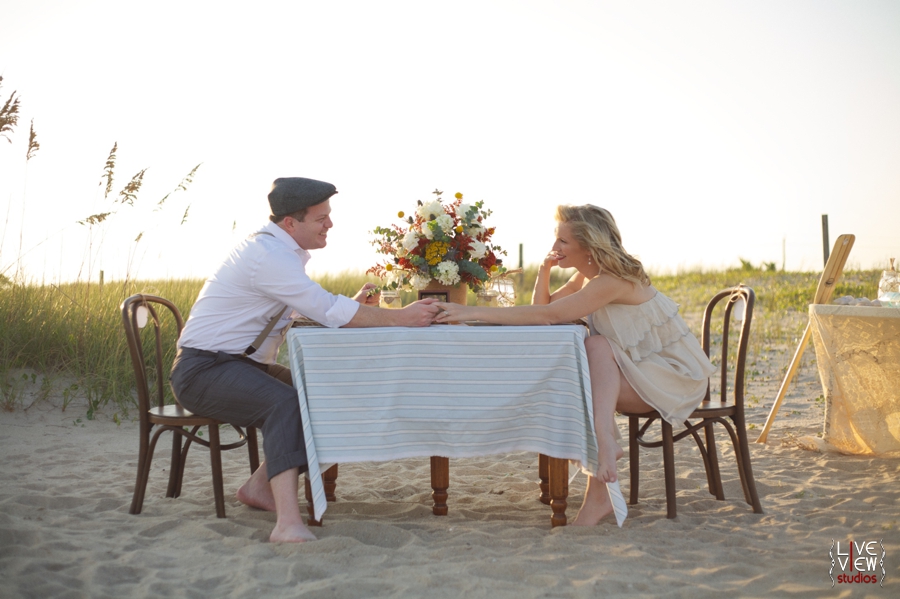 In true beach romance, they wrote the story of their love and put it into a bottle … then put it out to sea for other lovers to discover and read …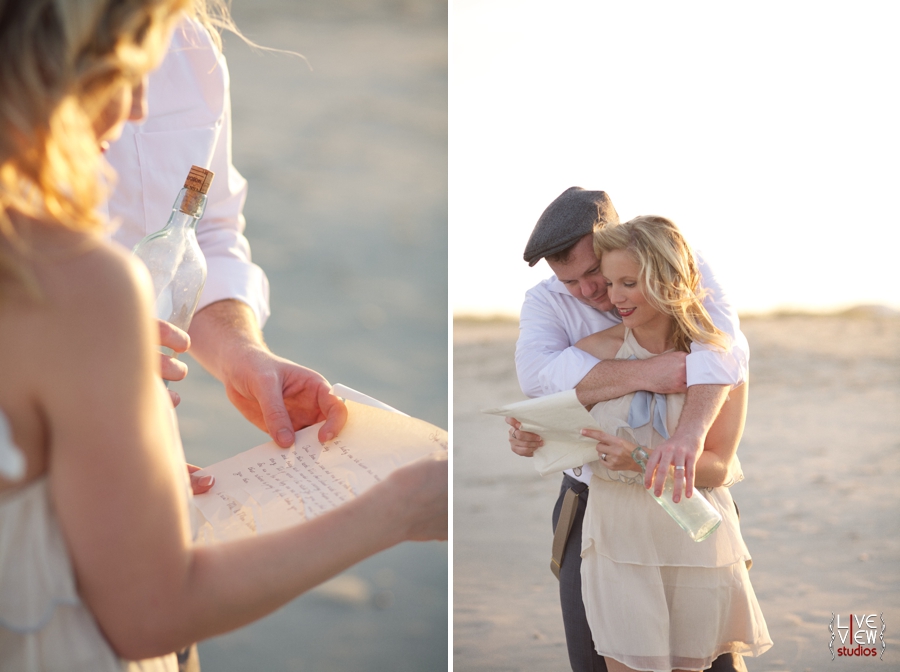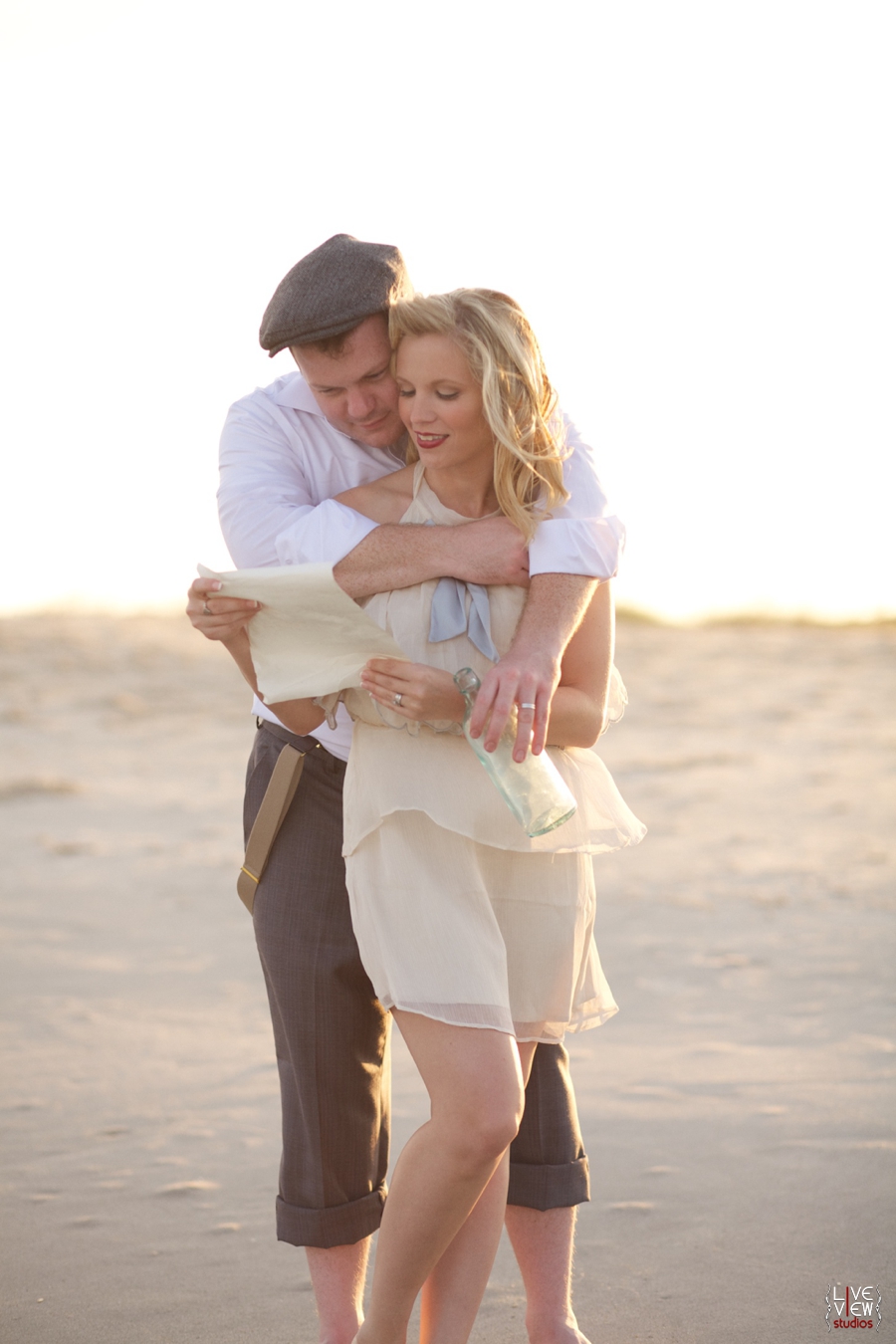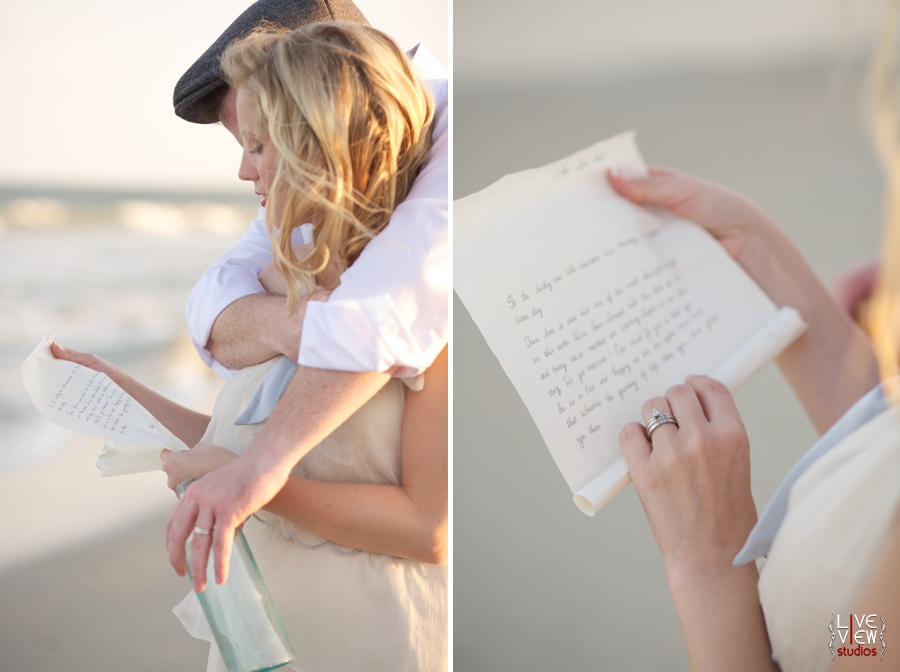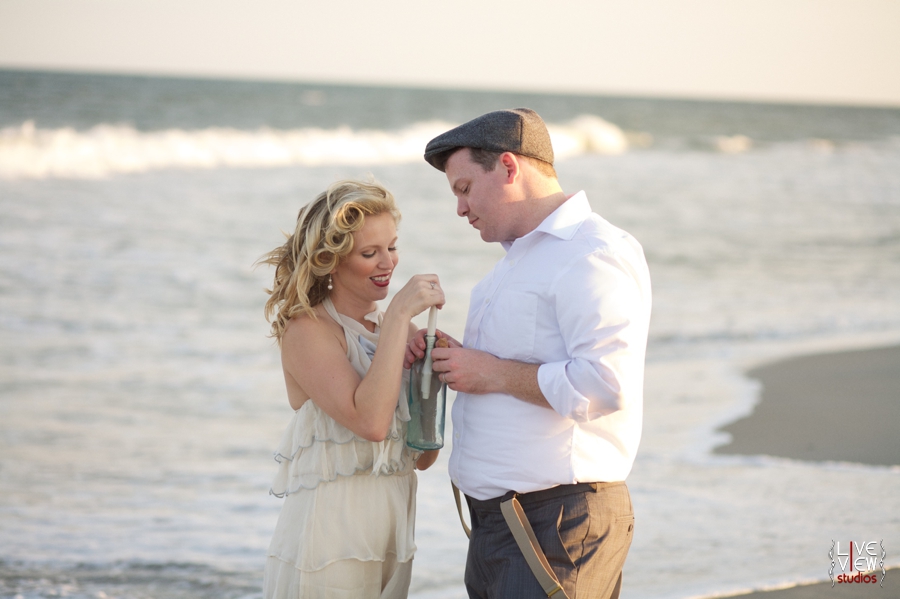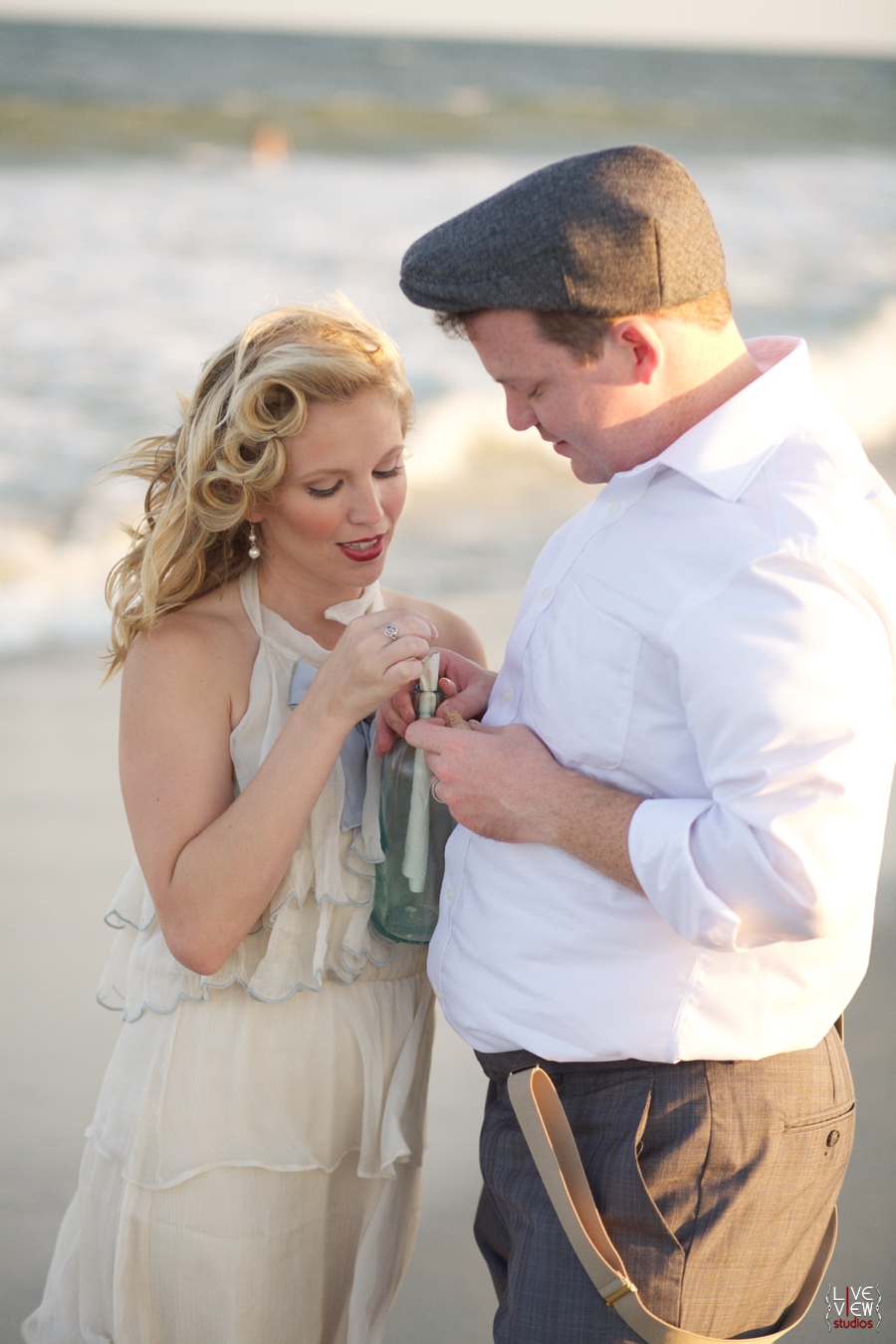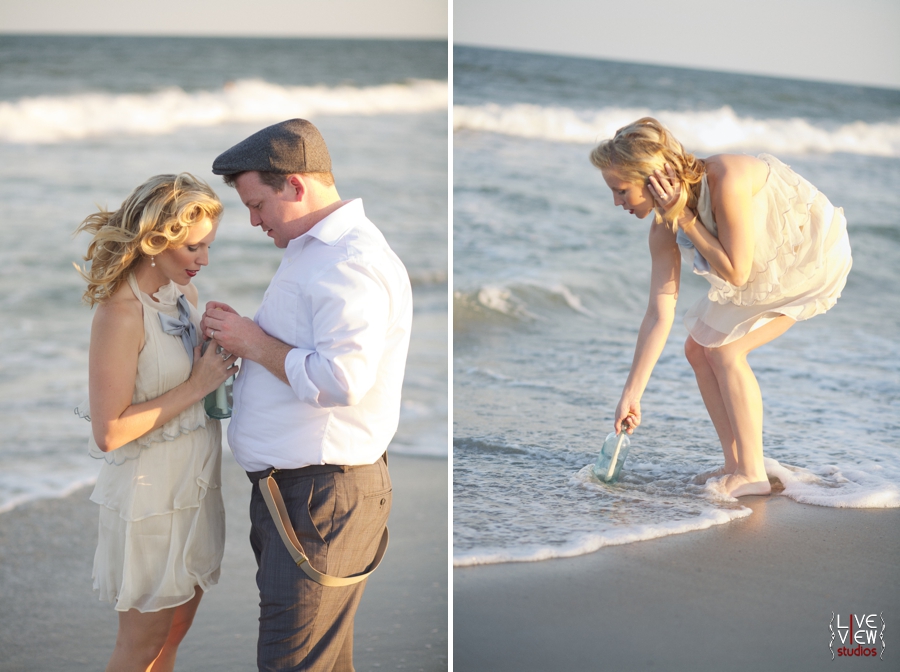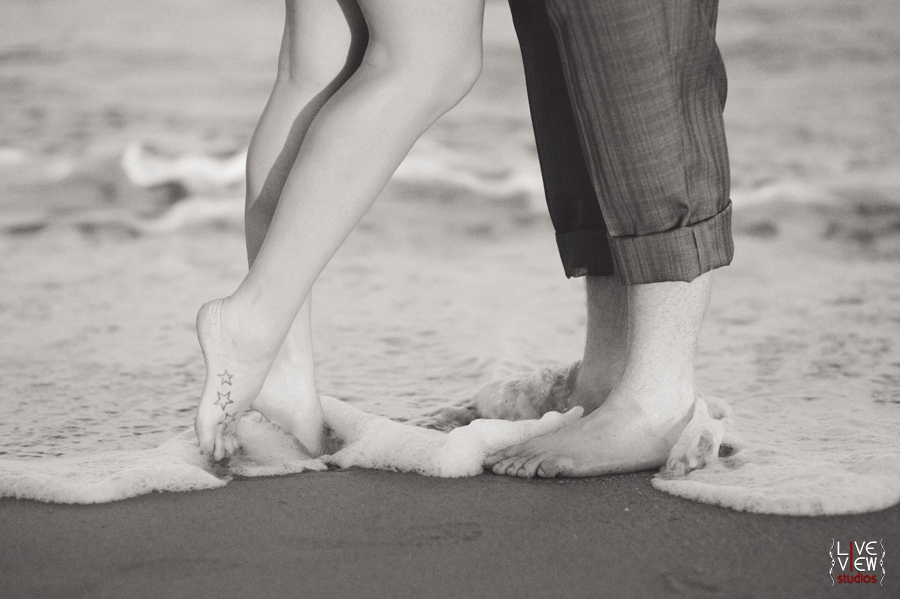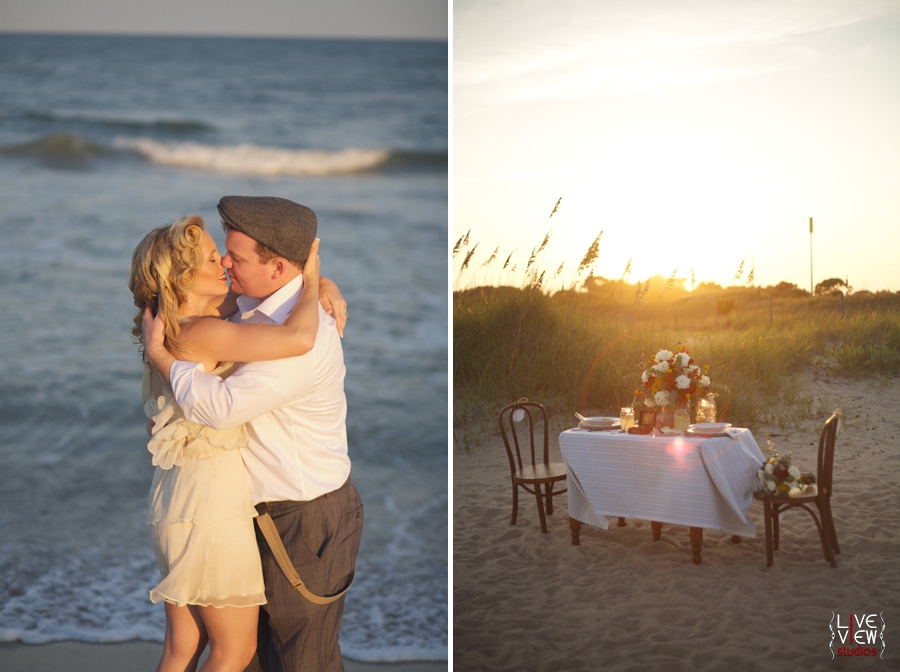 Love sets sail …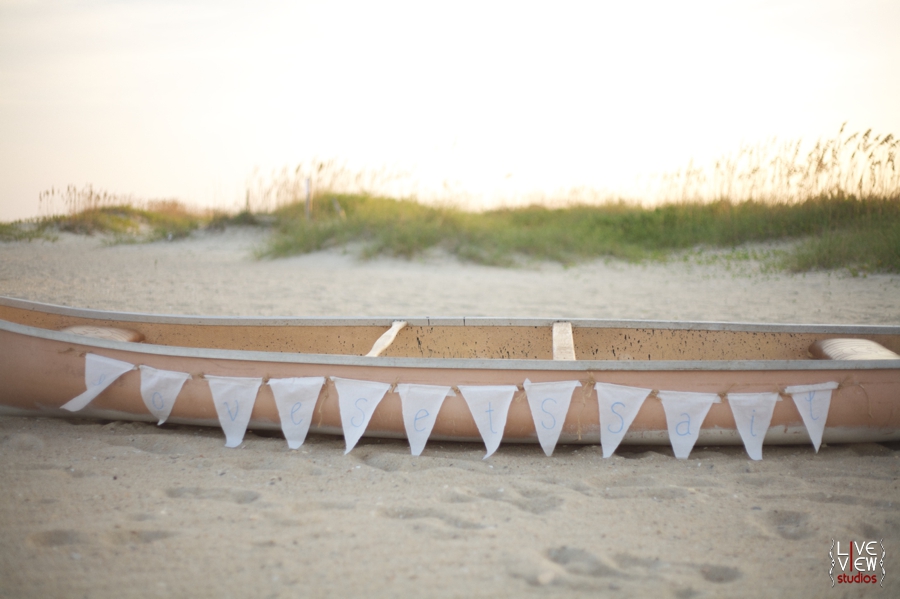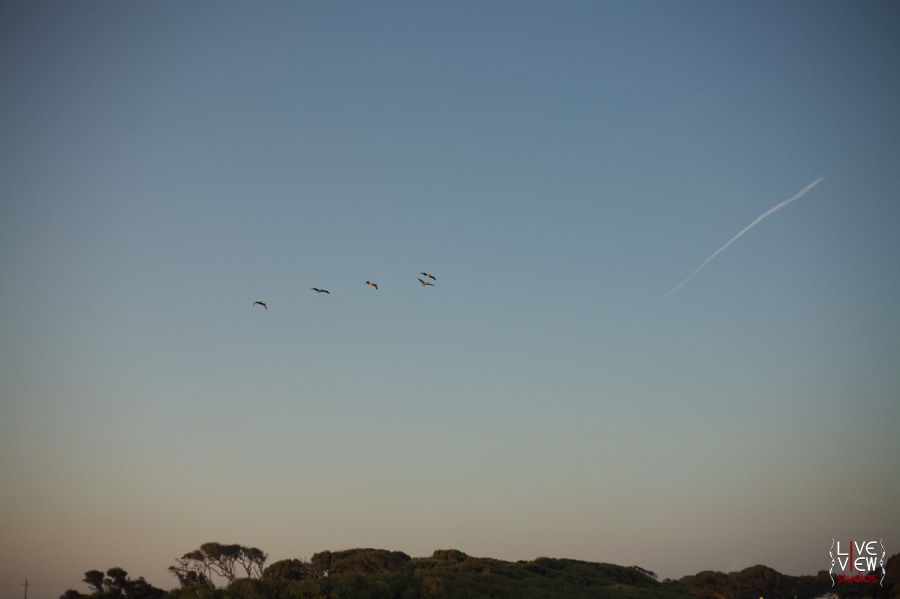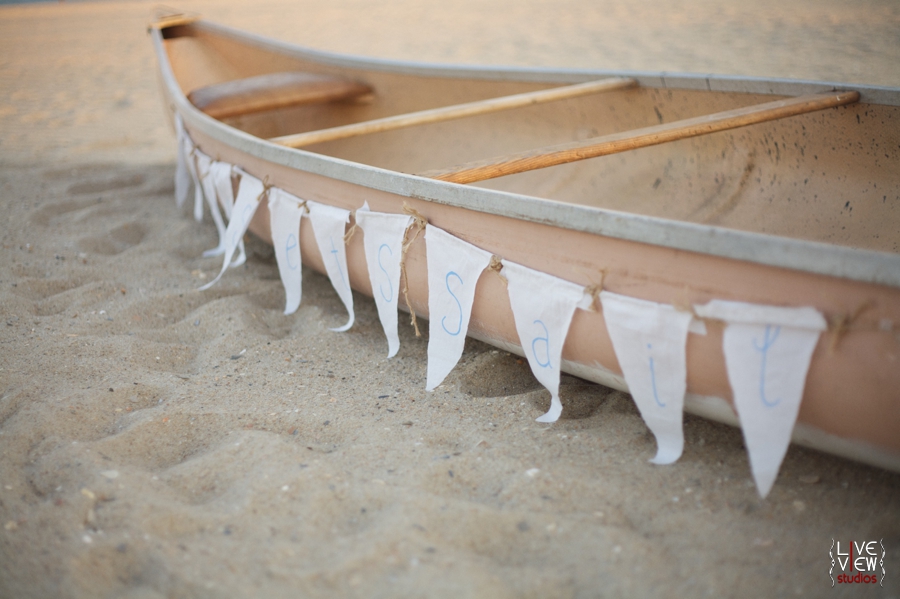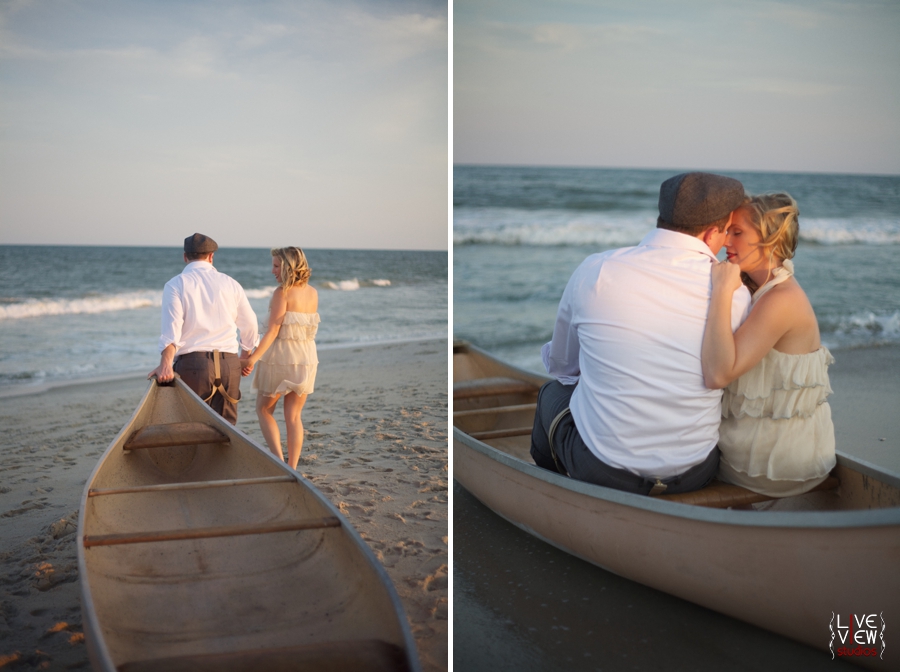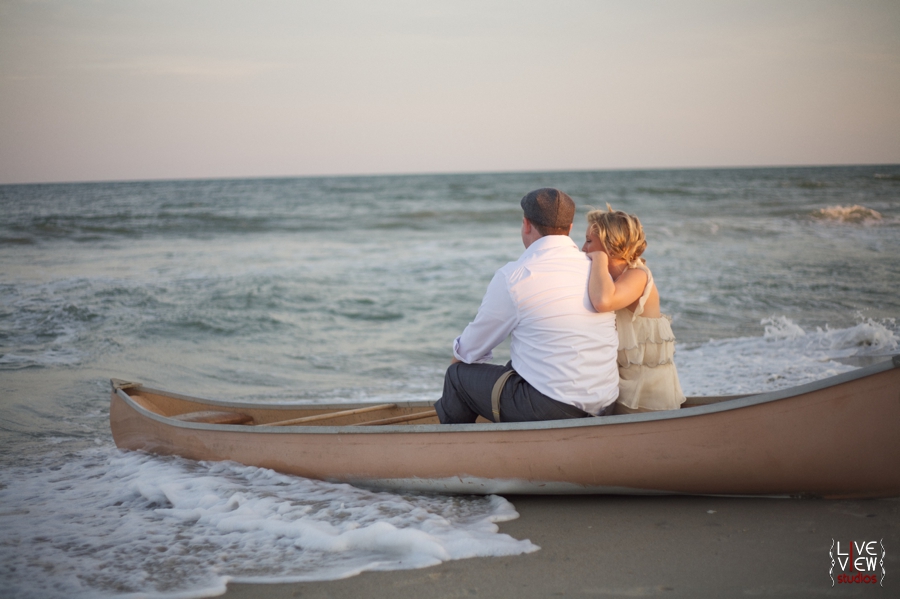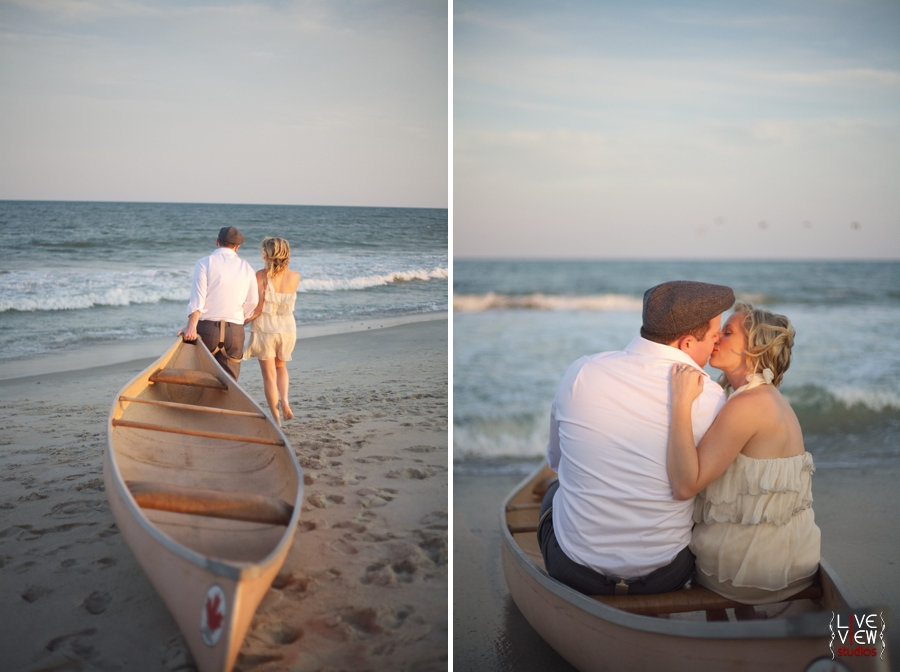 With the sun setting in fiery colors, and the passion between their hearts beating wildly … the boy and girl prepared to embark on the greatest journey they would take together … and with the waves slapping against the sides of their vessel, they were glad they had made this choice. This little bit of runaway love was simple and real, and away from the noise and commotion of a traditional wedding – they had been able to focus on the most important thing to them. 
Their undying love for each other.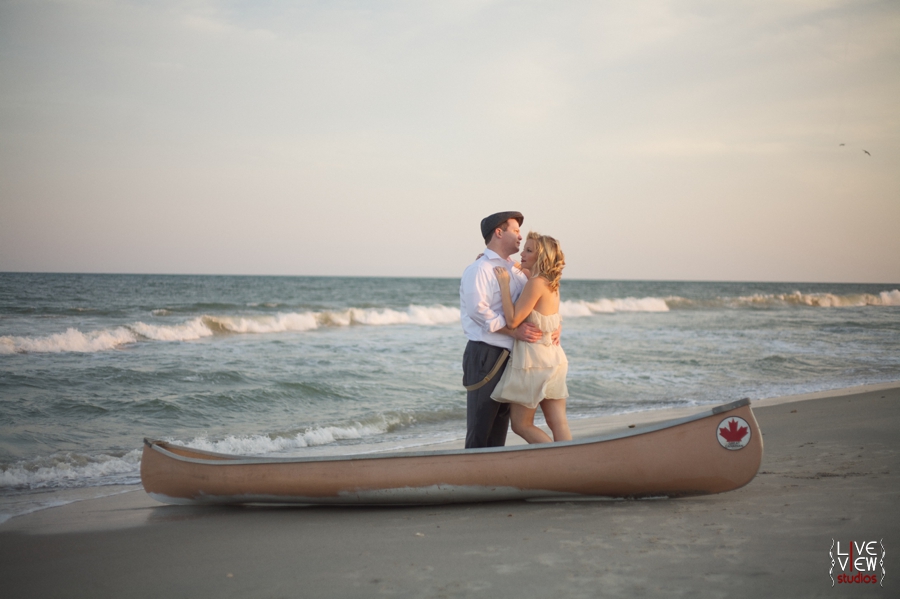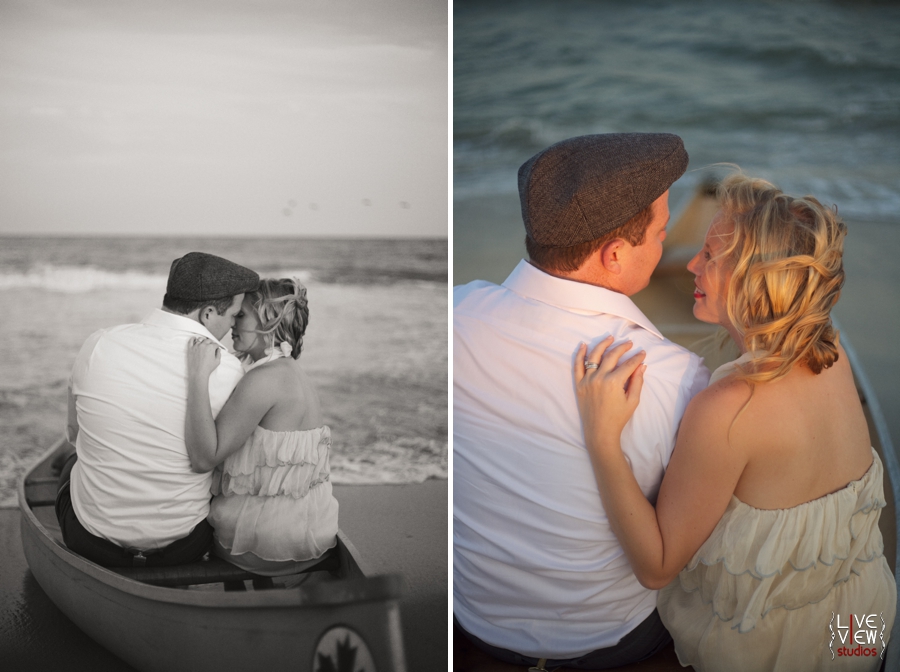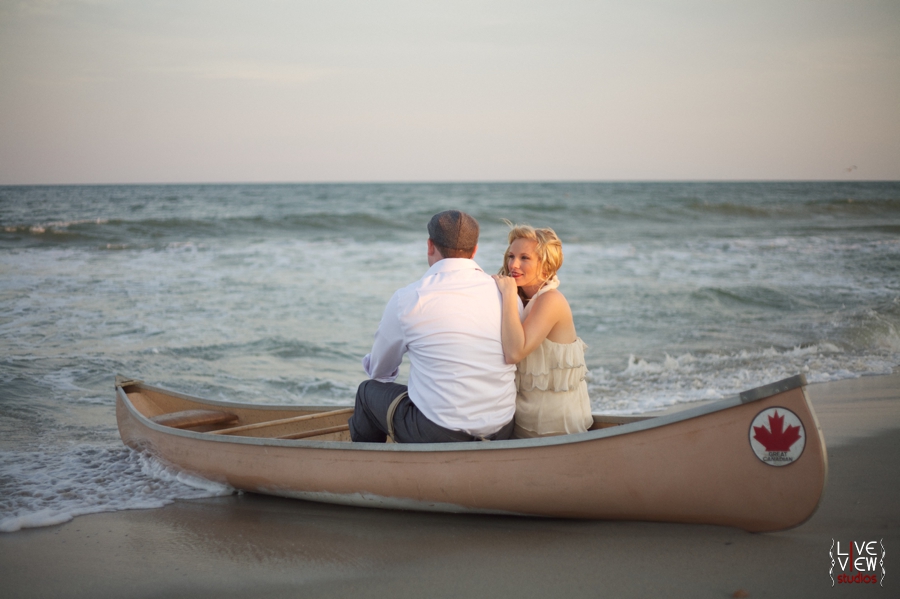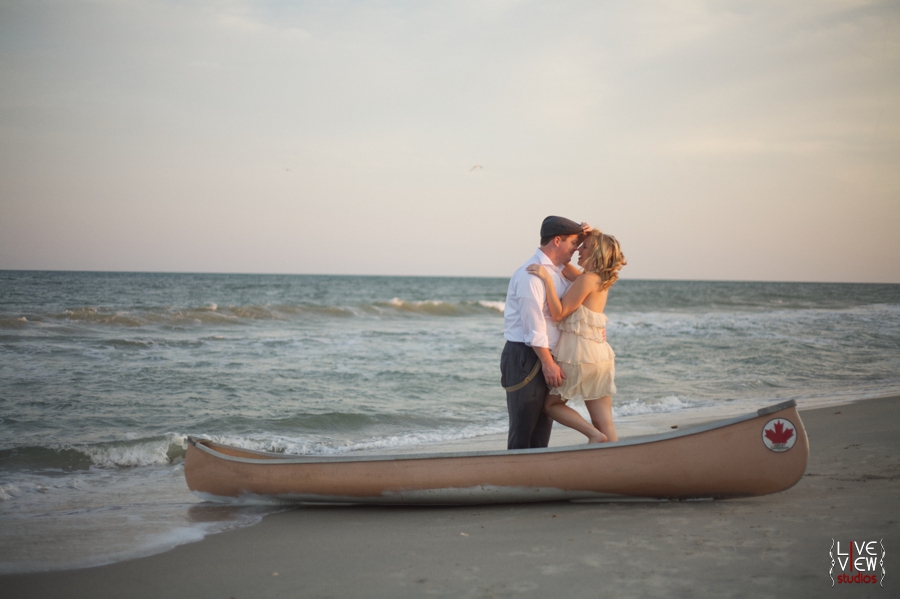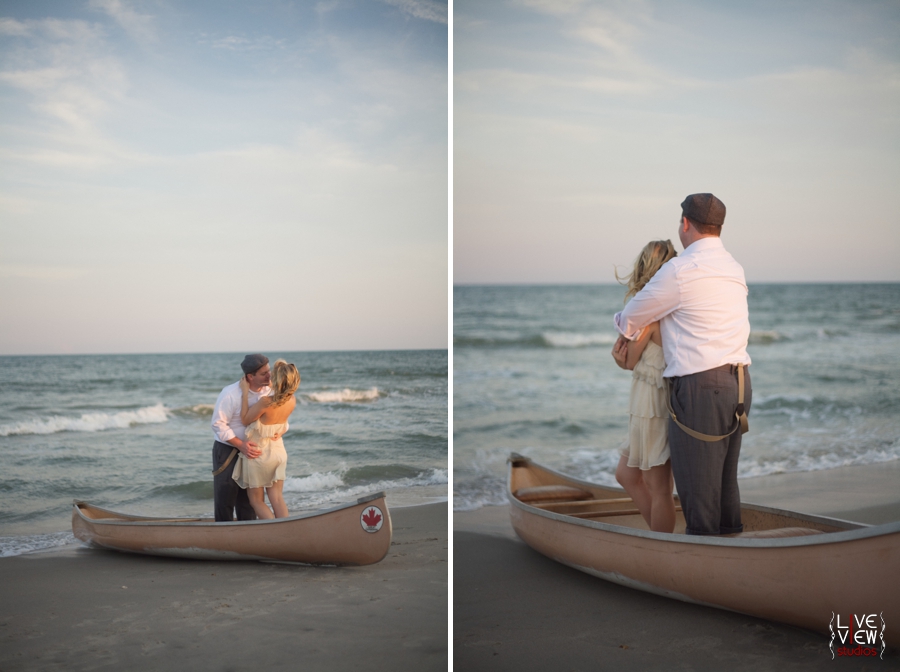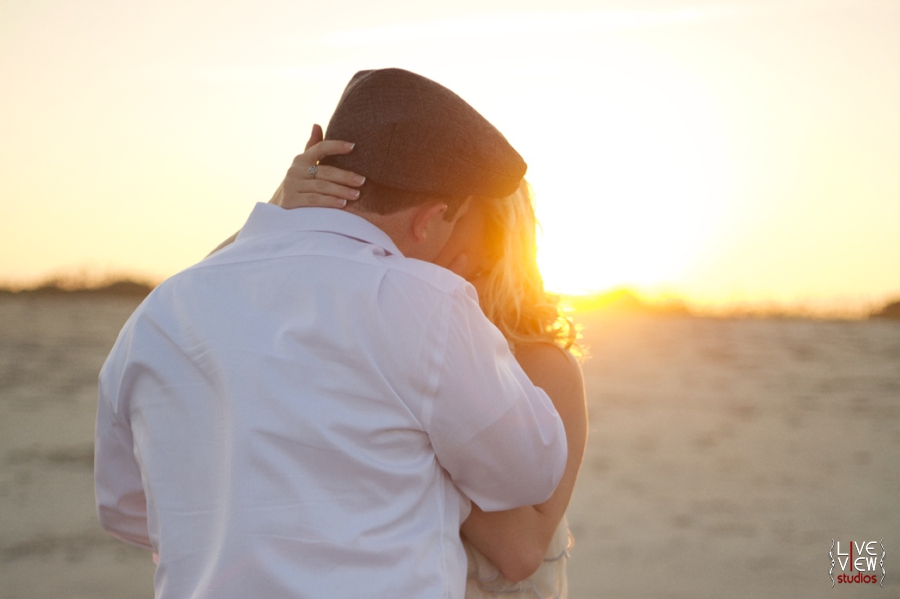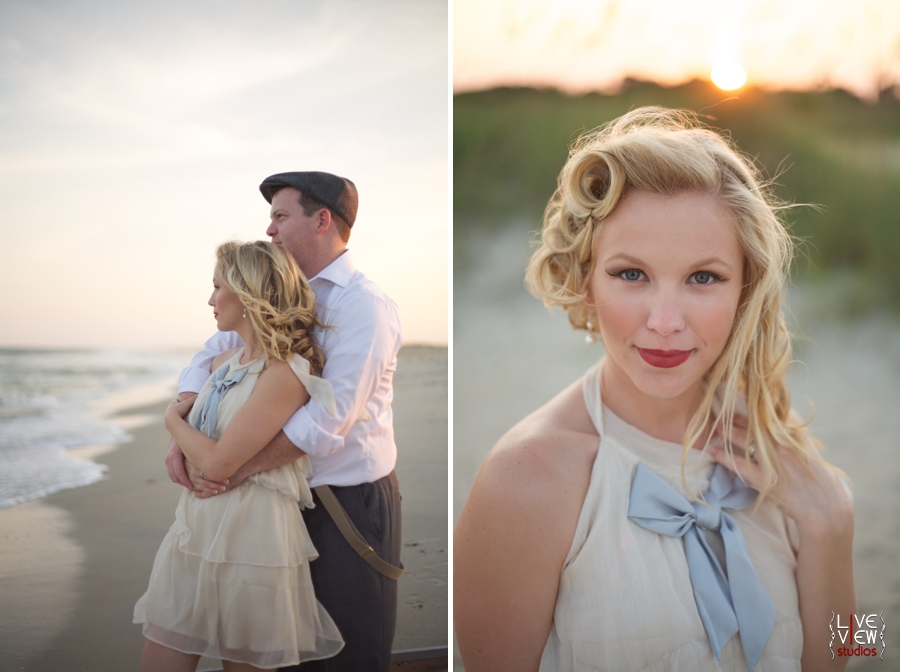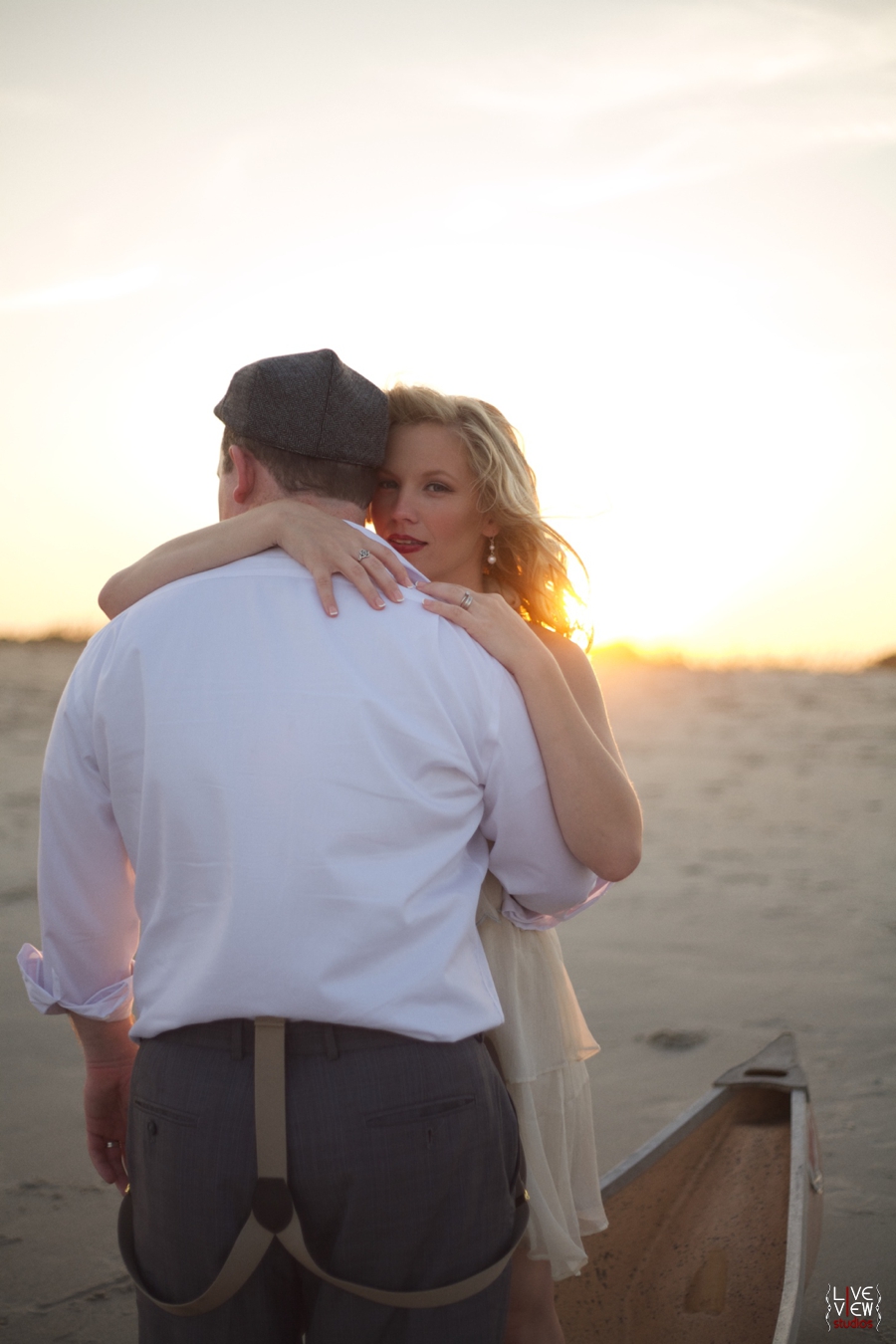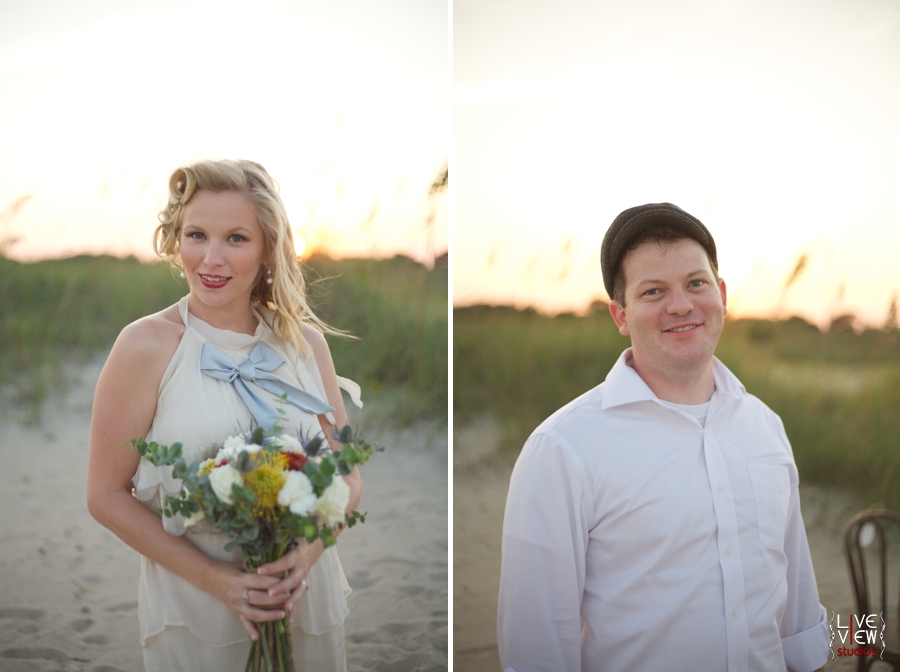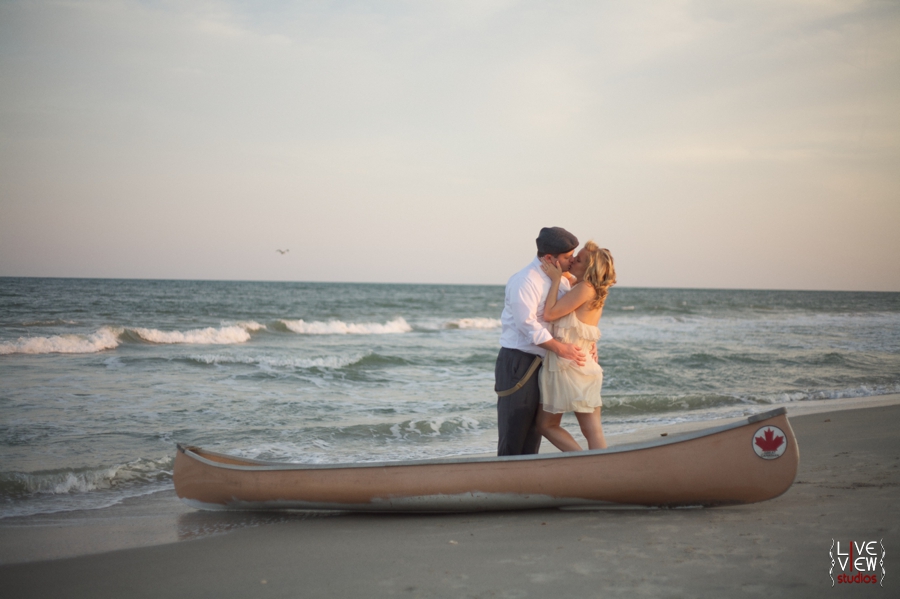 "Set sail my love, and let's fly away together. The world may storm on, but together we will kiss each other on a smooth, glassy sea … "
We were so lucky to work with some great people to put this shoot together … first and foremost the lovely Natasha and Seth … Natasha is also a North Carolina photographer and you can view her work here. The two of you were absolutely lovely to work with, and we can't wait to hang out together soon again :) Thank you so much for working with us on this story of love … and we hope you both love the amazing pictures of the two of you!
The gorgeous flowers for this shoot were designed by our friend Michelle at Embellished Blooms, and the nautical inspired cake was designed by the talented Lynn from Linacucina. Thank you both for your friendship and for working with us on this! Natasha's amazing makeup and hair styling was done by Jennifer House from Makeup For Your Day. It was great to work with you and thank you for capturing this vintage inspired look so perfectly! Much love to you all …
All you need is love … xoxo, Brent & Anna