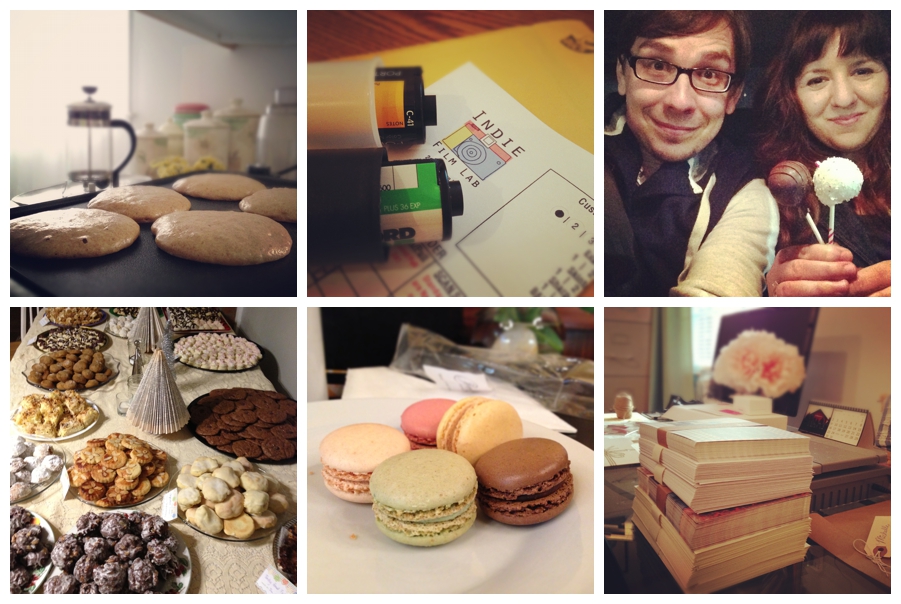 One of my favorite things to do is to scroll through photos on my iPhone and see what has happened in our lives in the last several months. It's like mini snapshots of our life and adventures together! I recently filled up my phone capacity and emptied it, so now I have a fresh start on filling it up again, but in the last several weeks we've done …
Pancakes – Who doesn't love a fluffy, golden pancake in the morning? My new favorite recipe is one that involves soured milk (add vinegar to sour it on the spot) and they get soo light and fluffy this way.
Film – Seriously, sending off film and waiting for it to come back is like waiting for Christmas day to arrive. Eek!
Cake pops at Starbucks – While out Christmas shopping, we made a last minute pit stop at Starbucks for some tea on the way out of the mall, and since they were just closing up – they asked if we wanted their last two cake pops for free. Umm, yes!
Christmas cookies – Our annual cookie exchange was last week .. and I'm sure there was way too much sugar consumed by everyone involved. This picture is just a little bit of all of them .. maybe half? We'll be eating cookies until Christmas ..
Macarons – We got together with our friend Stephanie from Viva L'Event to try out some macarons at Hereghty's. Do you know that we've never had them before? They are tasty and different, and now perhaps Anna and I will try making some ourselves as well. Maybe this will be an upcoming Cooking For Love feature …
Christmas Cards – As I'm typing this post up tonight, Anna is working on Christmas cards. We're so excited about our cards this year and can't wait till they start arriving in y'alls mailboxes! We sent an extra bit of love with each one :)
What are some of your favorite things to do in December?