Wedding receptions are a great time to mingle with guests and make some new contacts. Our first priority for the day is capturing the best photographs we can get for our client, the bride and groom of the day. But, we also want to show an editorial viewpoint of everything that is going on around the lovely couple during their day as well. During the reception, typically there's a little bit more time for us to mingle around, and one of the things we love to do is look for some super cute couples that are wedding guests and photograph them together as well.
Since we do a digital slideshow of photos the day of the wedding, we always have some event cards in our camera bag that have the website address where friends and family can view the couple's wedding photos (we leave some laying around the slideshow as well). If we spot some cute couples that are just having a wonderfully romantic time together at the wedding, we'll walk over to them and ask if we can take their picture. Most times, they are more than happy to have one taken!
My introduction line goes something like this – "Hi! I'm Brent, the wedding photographer and I couldn't help but notice you two over here together. Would you like to get a photo taken together?"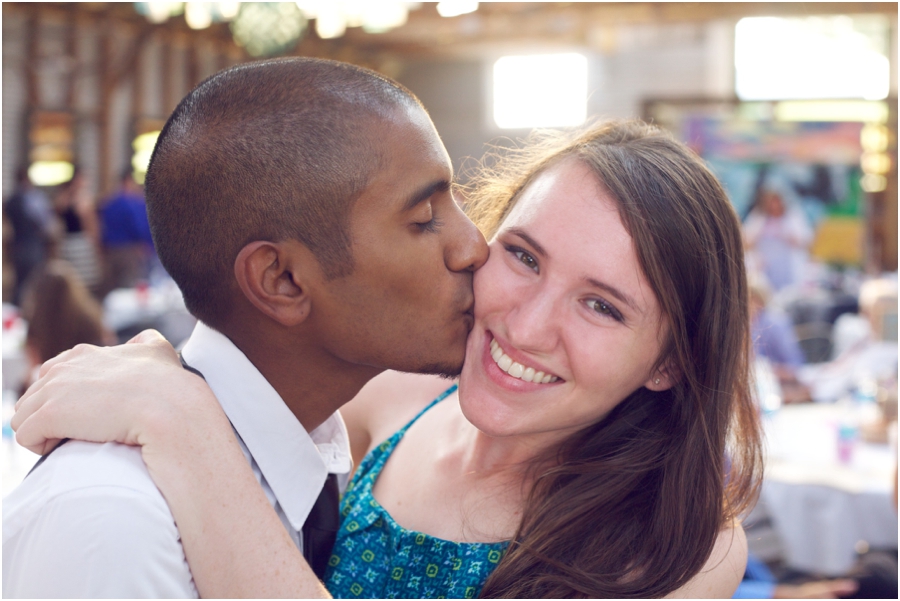 We'll take their photo (or several), and then hand them a card and tell them they'll be able to find their photo on the couple's wedding website afterwards. This gives us an opportunity for them to reconnect with us online, where our social networks, blog, and more are linked in.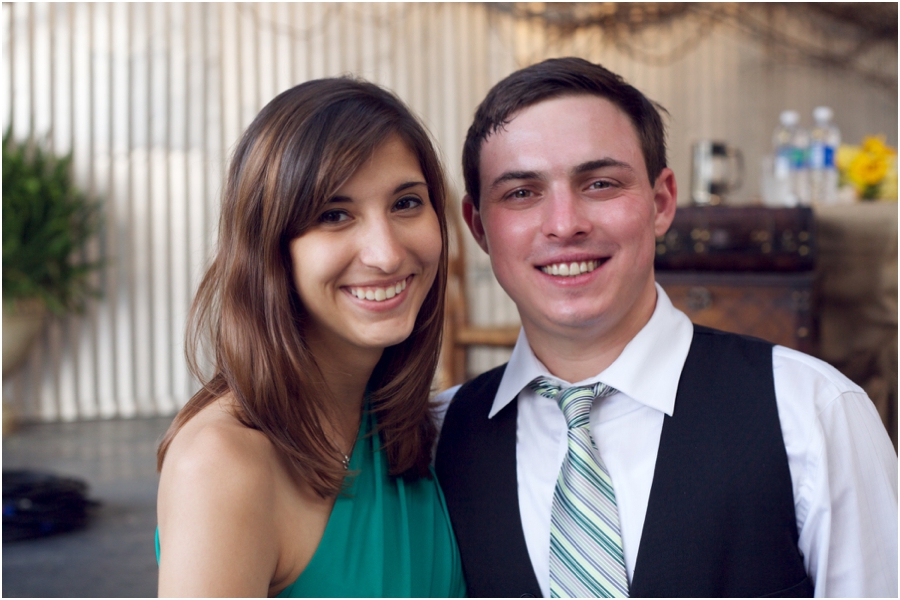 Our typical couple's wedding website looks like this image below. On it, we link to the couple's photo gallery (which is set to preregistration mode during the wedding and afterward until the images are made live), our blog feature about the couple, and our social networks.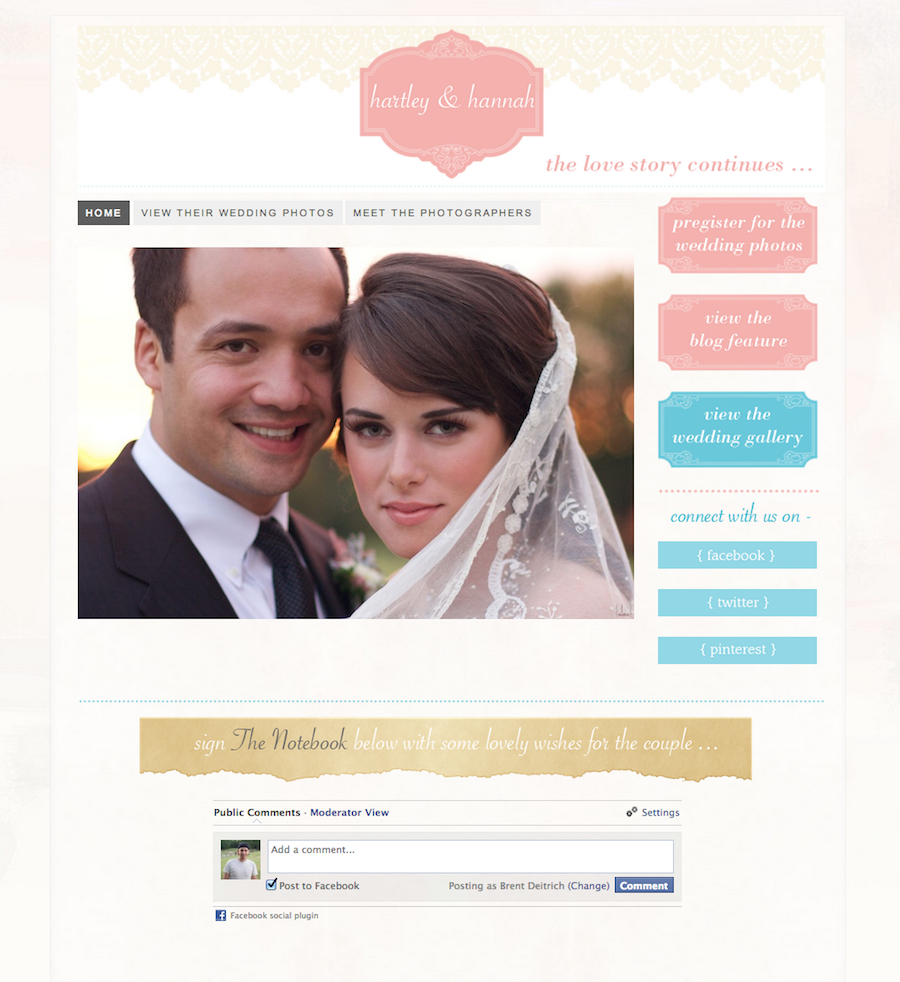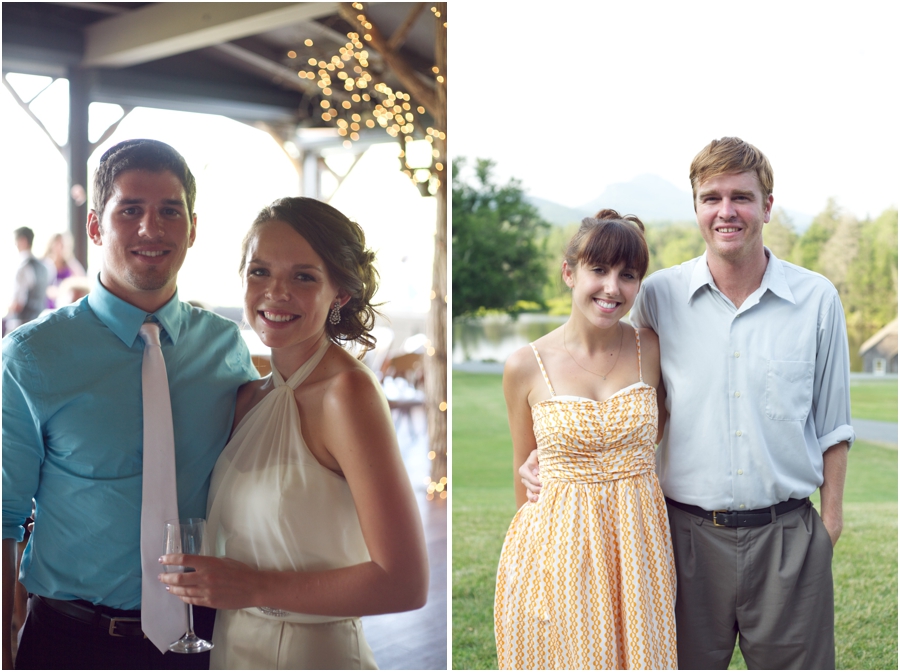 This gives us a friendly opportunity to say hello. We're not selling ourselves or our services, but we're connecting and making sure that people know who we are by name, If they want a picture taken later, it gives them a name for us instead of saying "hey, photographer – take a picture of this!". If the couple is dating or newly engaged, it gives them a brief opportunity to chat with us and for us to give them something with our names attached. Maybe they'll want to check us out for their own wedding photography, maybe not. Either way we've given them some way of remembering us, and being able to get a special image for themselves.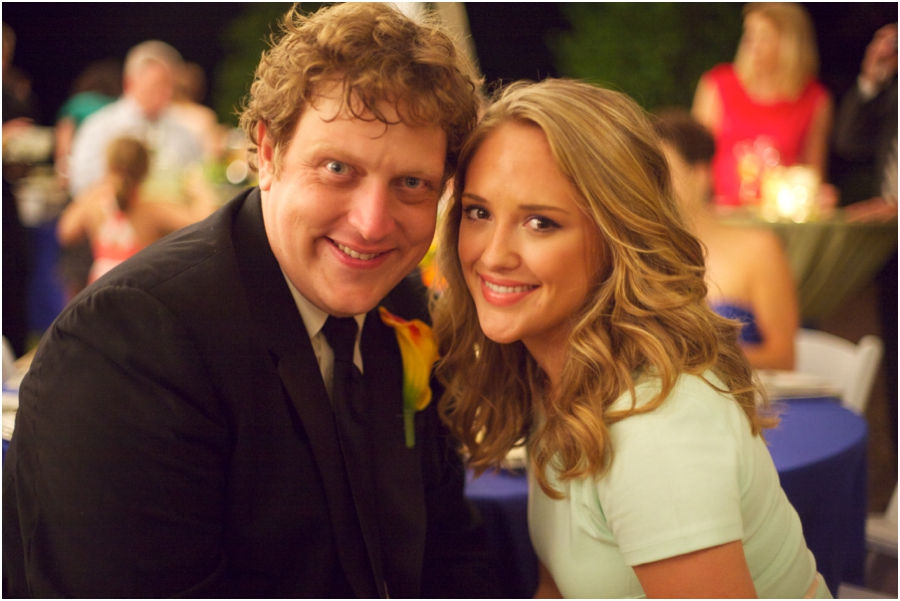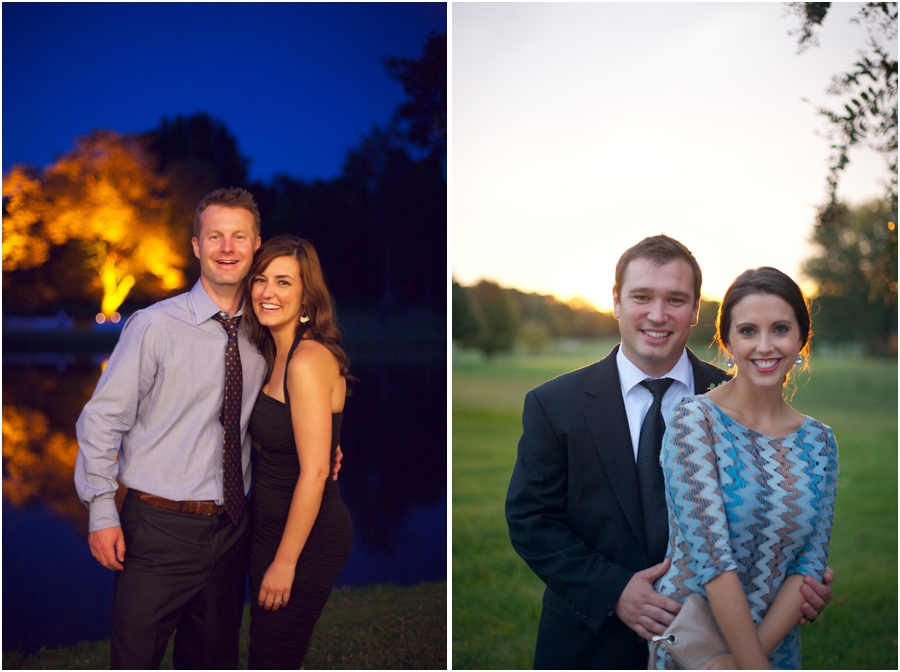 What if they're not really a couple? This has rarely happened, but sometimes it's just been two really good friends having a good time together, or a brother and sister or other family member. Either way, if they're already engaged in conversation with each other, and appear to be having a good time, they're usually more than happy to get a photo together as well.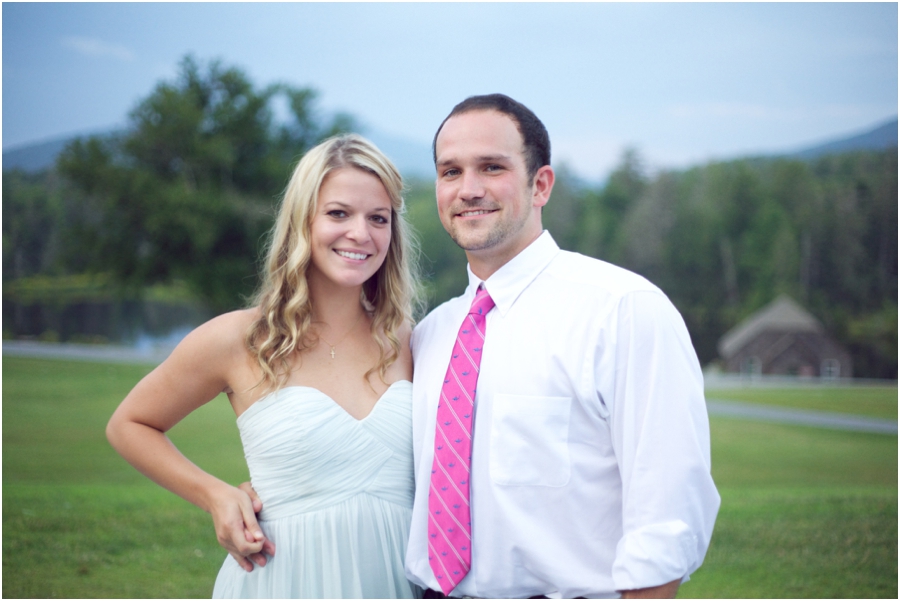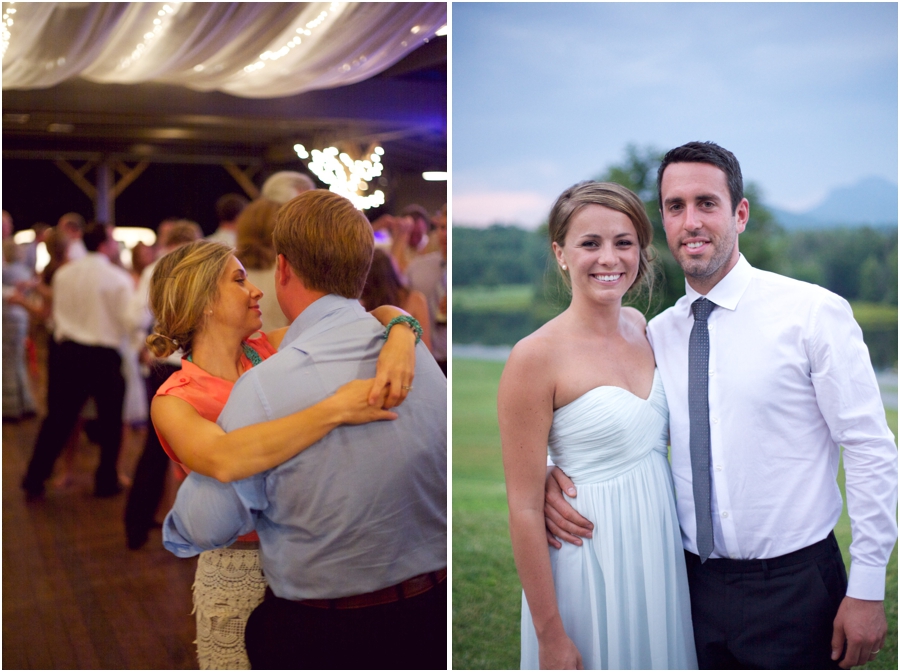 As part of our approach to emotional photography, we always try and look for couples that are obviously enjoying themselves while dancing during the reception. Rather than only taking large wide shots of people dancing, we like to look for some sweet intimate moments that couples are having together and focus on them.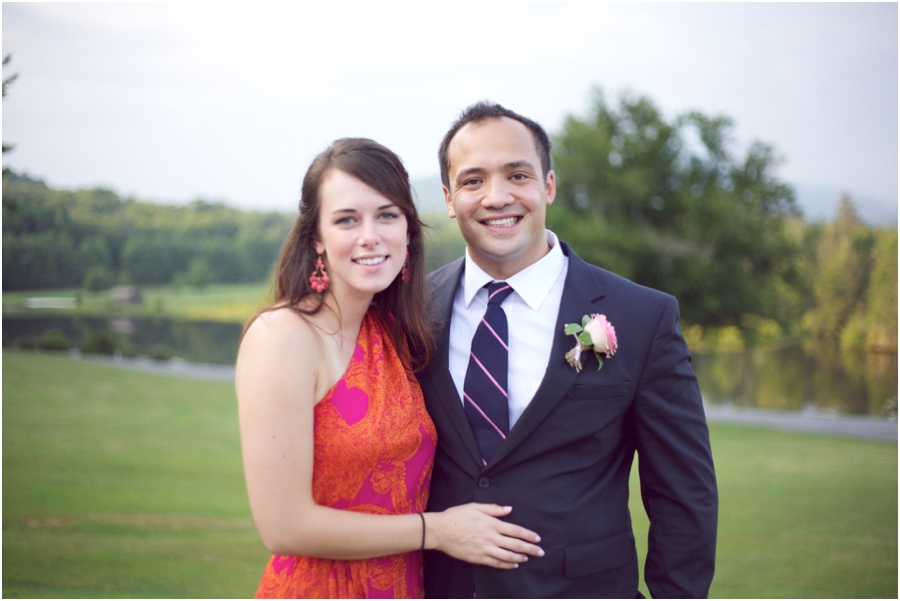 Hartley and Hannah were wedding guests at Bill & Molly's North Carolina mountain wedding, and later chose us to be their own wedding photographers later that fall!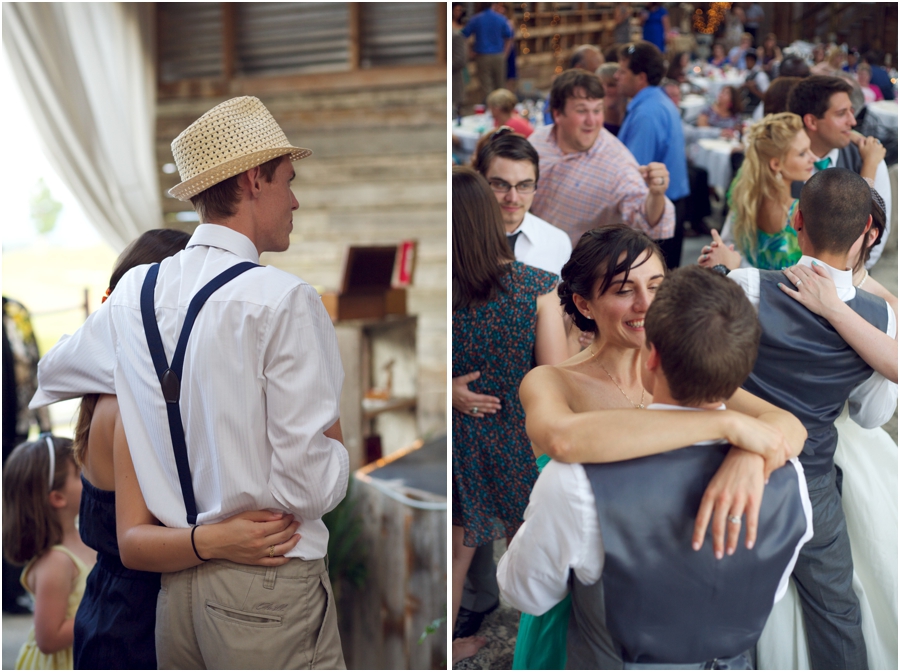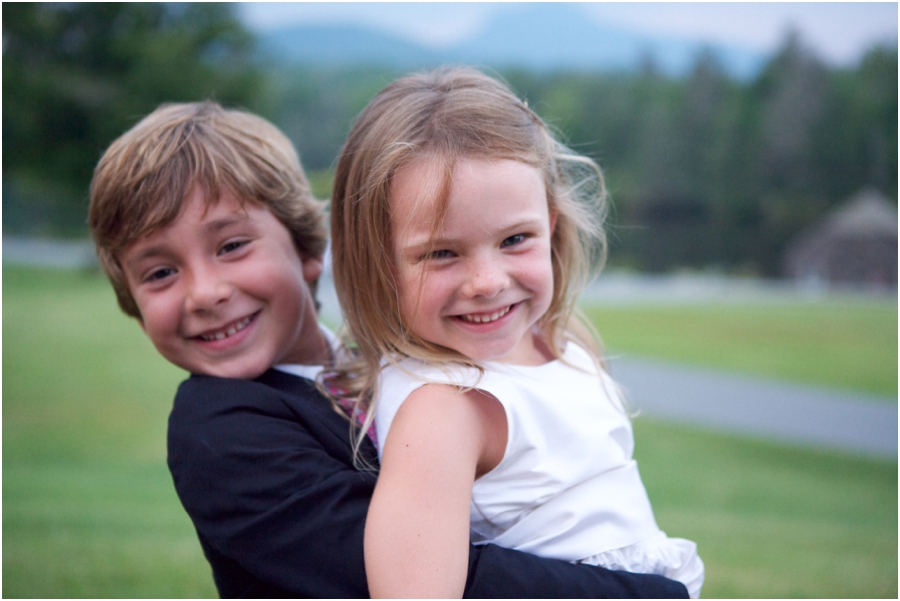 These two aren't exactly a couple, but they were so cute together that we just took their photo anyway!
Happy Thursday! xoxoxo