We were absolutely thrilled to have this southern bridal luncheon inspiration featured on The Lovely Find on Monday. A few months before the shoot, Amy shared her vision of pink, pies, and cotton to us, making our hearts beat faster and ours minds begin to whirl with ideas. Combining mint green (Anna's favorite color at the moment) with a palette of pinks, peach, and coral, this gorgeous al fresco luncheon is casual yet elegant, and will probably make you hungry for pie by the end! :)
A farmhouse-style table was set beneath oak trees, with a lovely vintage pink velvet chair placed just for the bride. Pink and blush peonies, strung on a piece of twine with clothespins, were suspended above the table.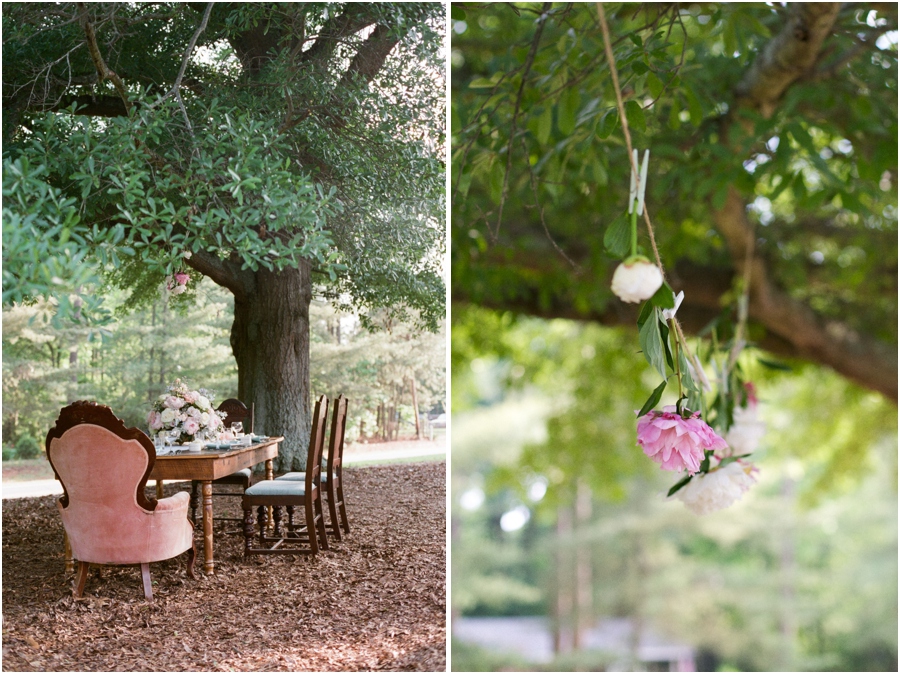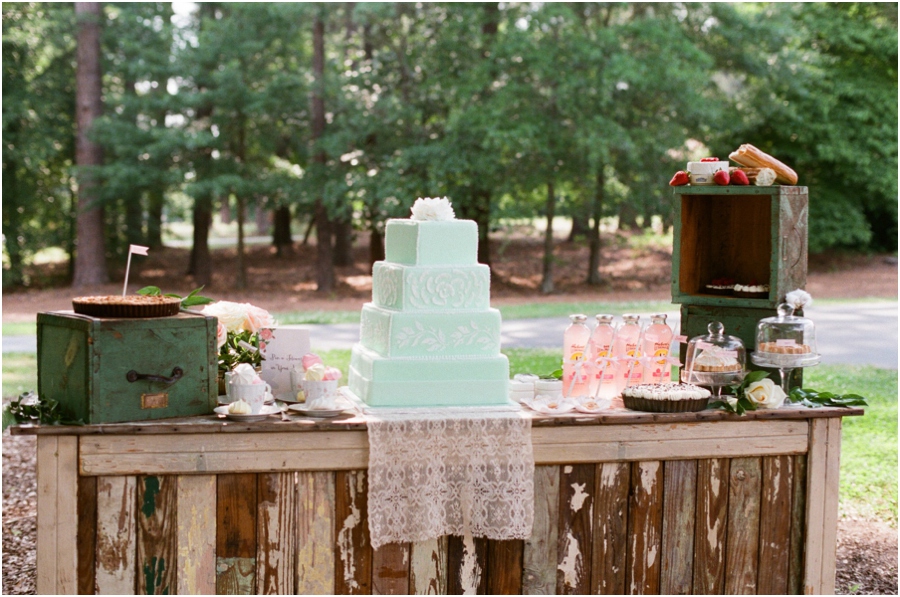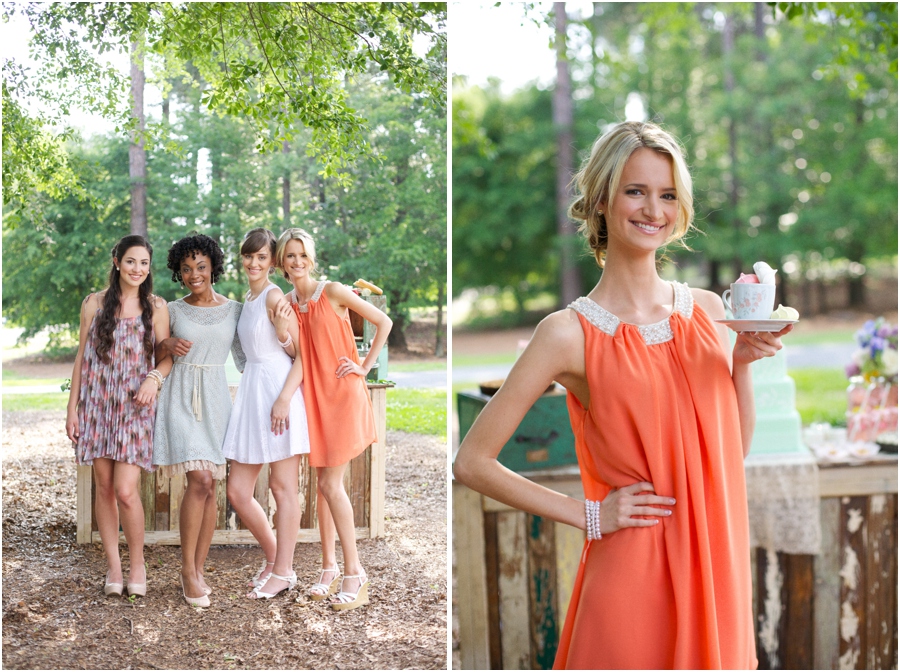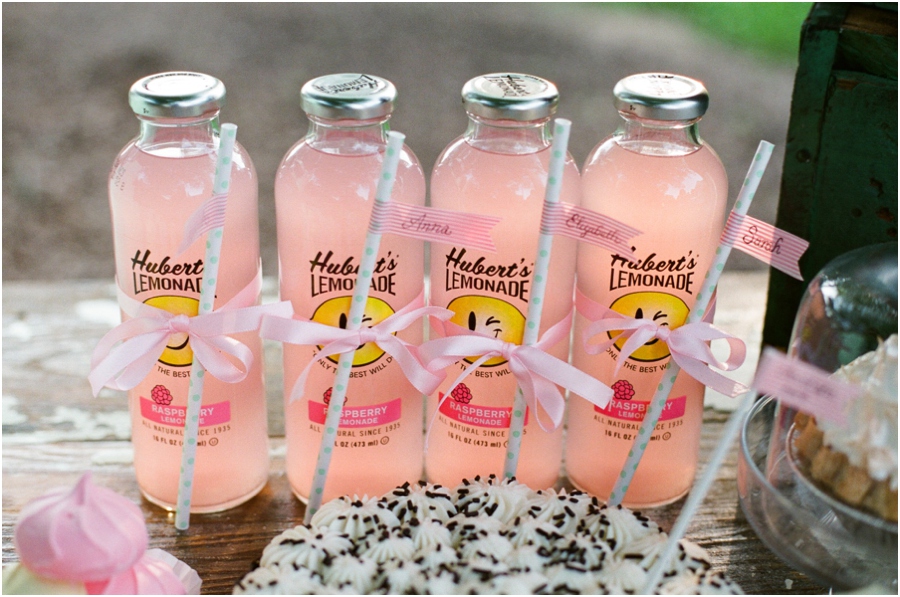 Minty polka dot straws, tied to each bottle of lemonade with ribbon and festooned with a personalized washi tape flag, made it easy for everyone to identify their tasty summer beverage. This simple DIY is perfect for parties and other events.
The bar was laden with mini and full-size pies, meringues in tea cups, and assorted sweets, and a gorgeous mint and lace cake designed by Linacucina took center stage.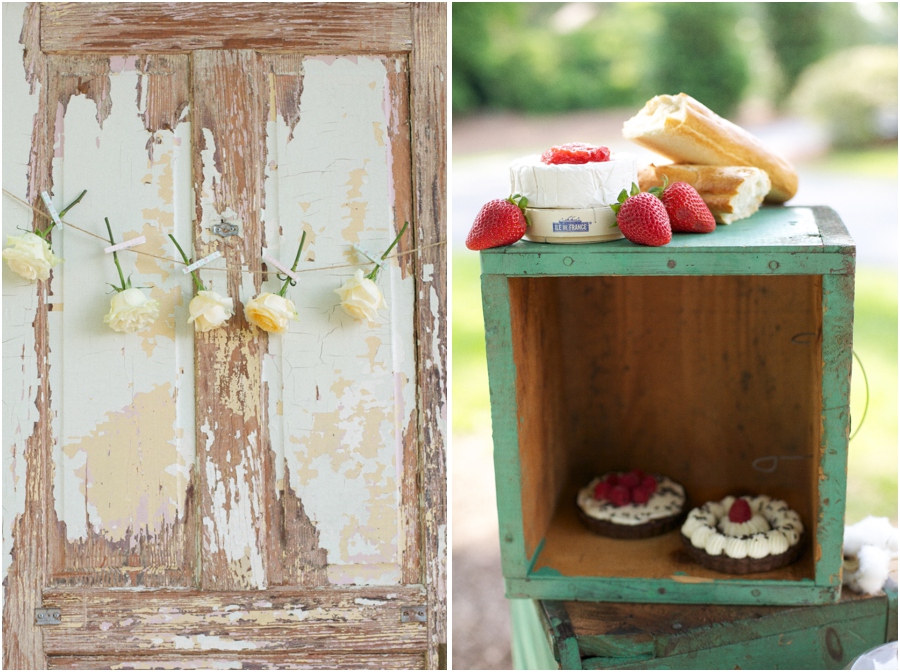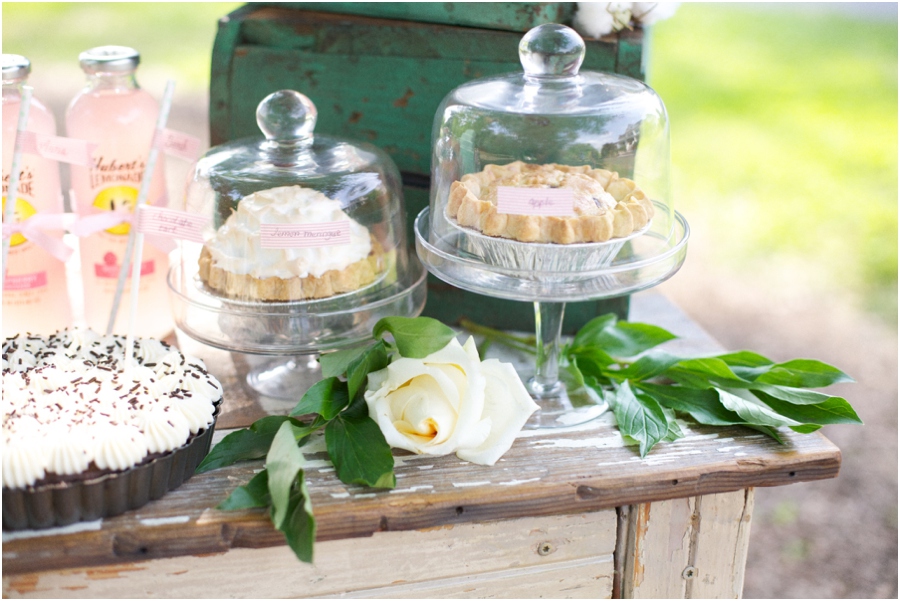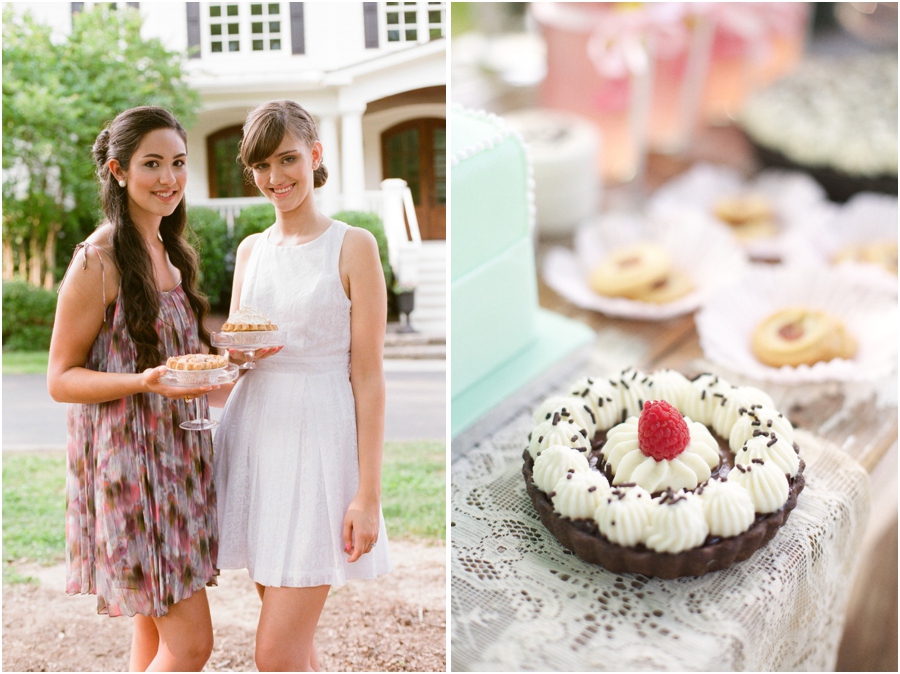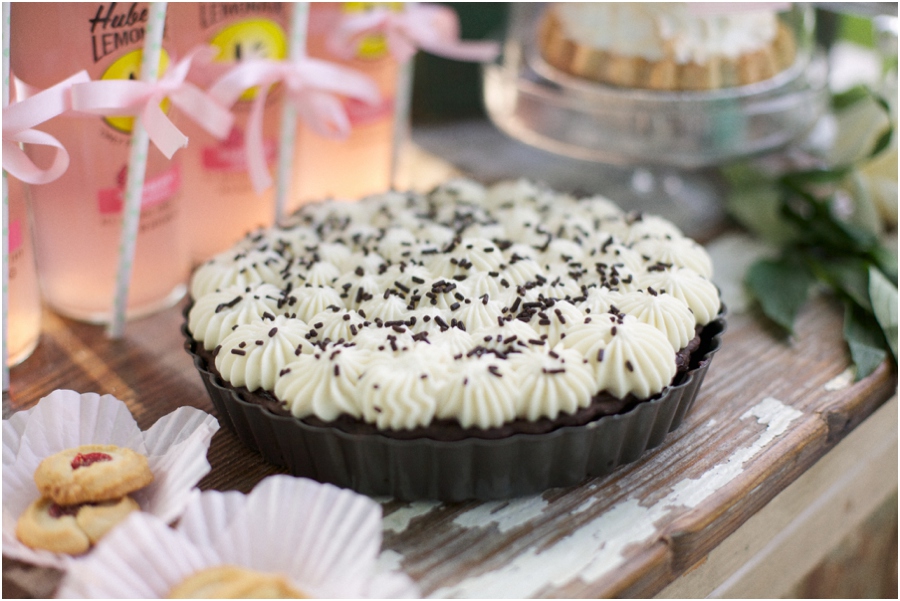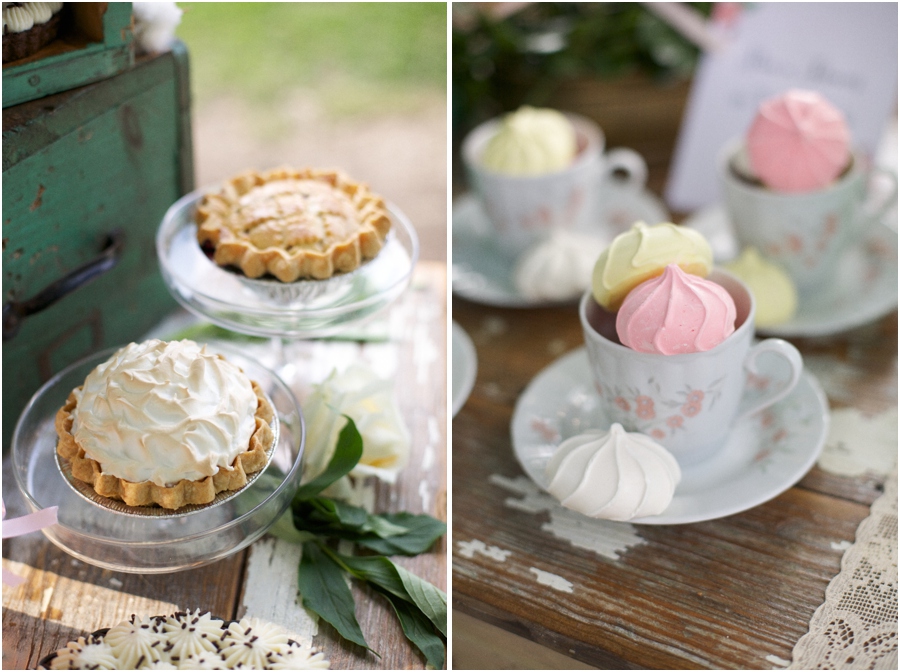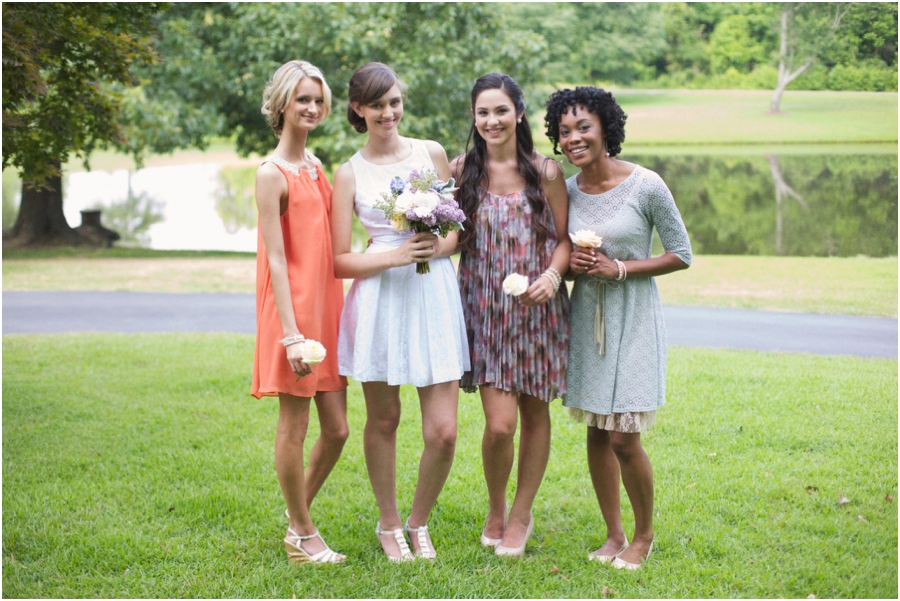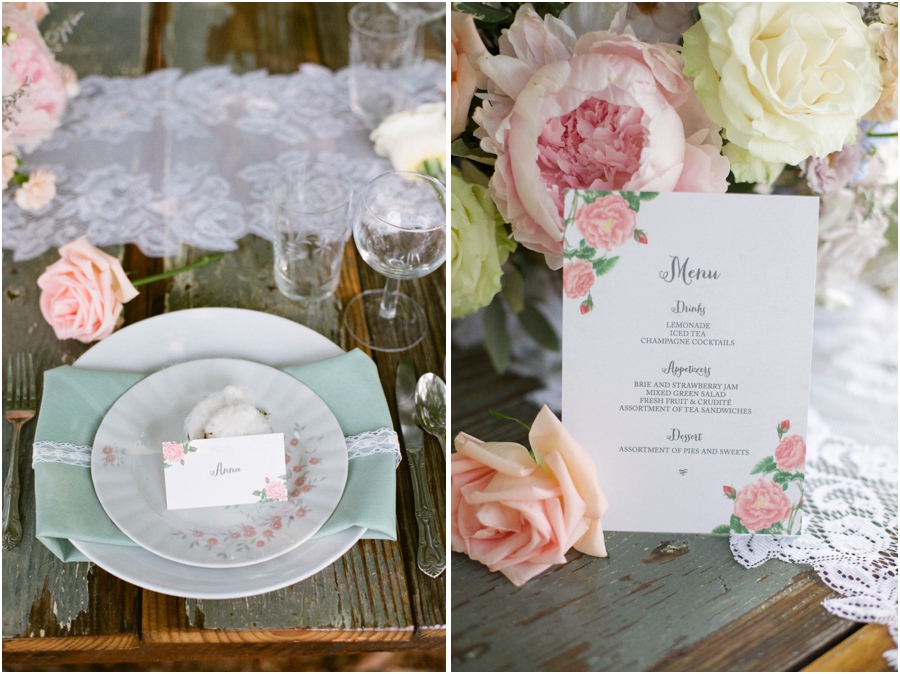 A cotton boll on each plate holds the place card for each setting, while the coral flowered plate and sage green napkin carry out our color palette. A lush floral arrangement of peach and cream roses and pink peonies was set atop a vintage lace table runner for a centerpiece. And how lovely is the garden party-style stationary from Crafty Pie Press?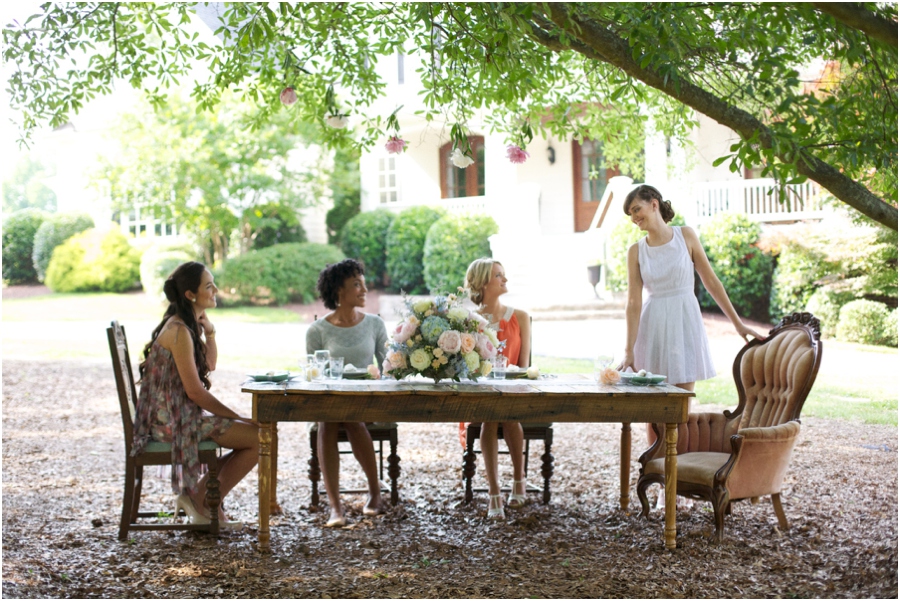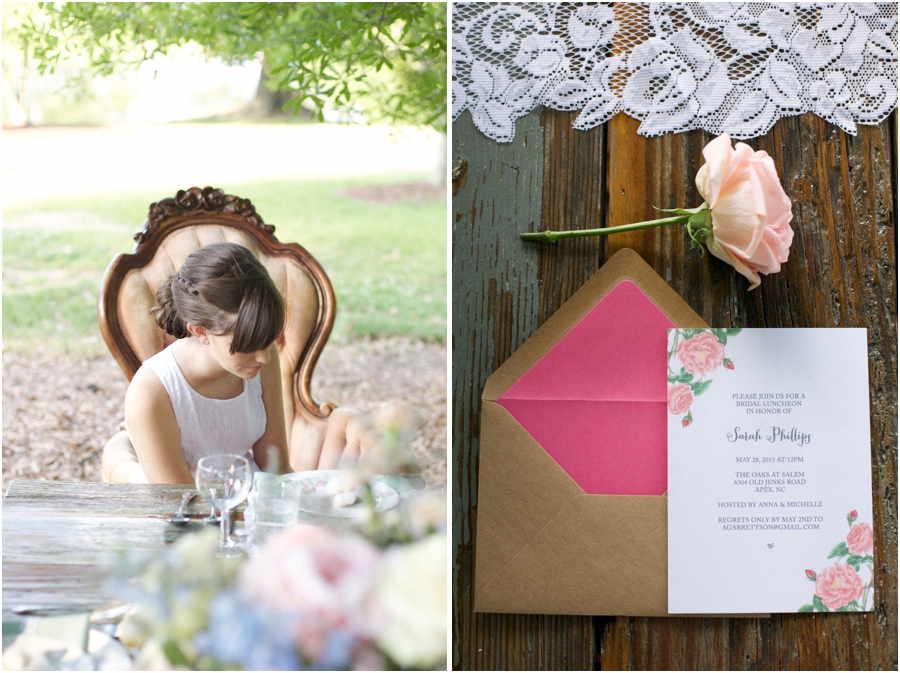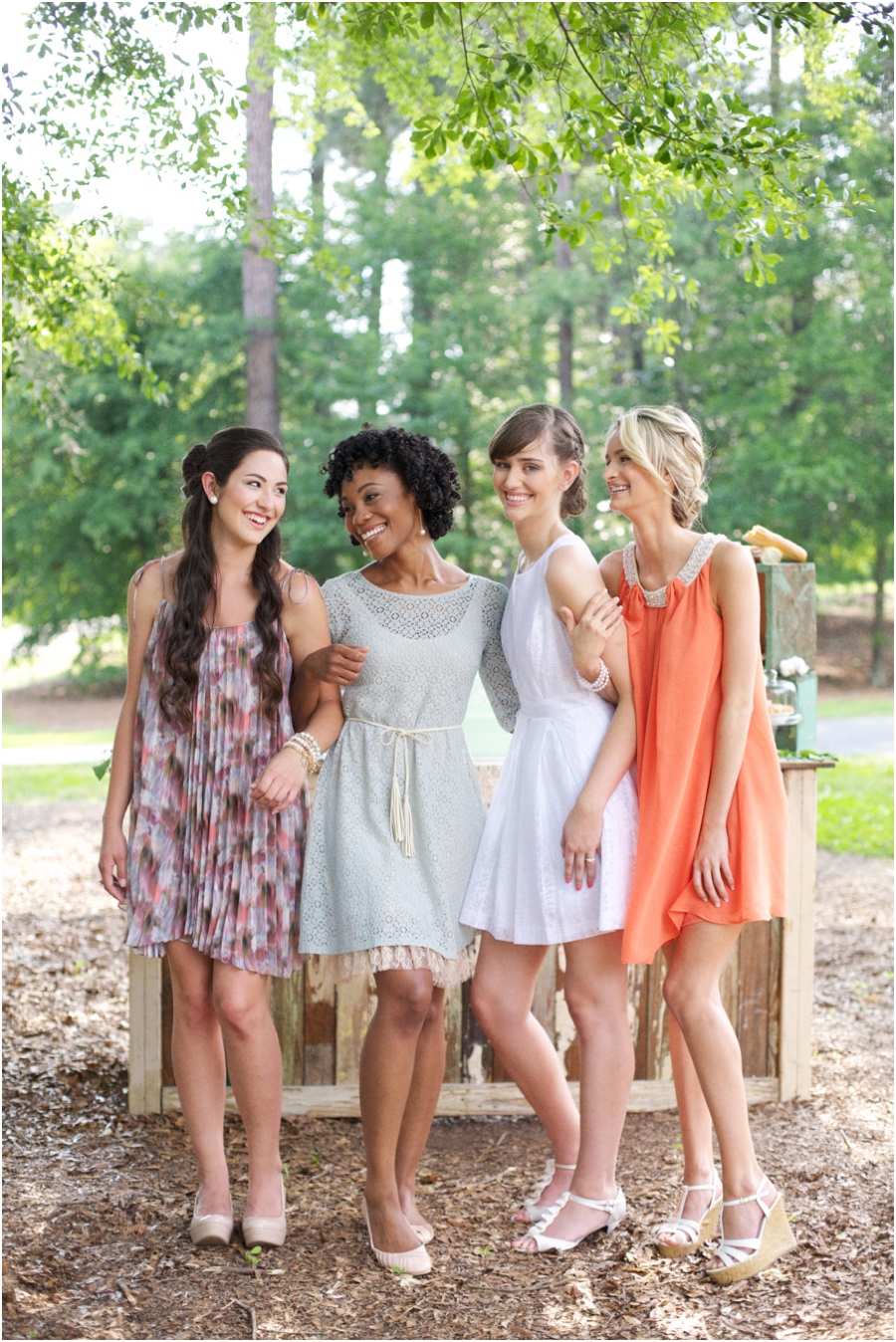 Our lovely ladies looking gorgeous in dresses from Peachy Keen Boutique!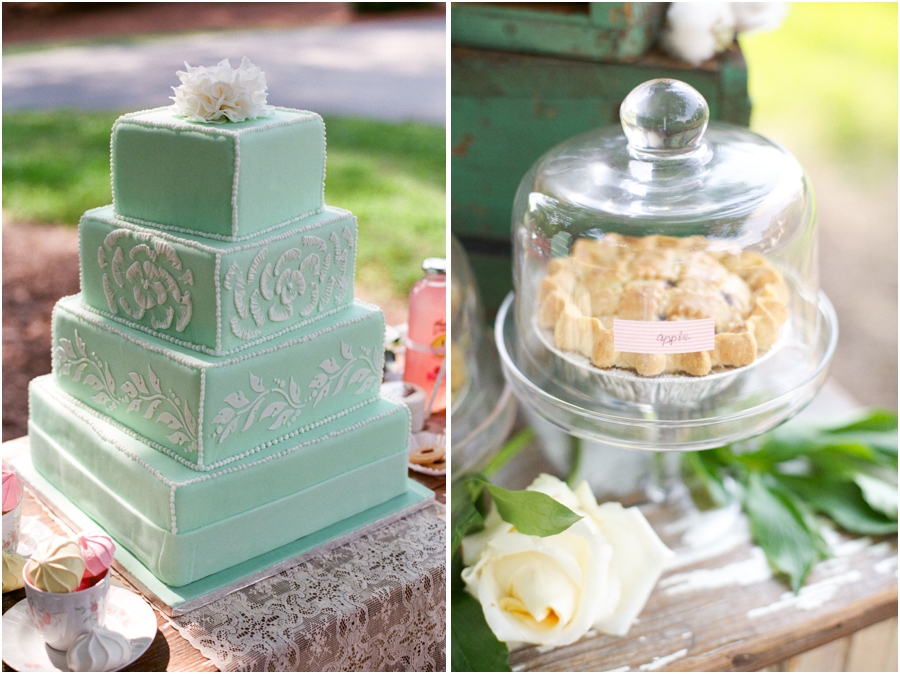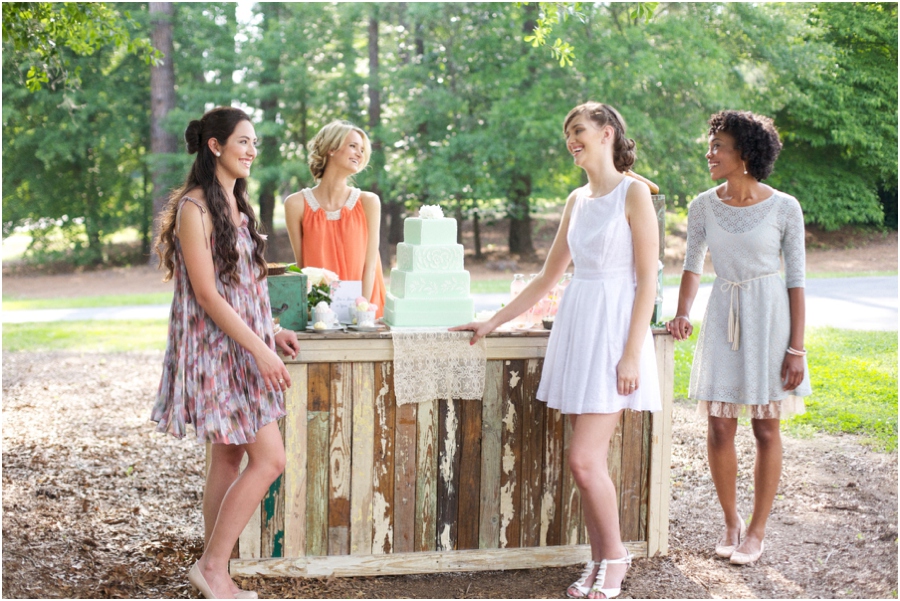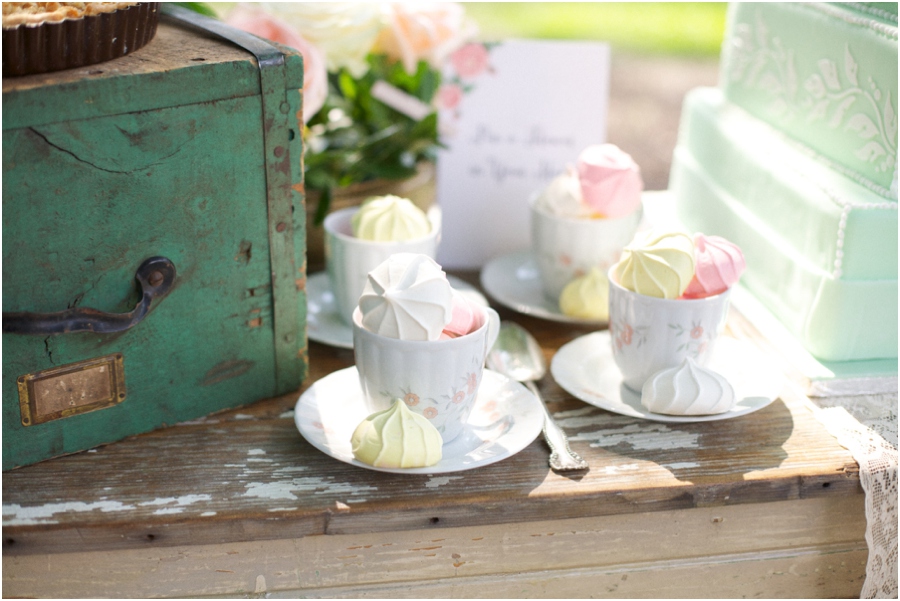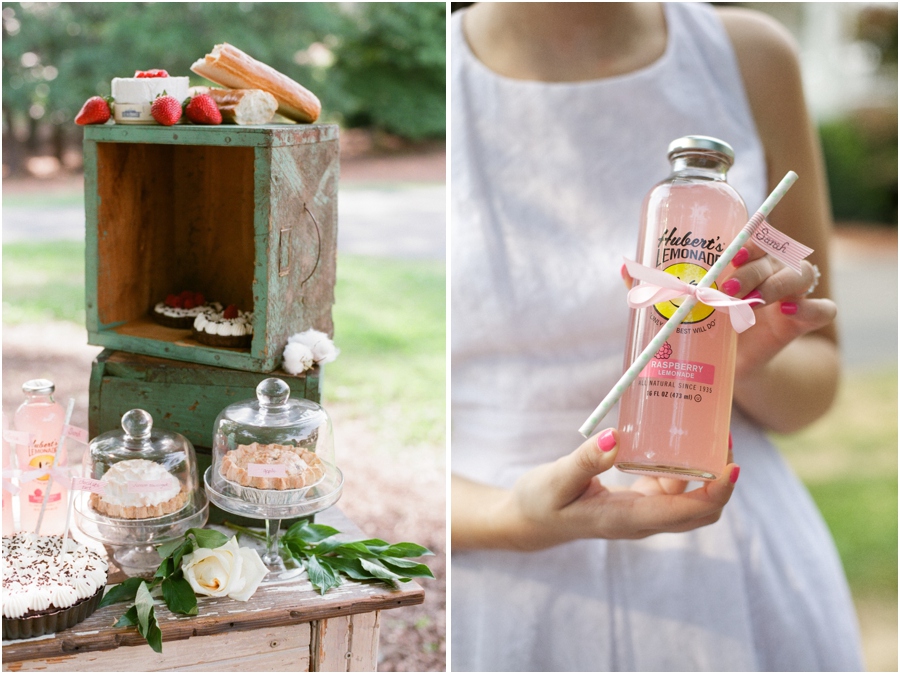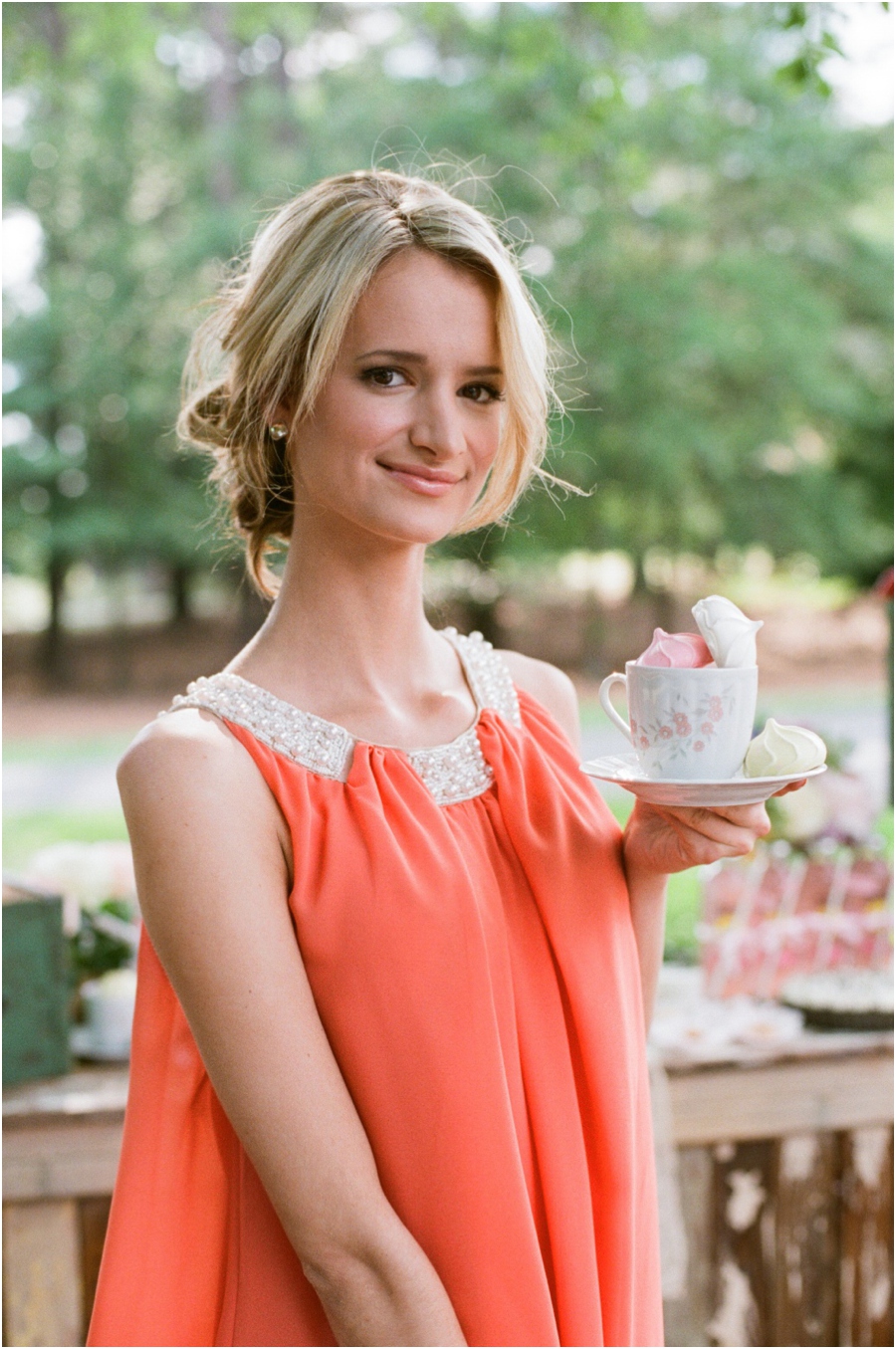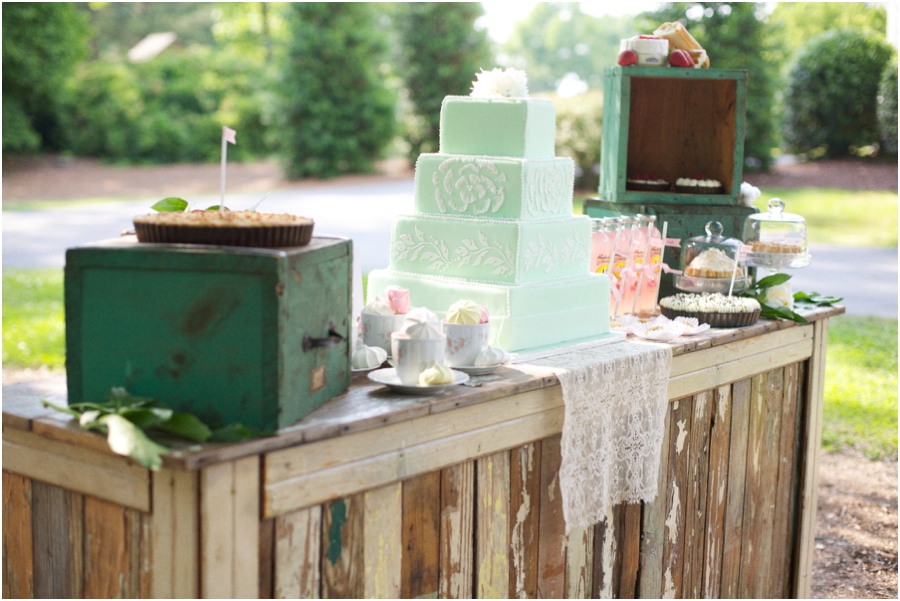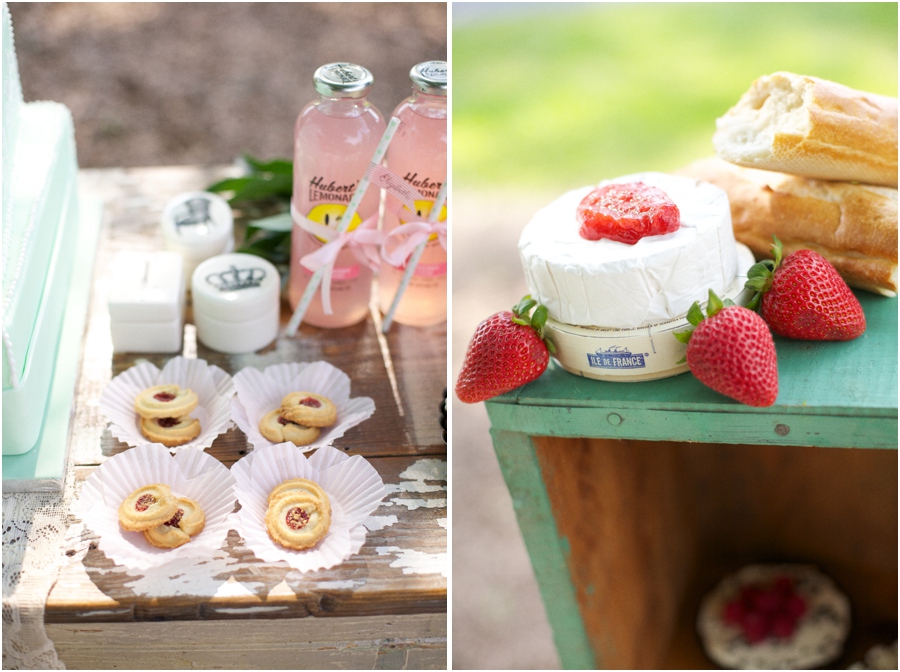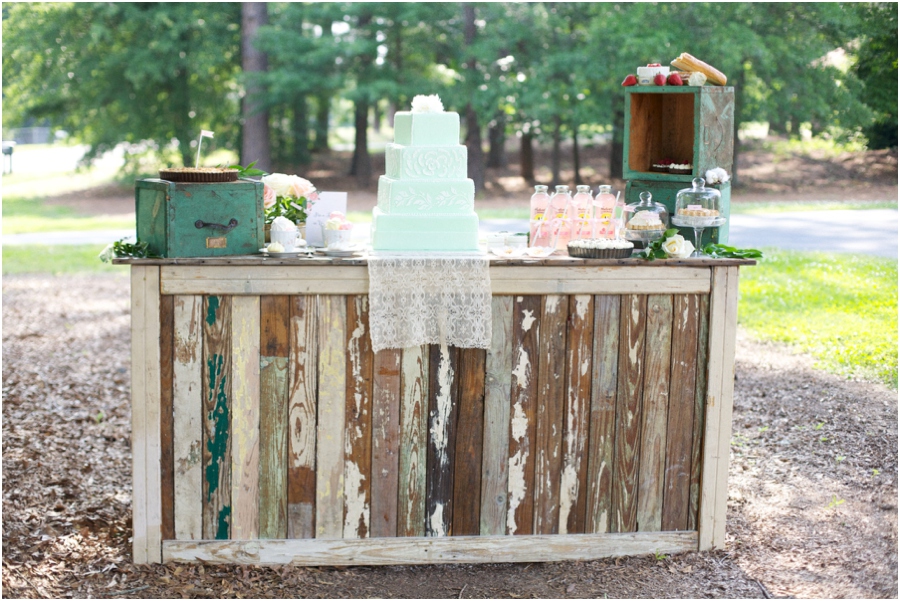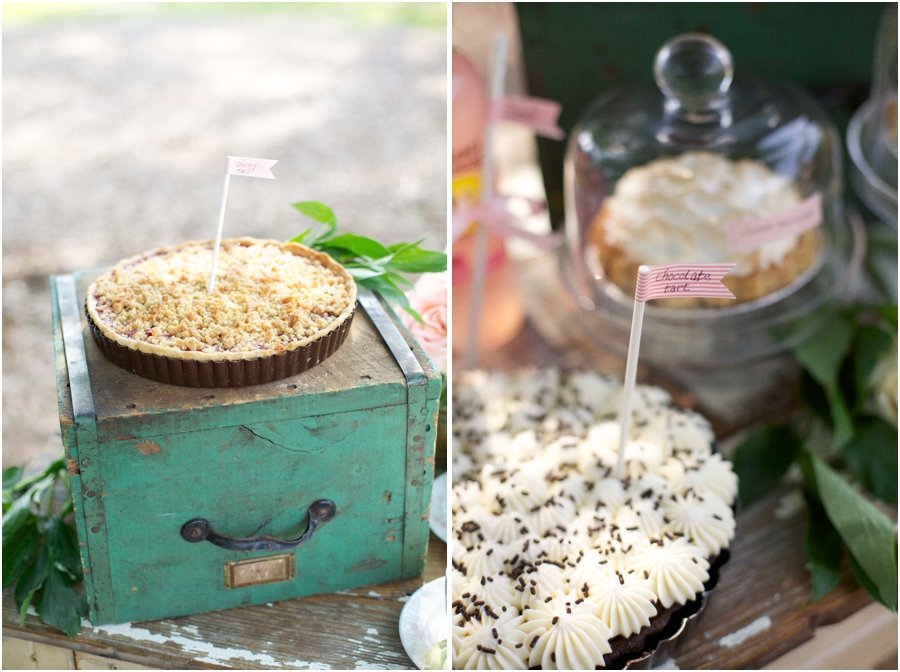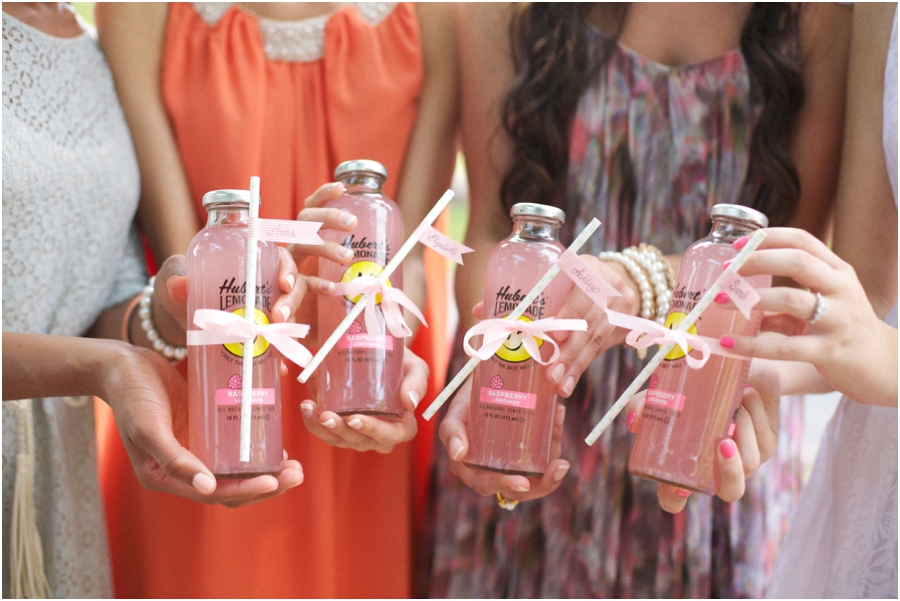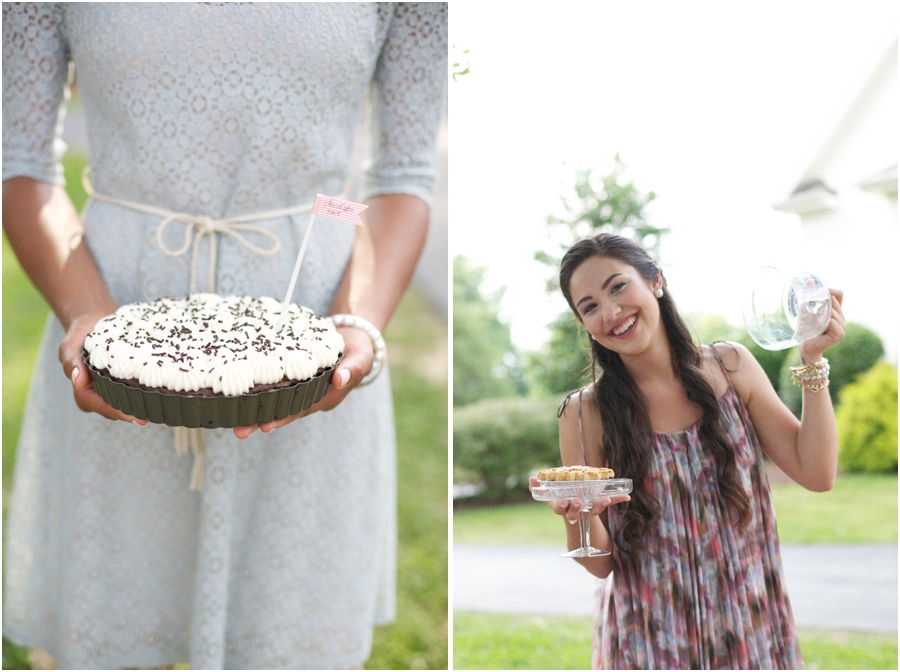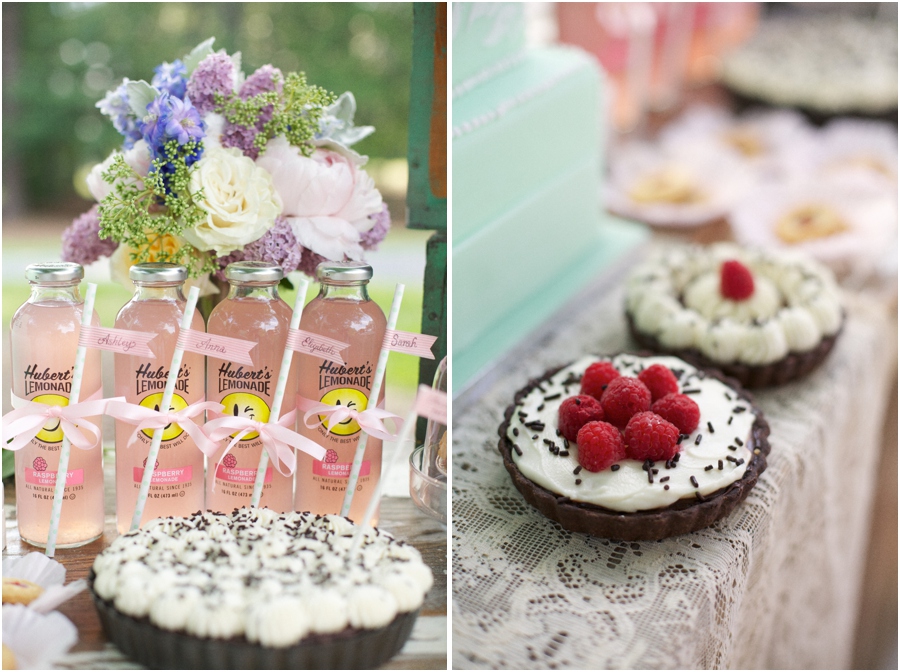 These chocolate and fruit pies from ABC Pie Company still make our mouths water. Mhmmm!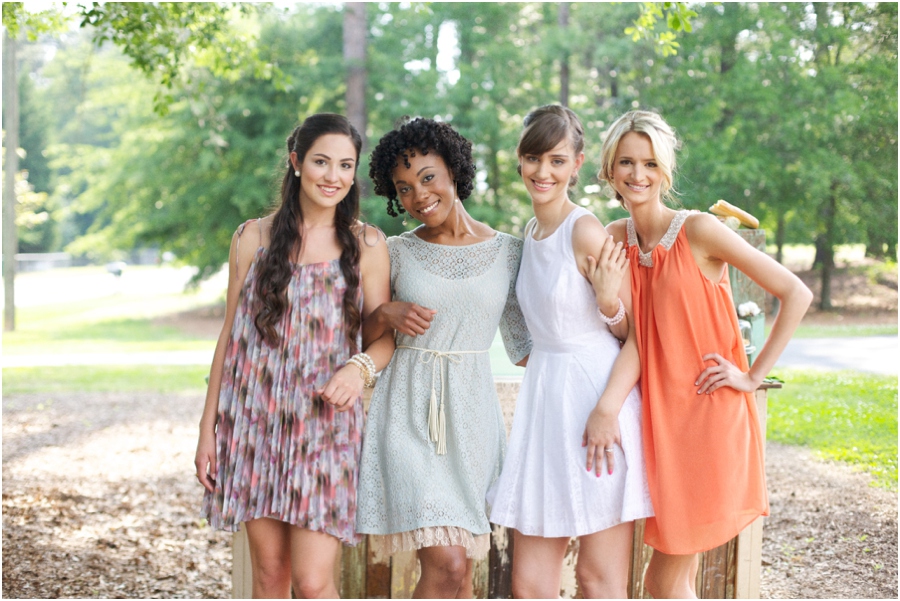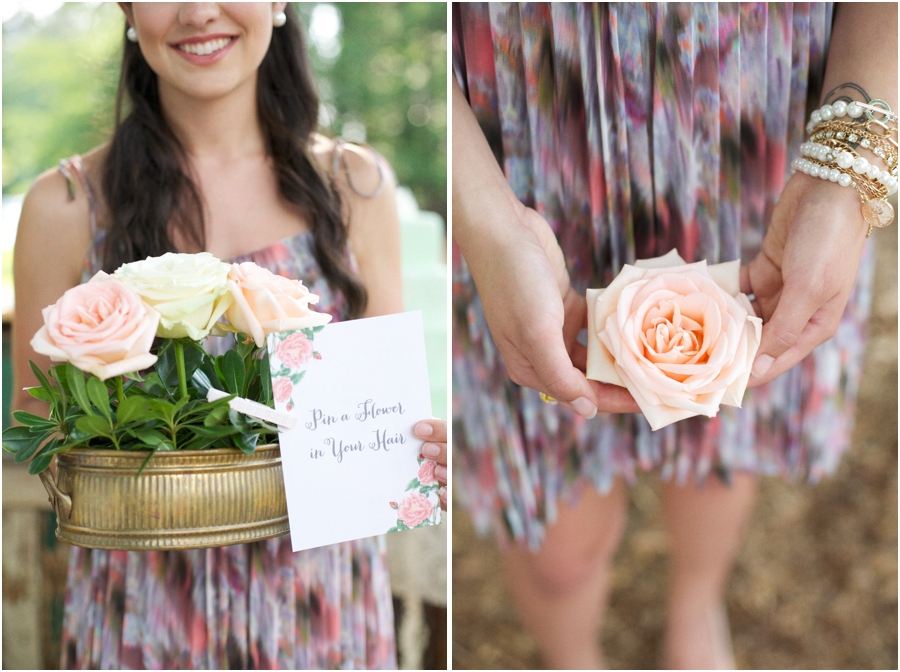 The addition of a 'Pin a Flower in Your Hair' bar made for a fun activity for the bride and her 'maids, and also became a fun prop for our photo booth.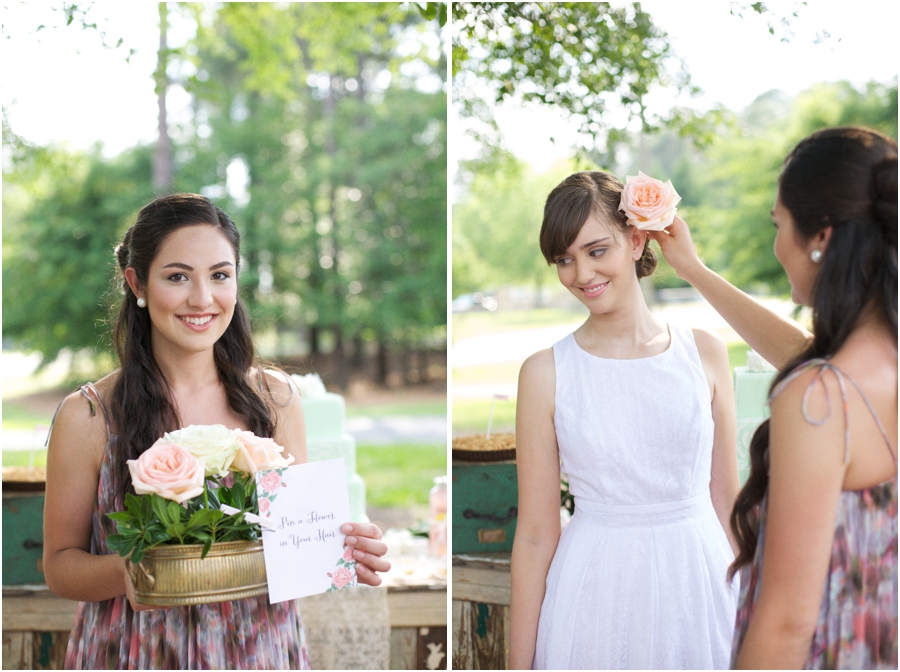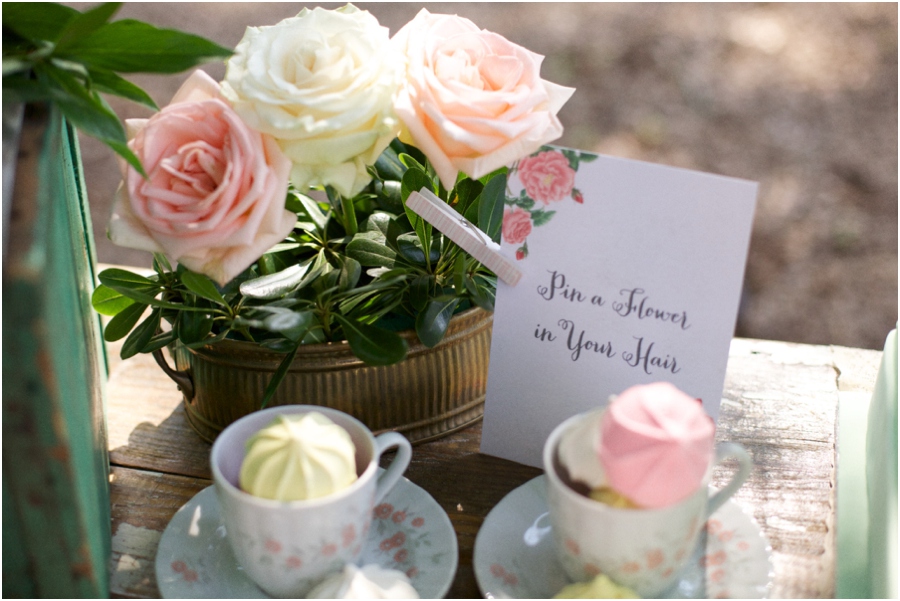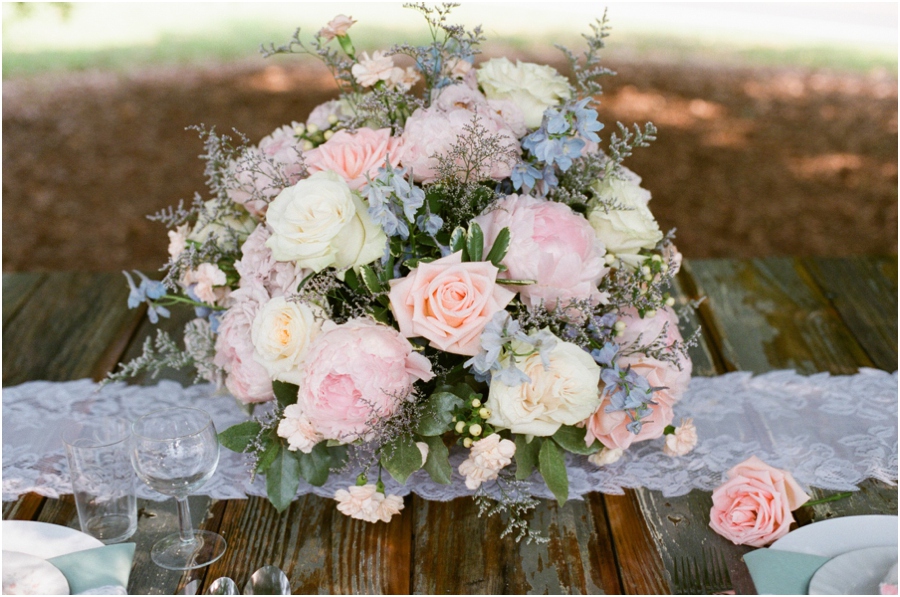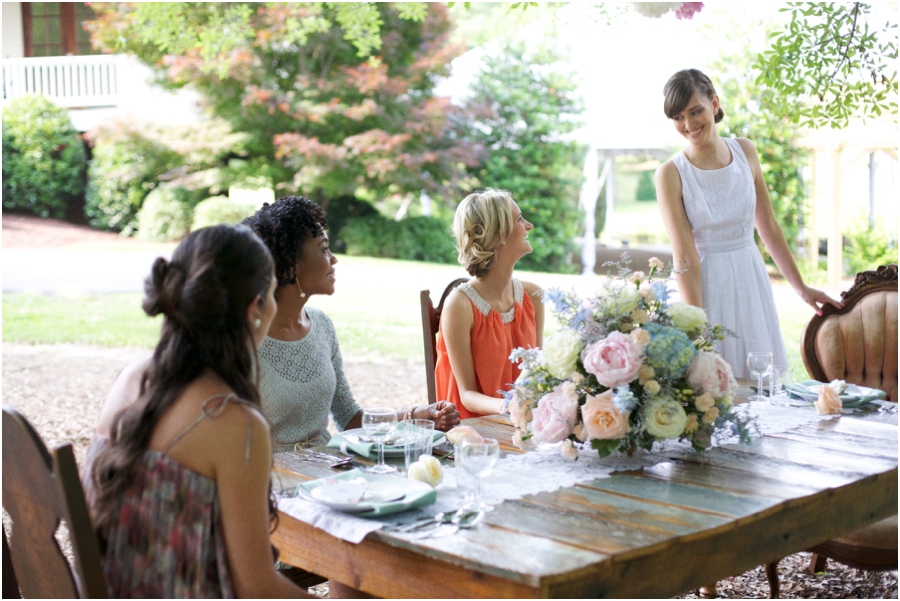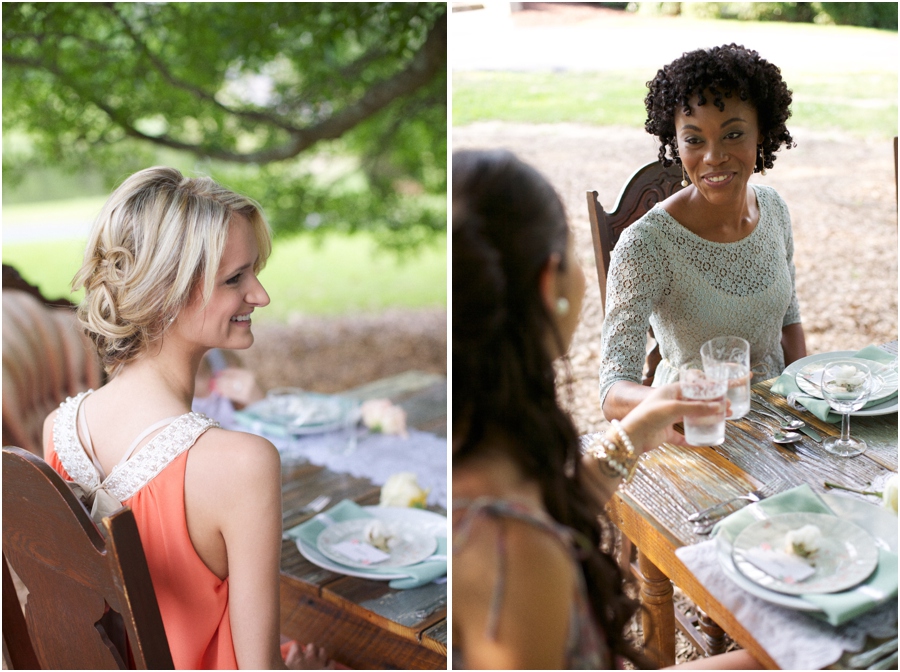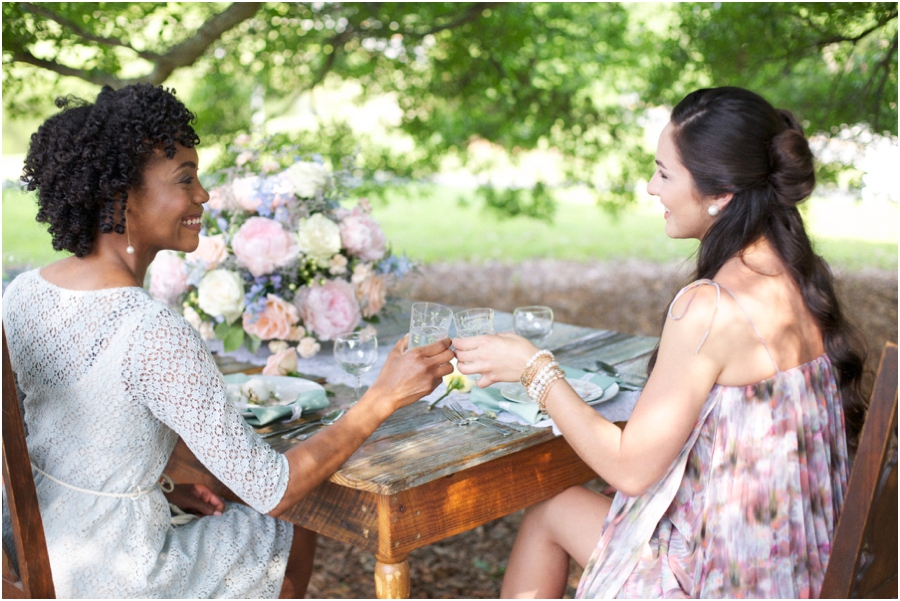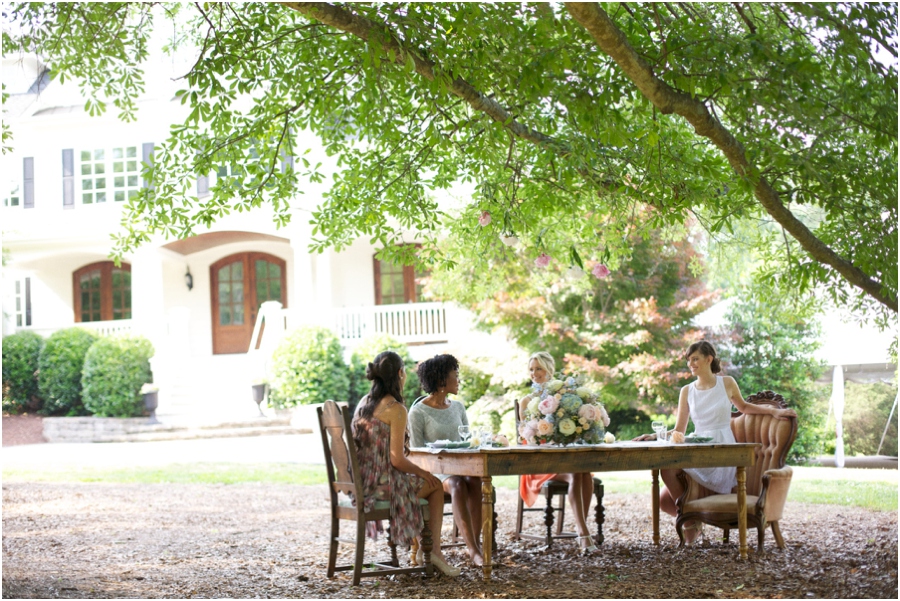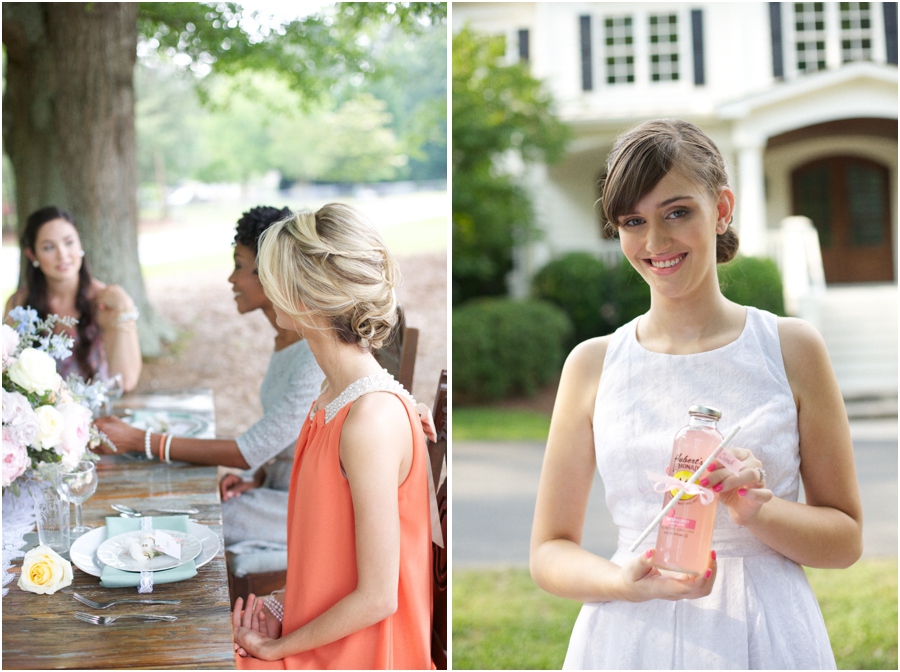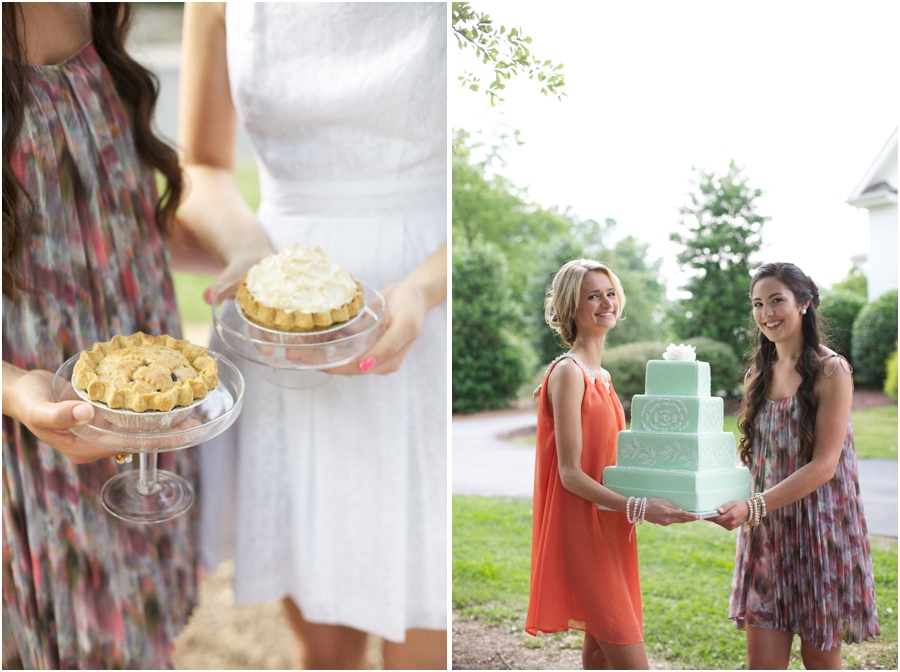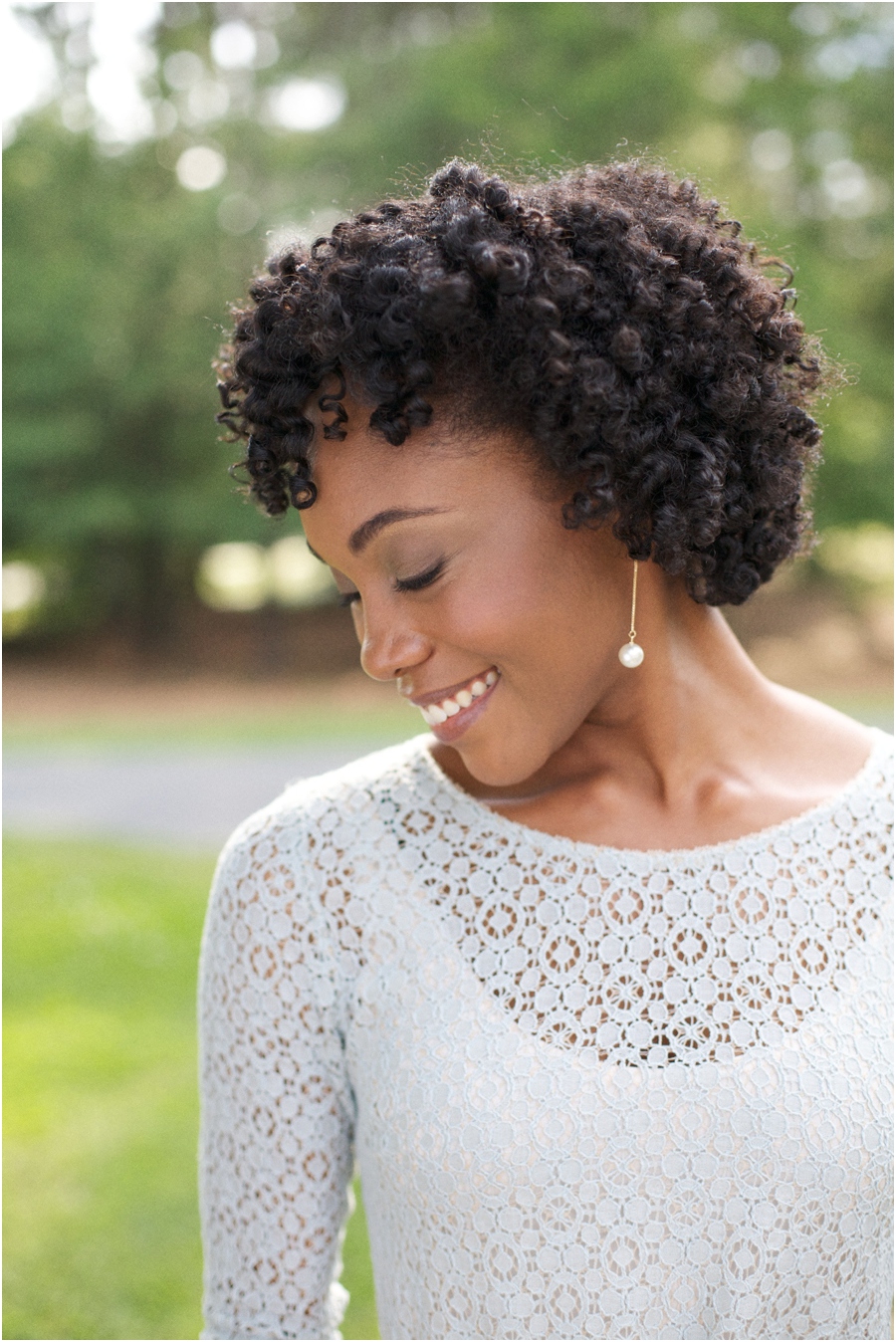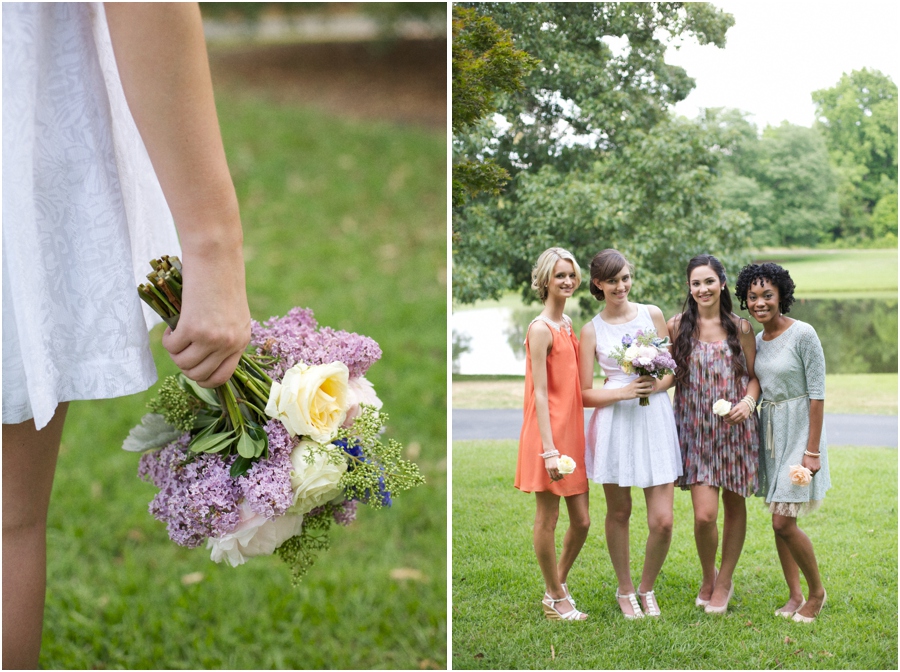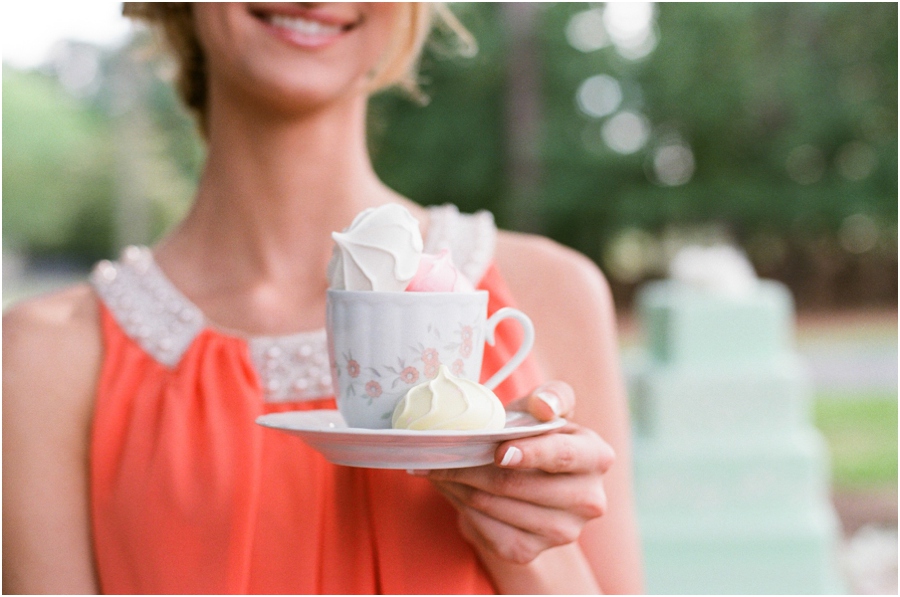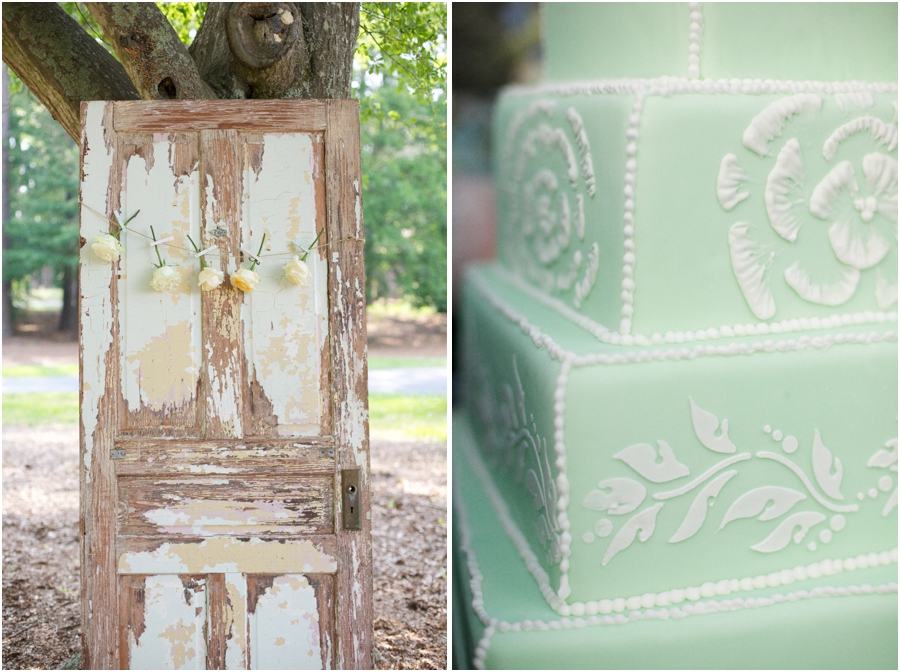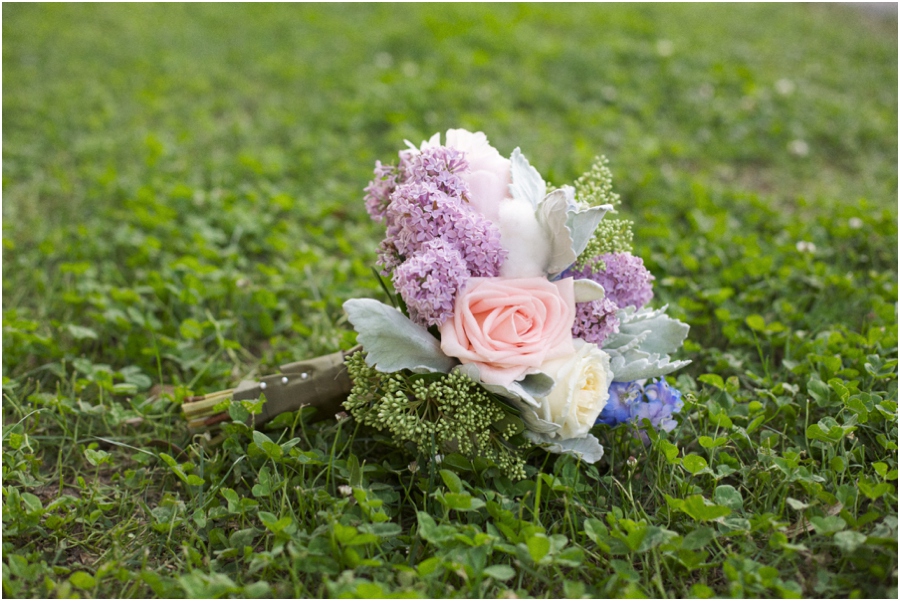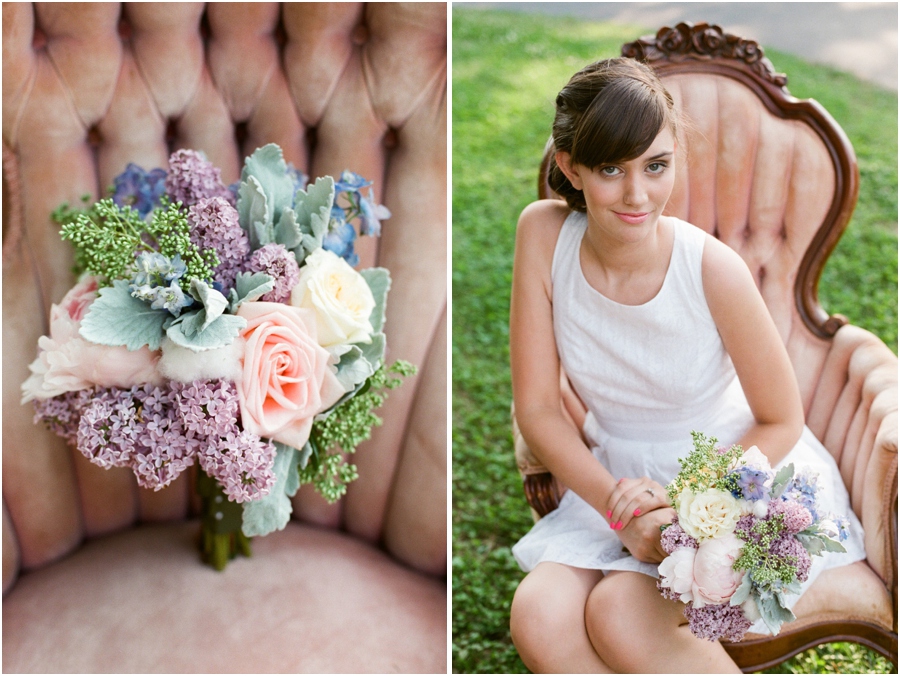 The bride's bouquet (we included one for inspiration even though it wouldn't typically be at a luncheon) was a work of art, fashioned with lilacs, roses, peonies, and puffs of cotton. We love how uniquely gorgeous it is!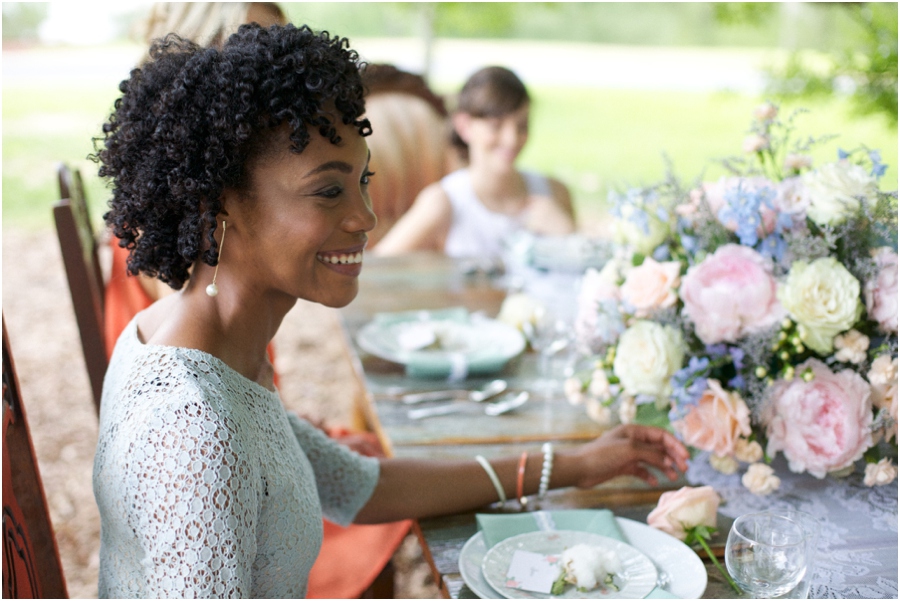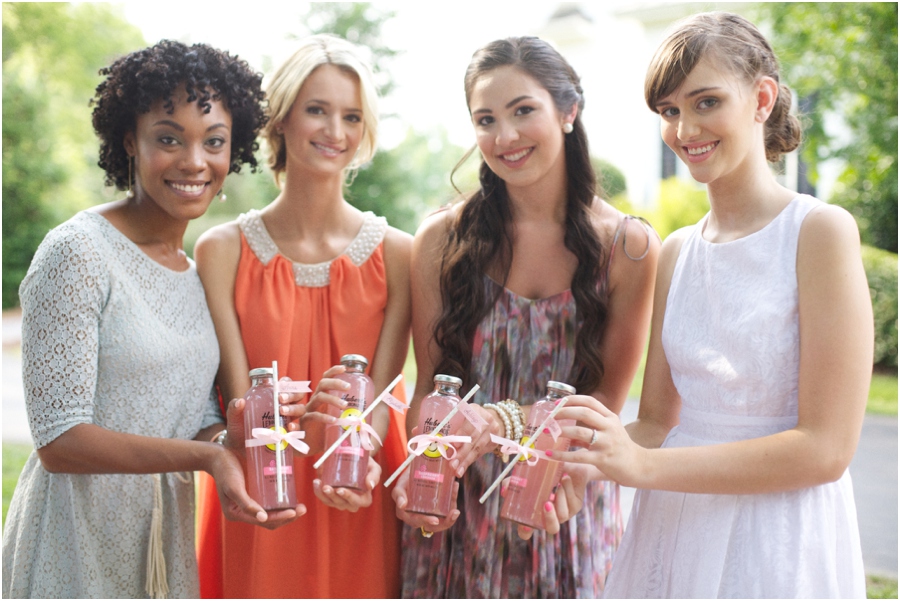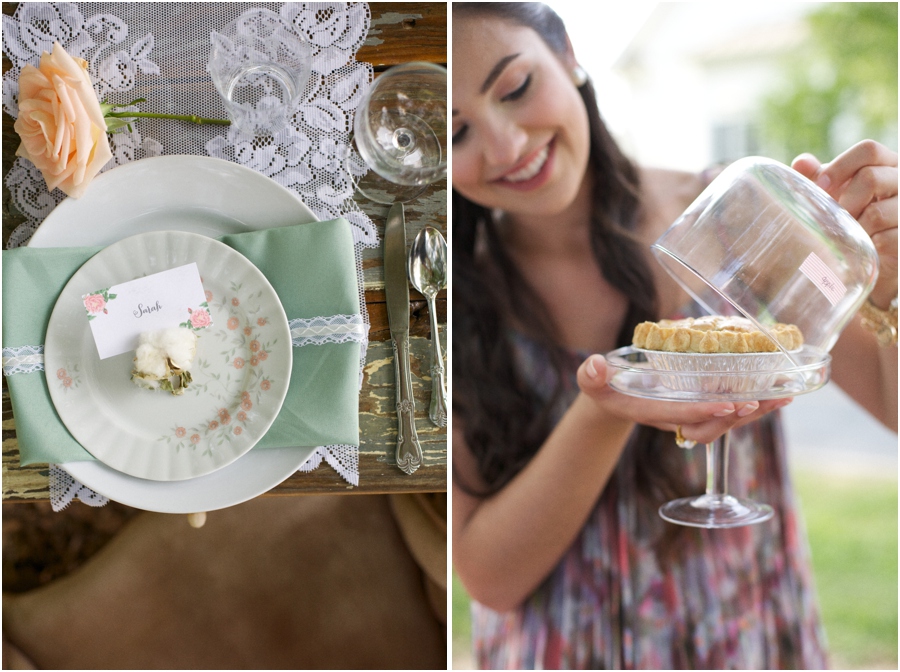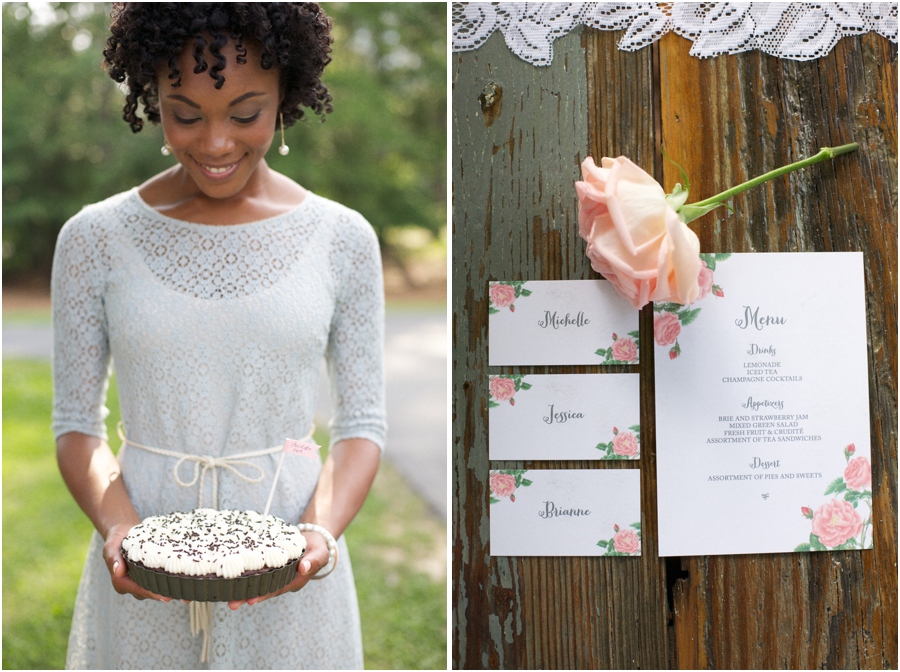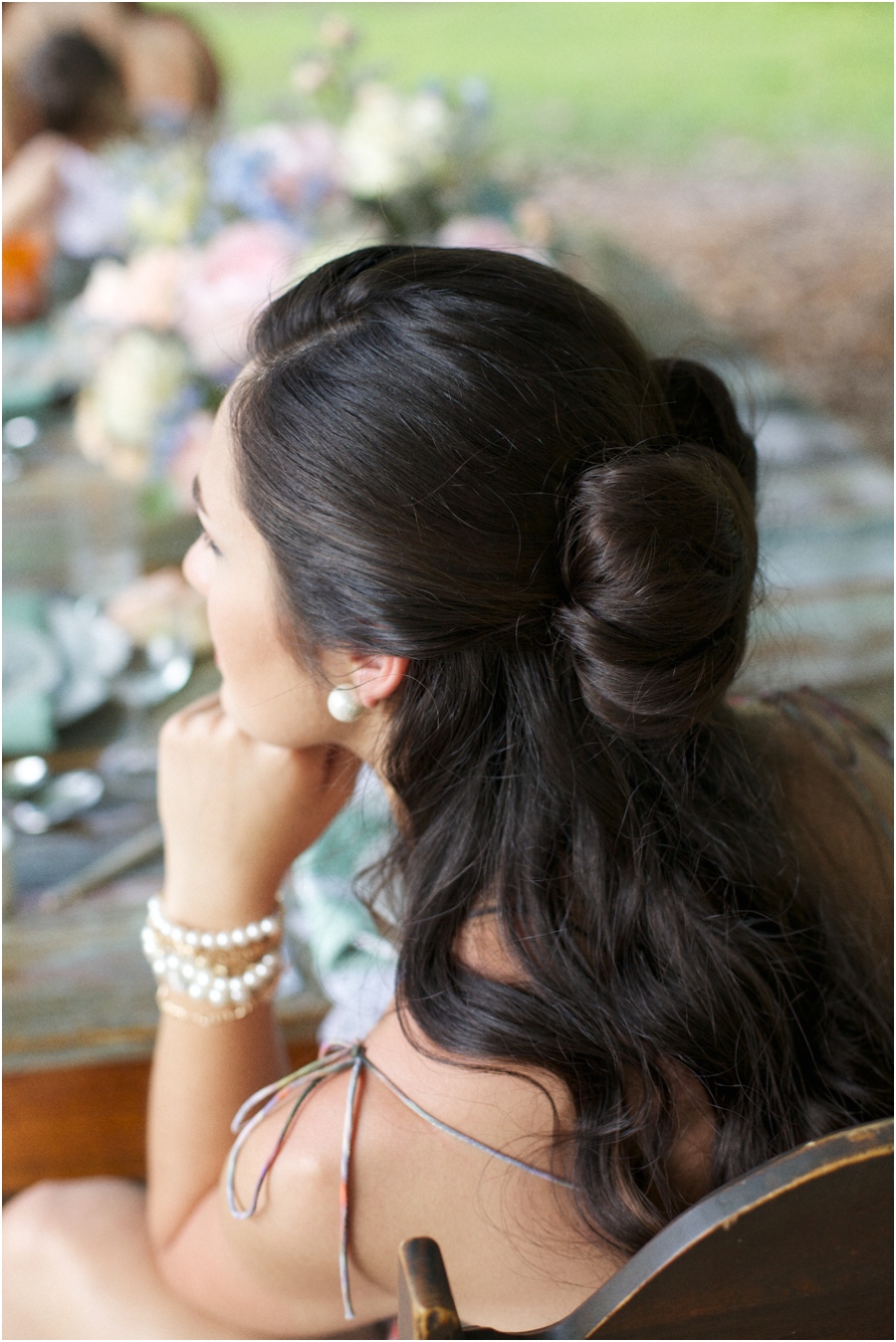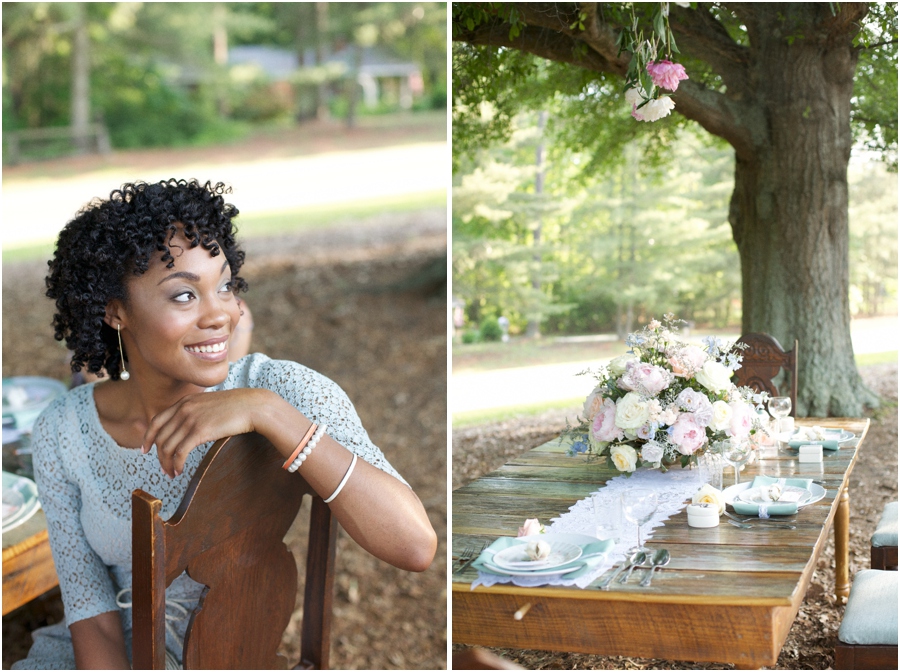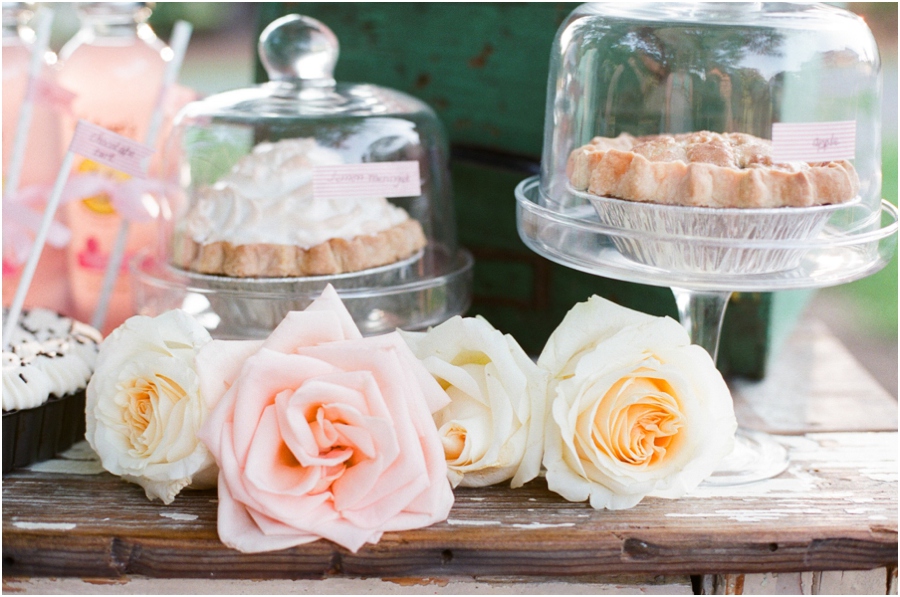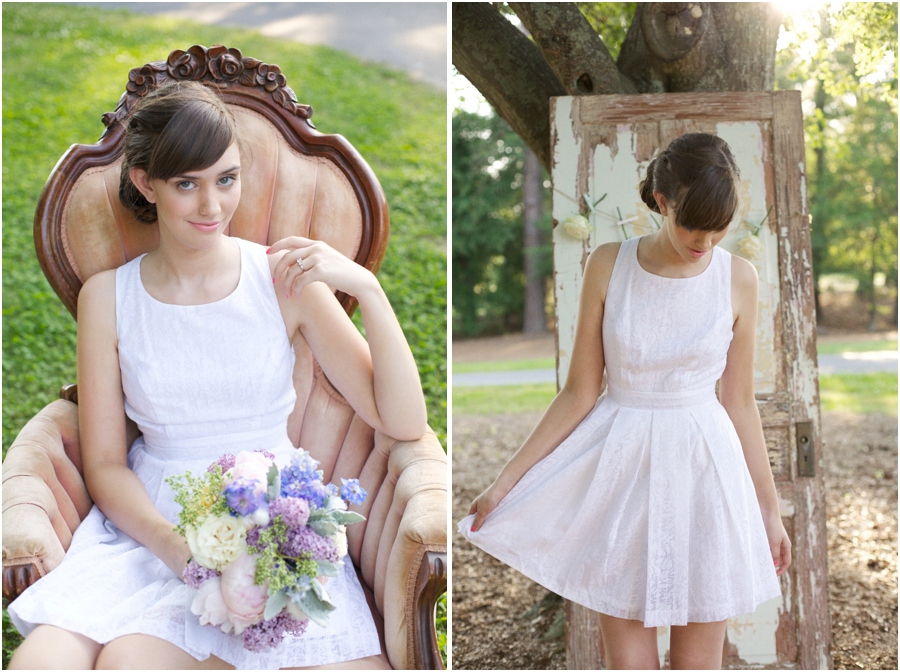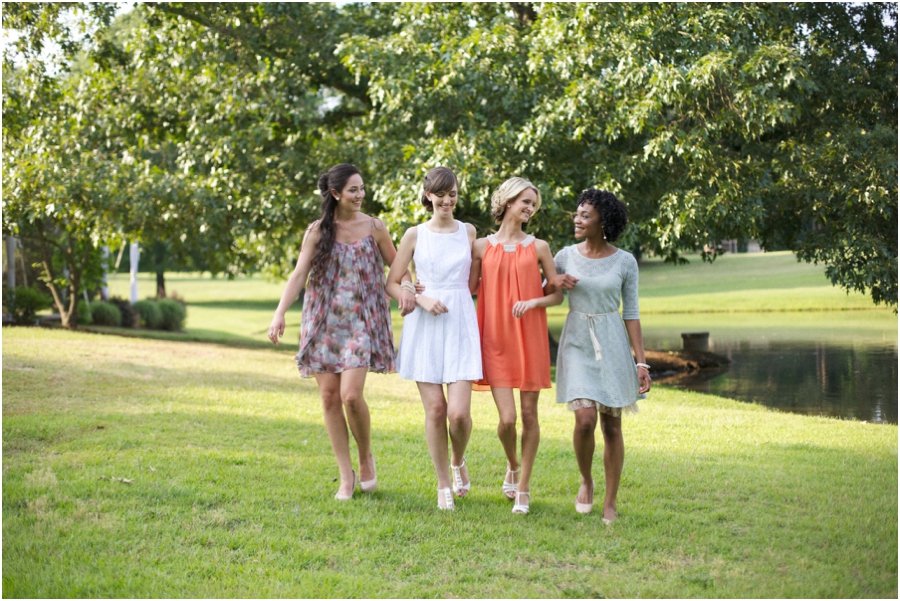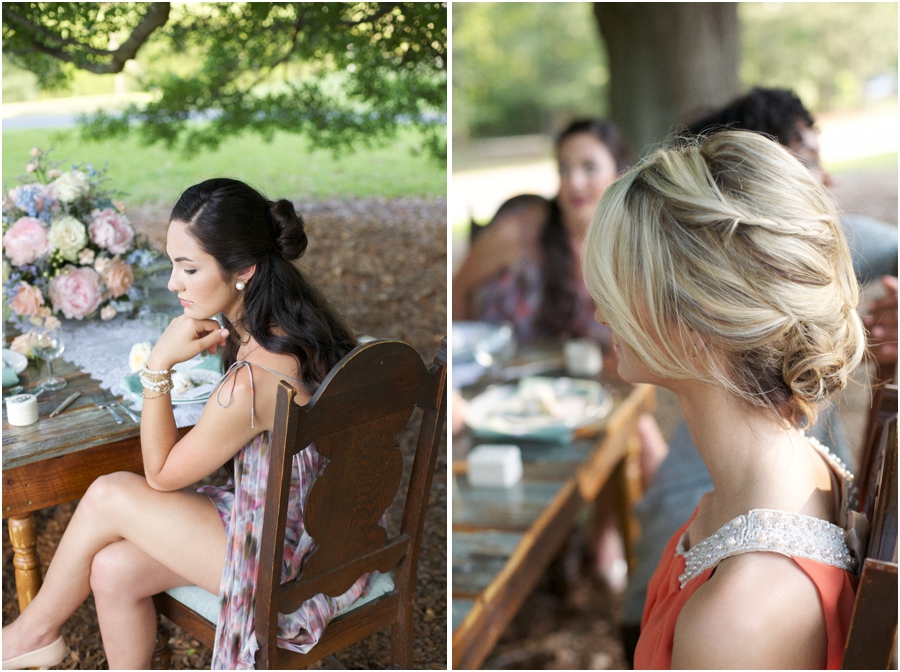 Instead of the traditional southern charm pull cake, handmade pearl bracelets with charms and their meanings attached were gifted to the bridesmaids from the bride. Cleverly hidden in vintage style trinket boxes, the resulting charm would still be a random surprise to the girl that opened it and a long-lasting gift for each to treasure.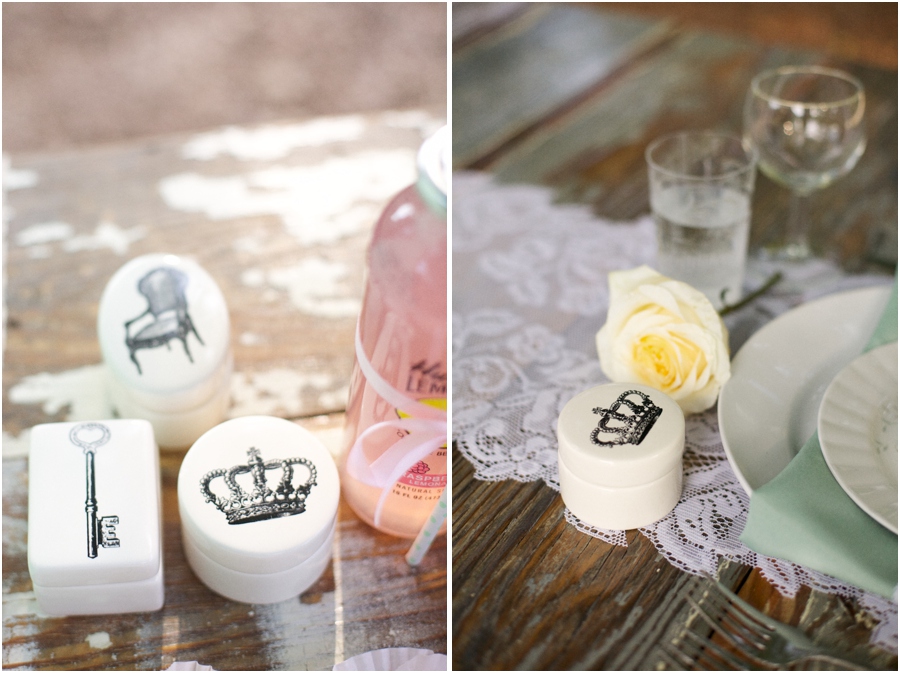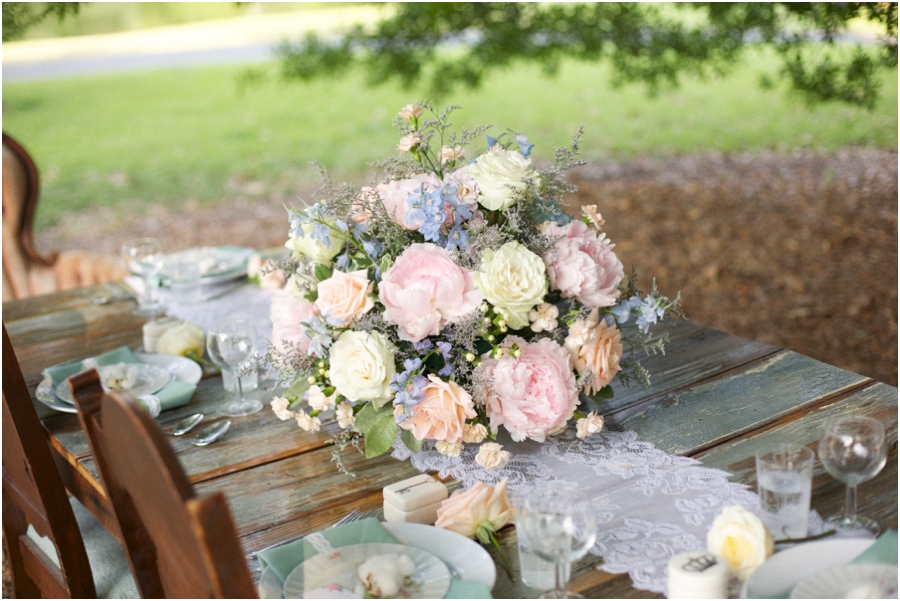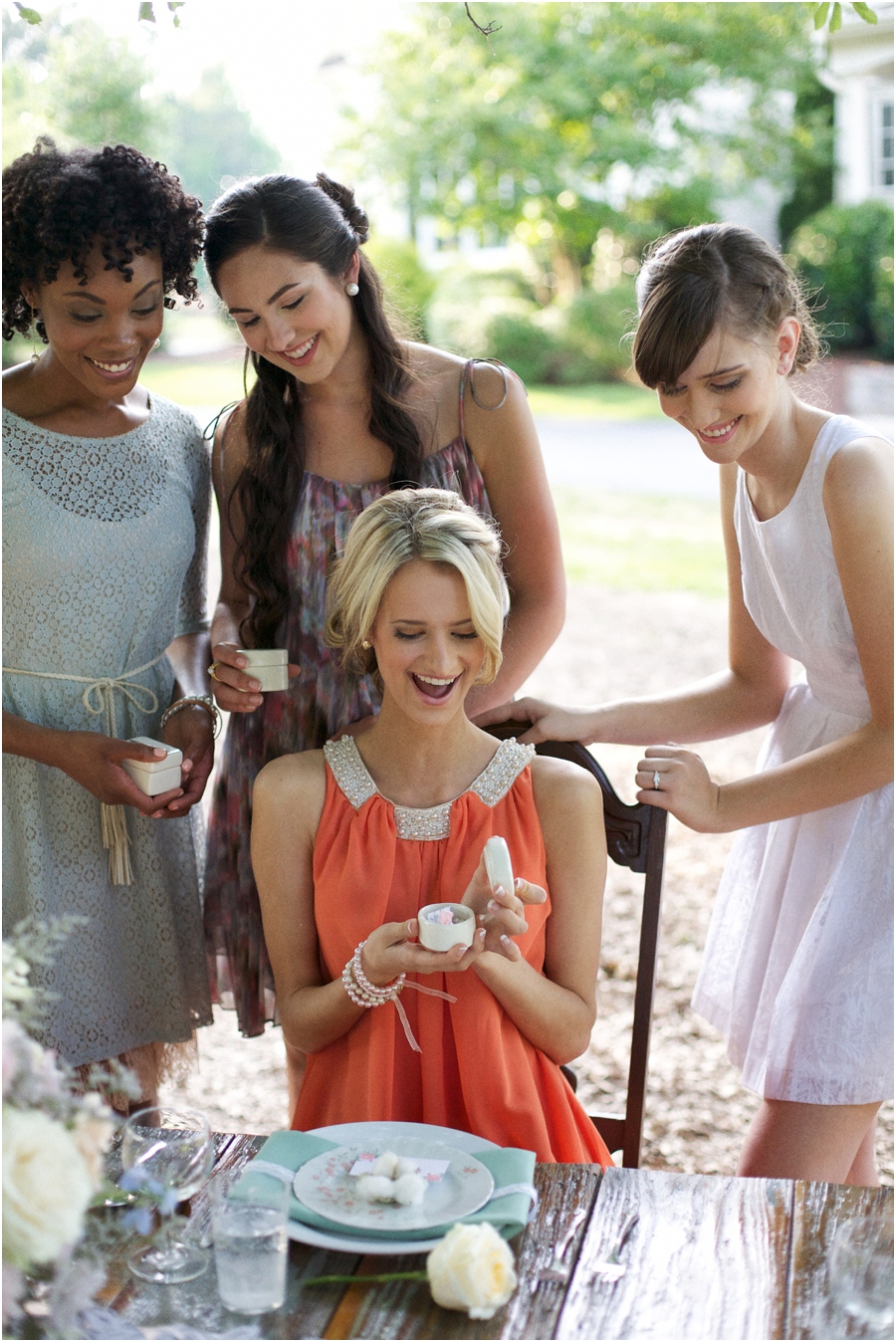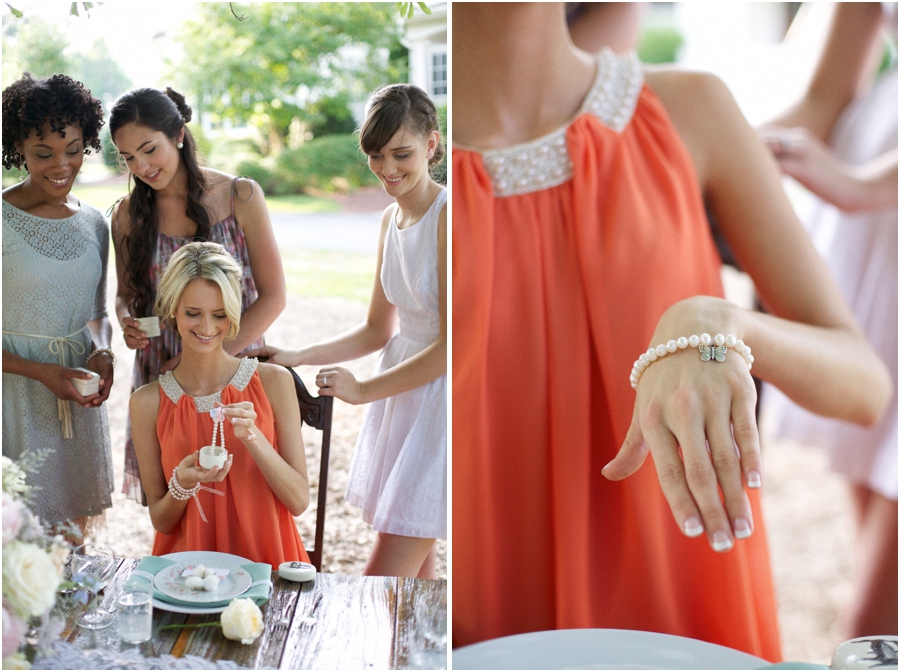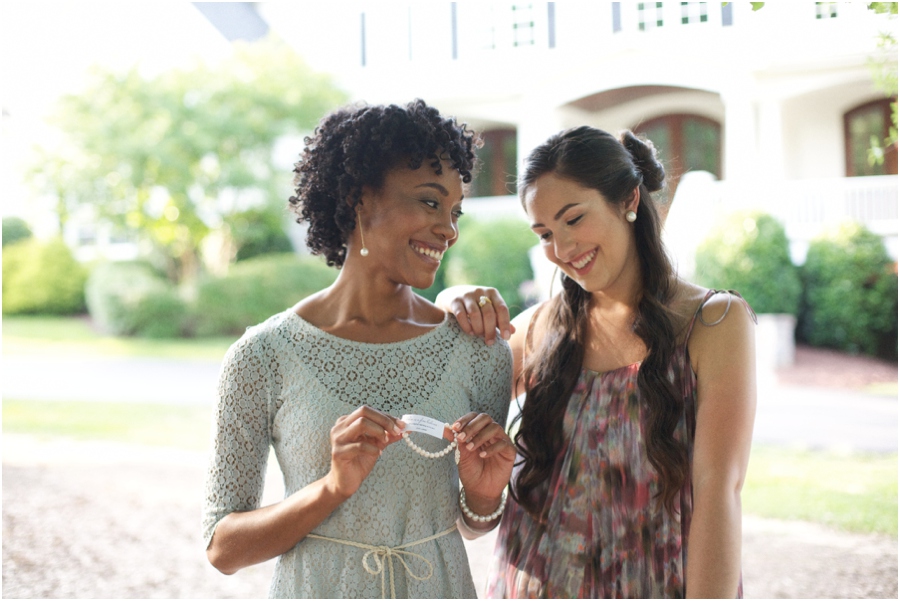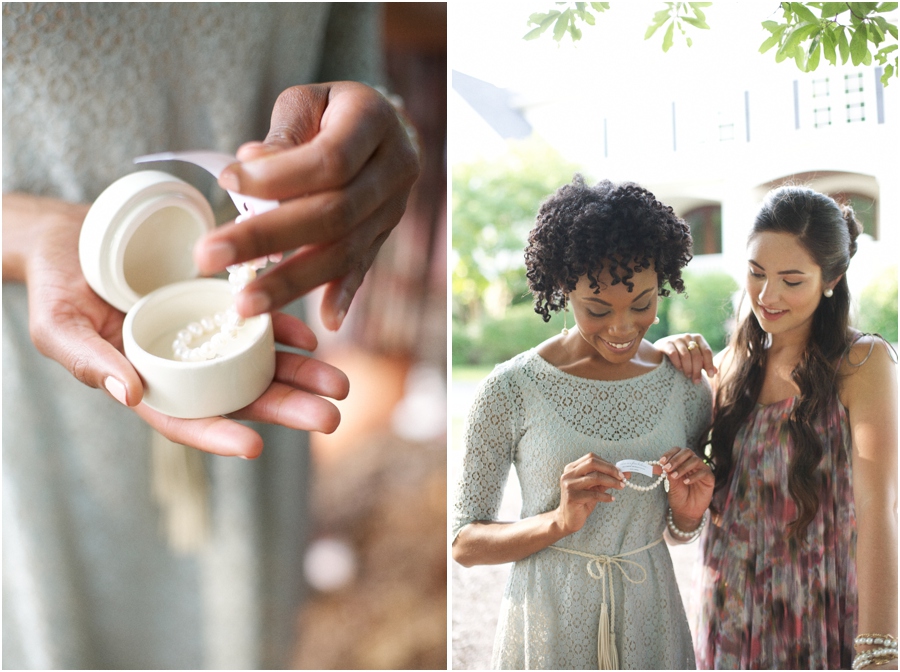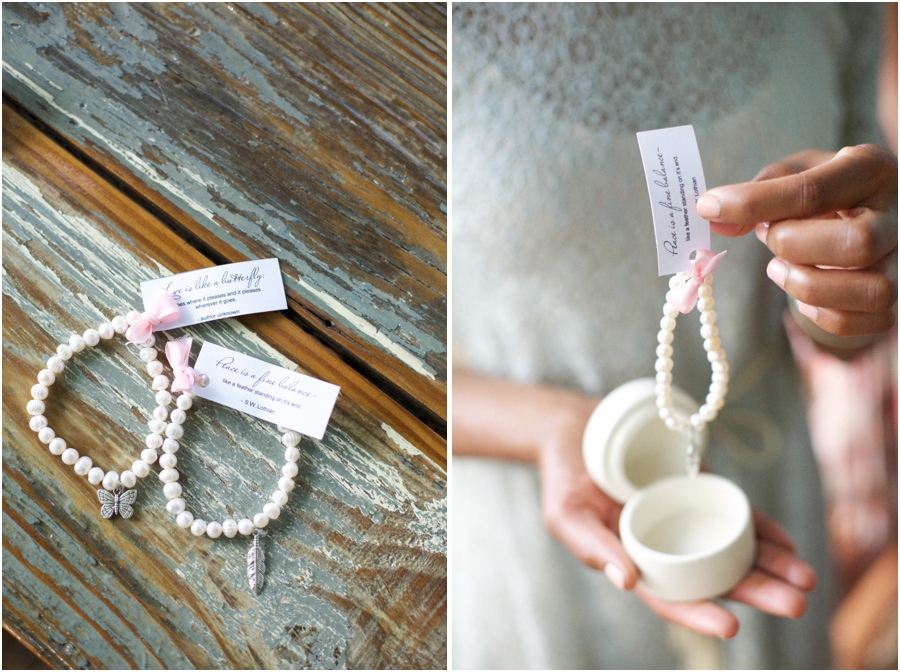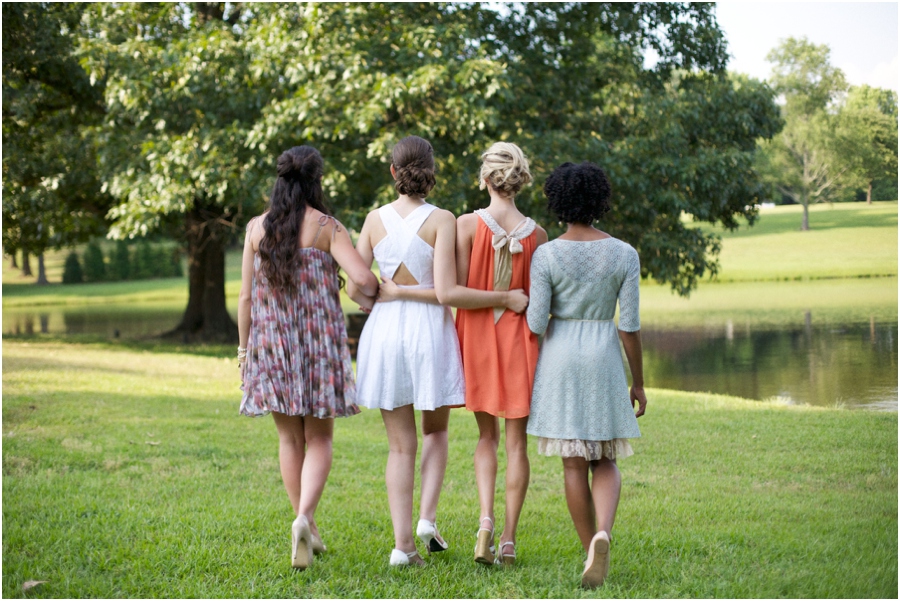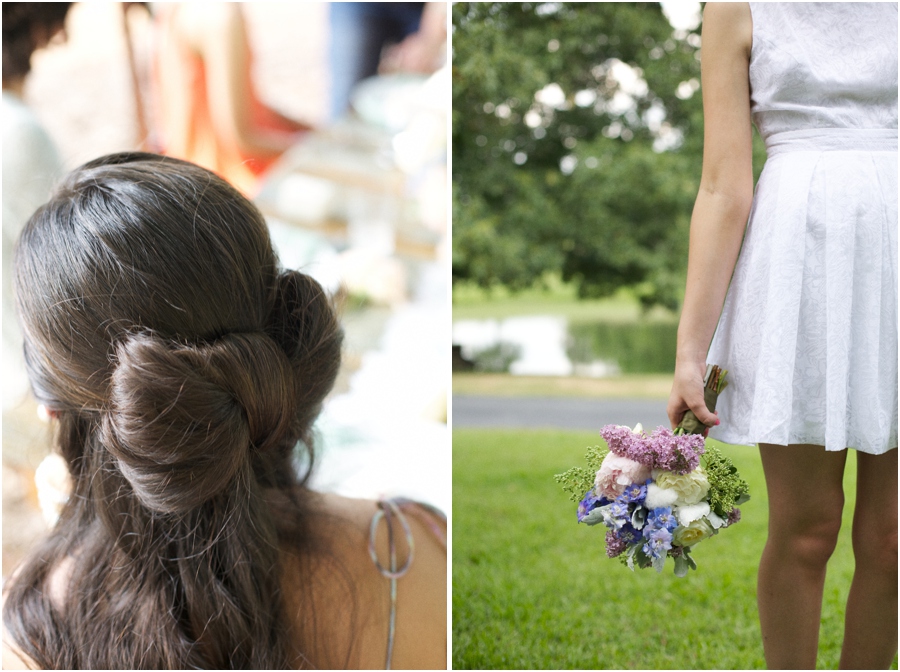 We love this bow hairstyle made with Guili's long locks. So pretty!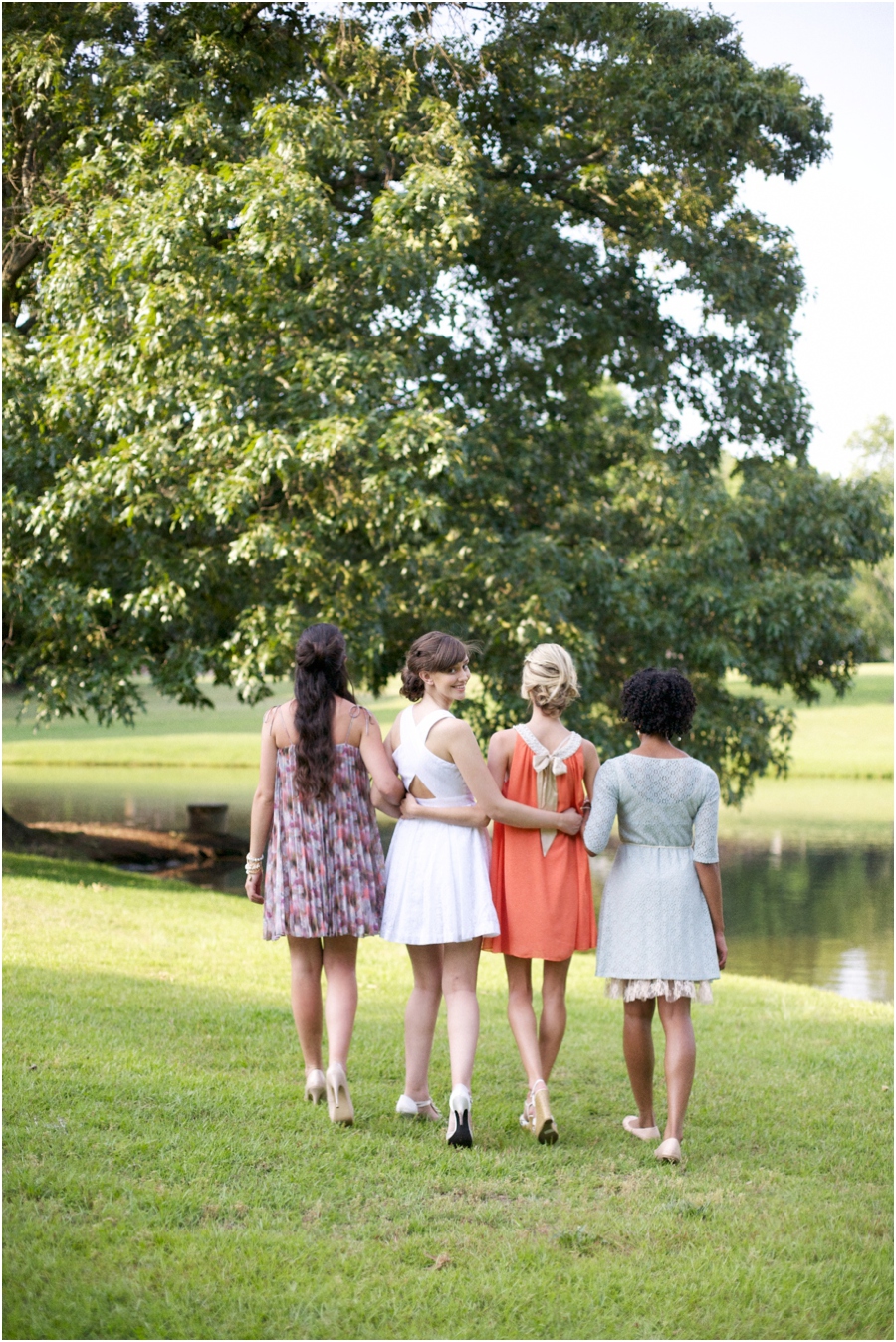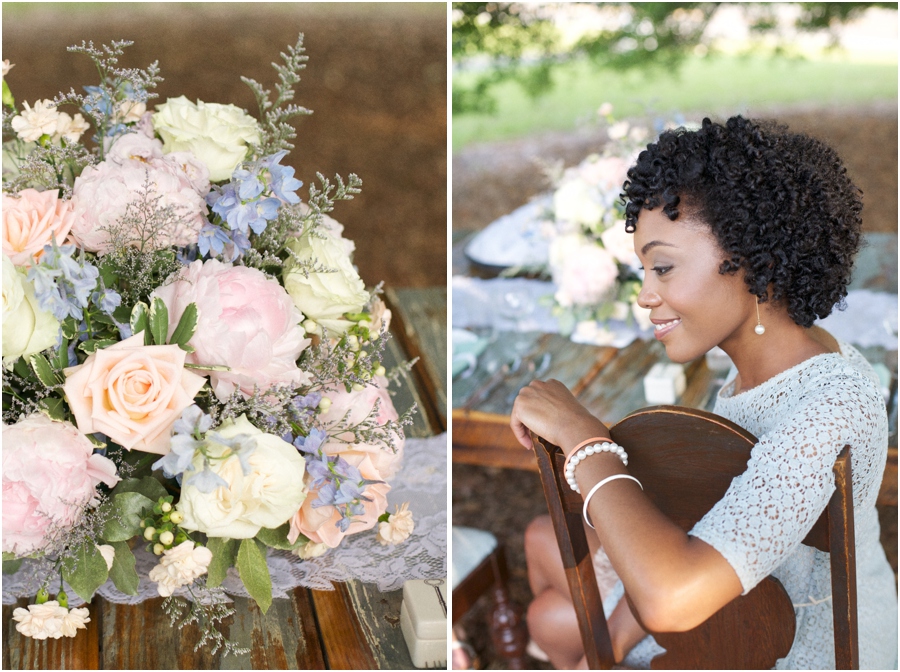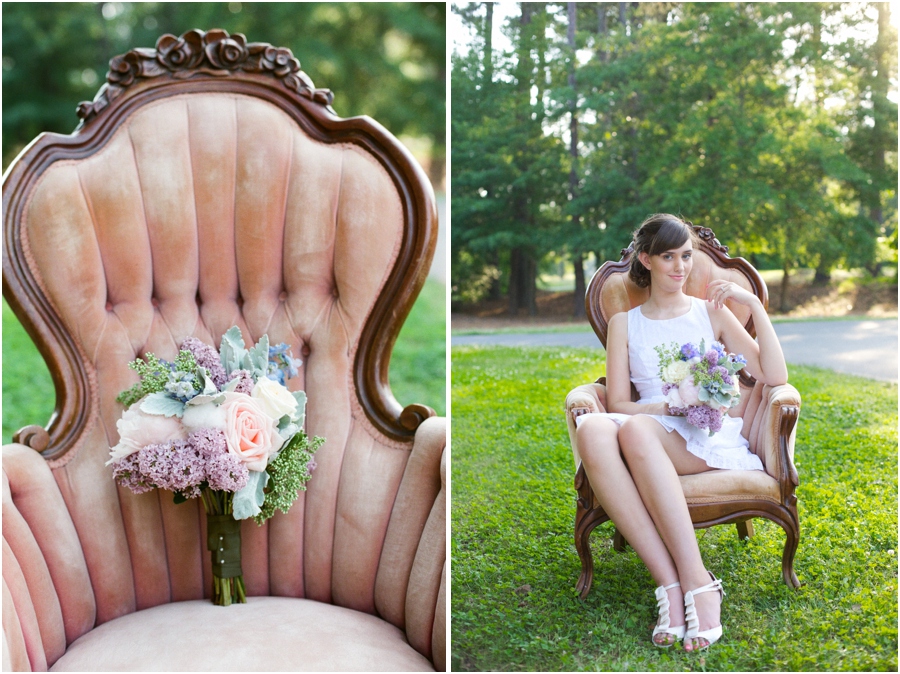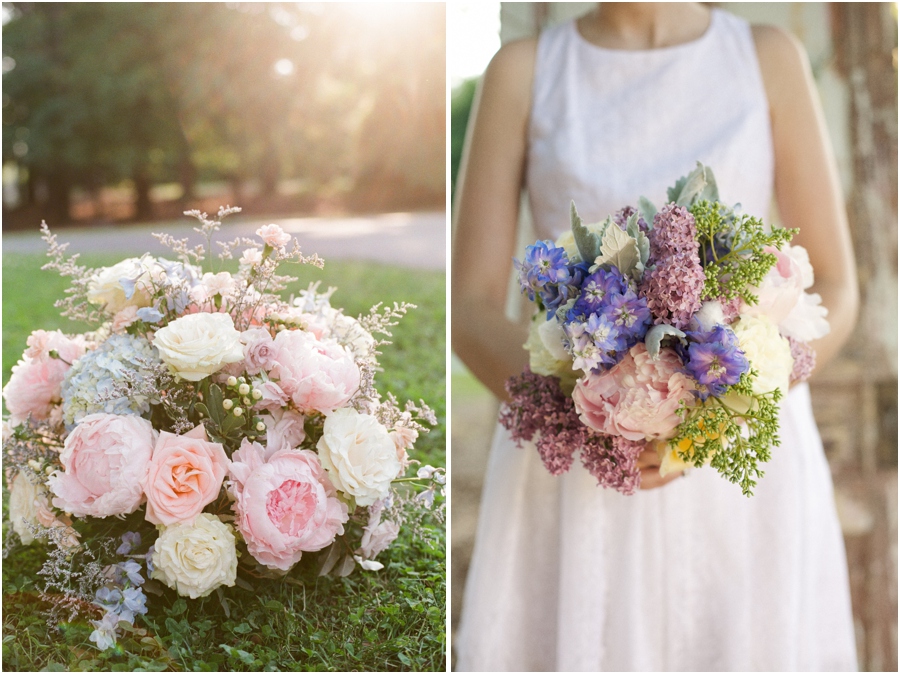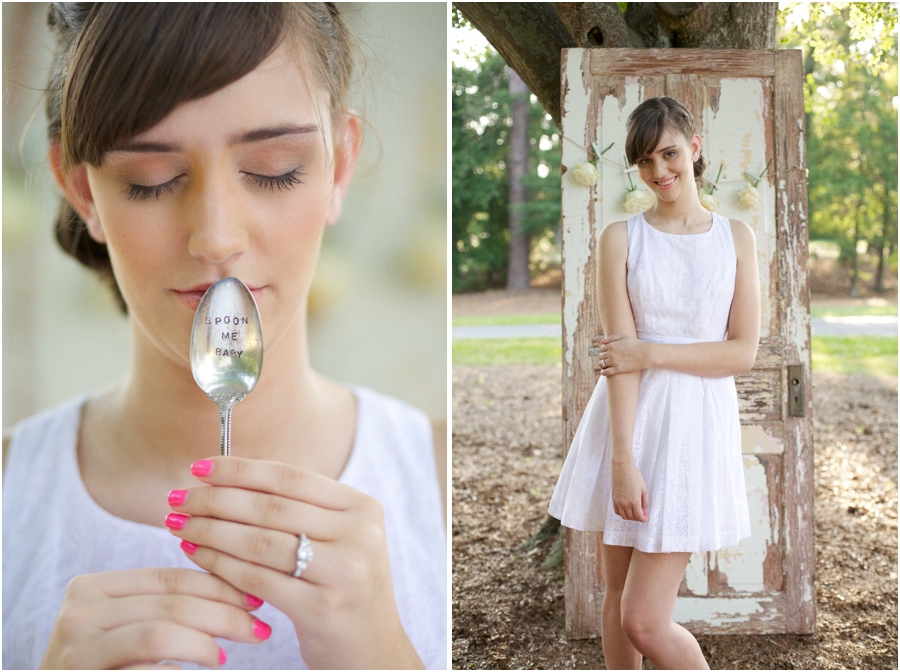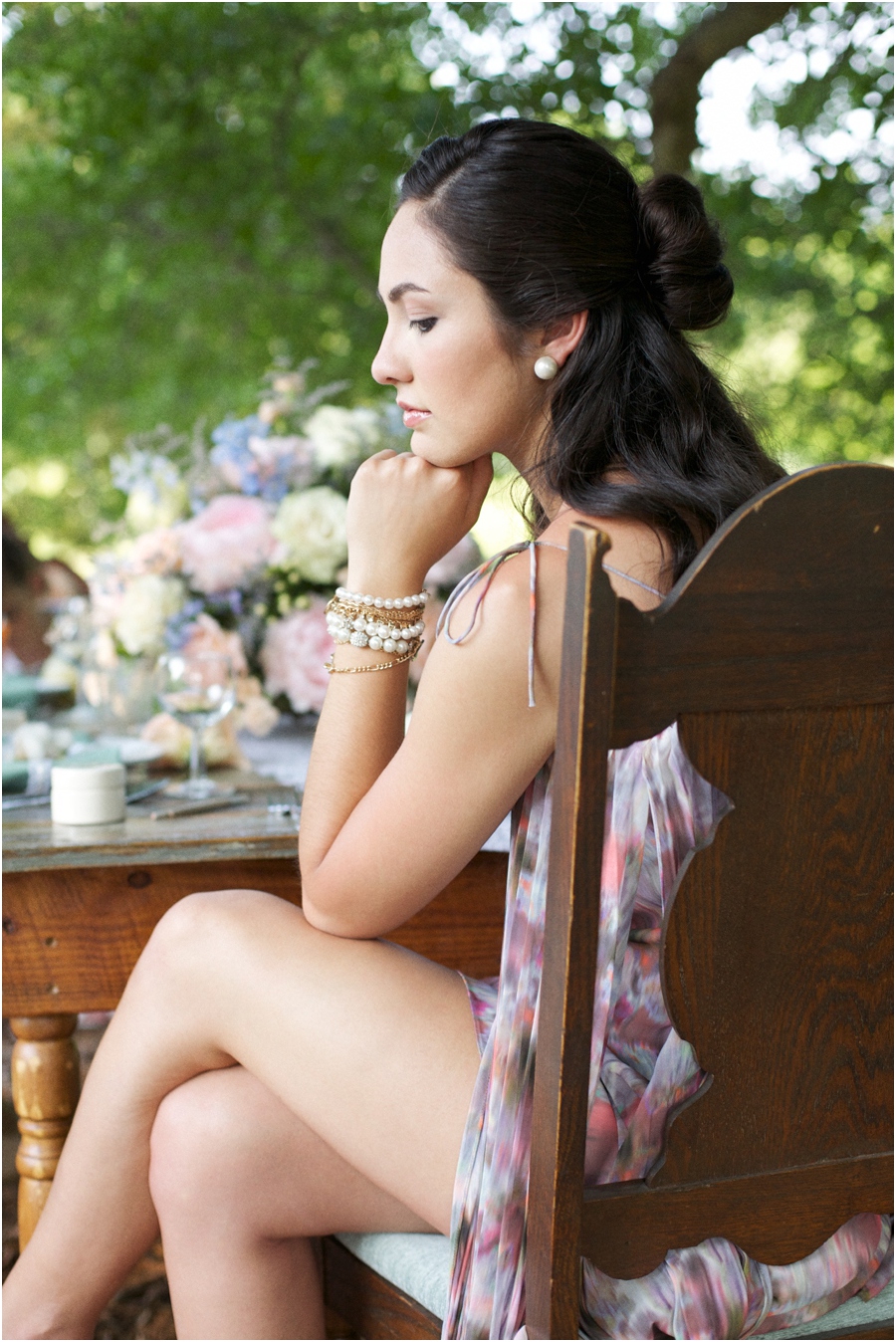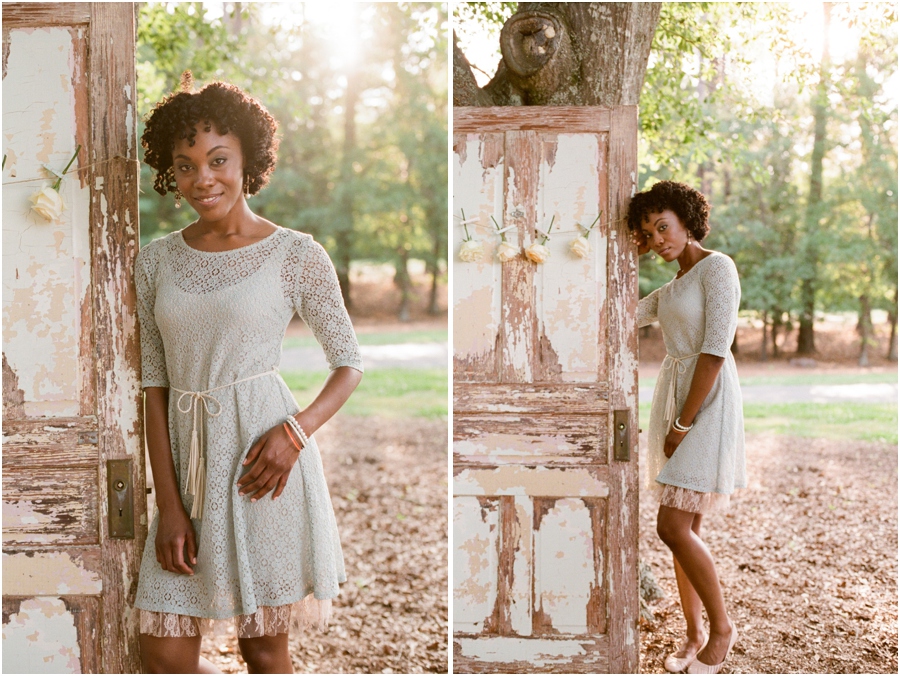 A rustic door, propped against a tree, and adorned with roses served as a beautiful, yet simple photo booth backdrop.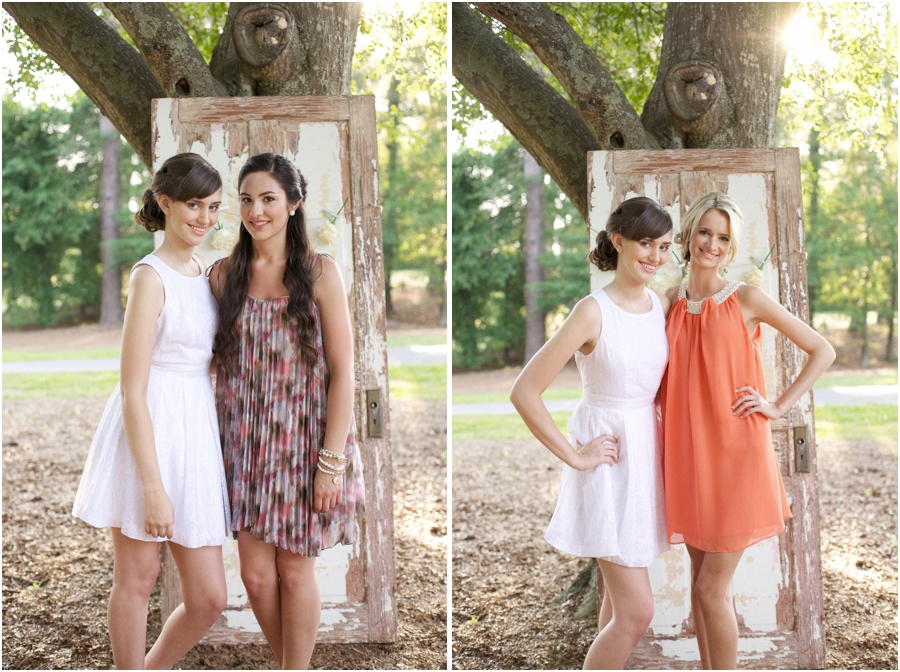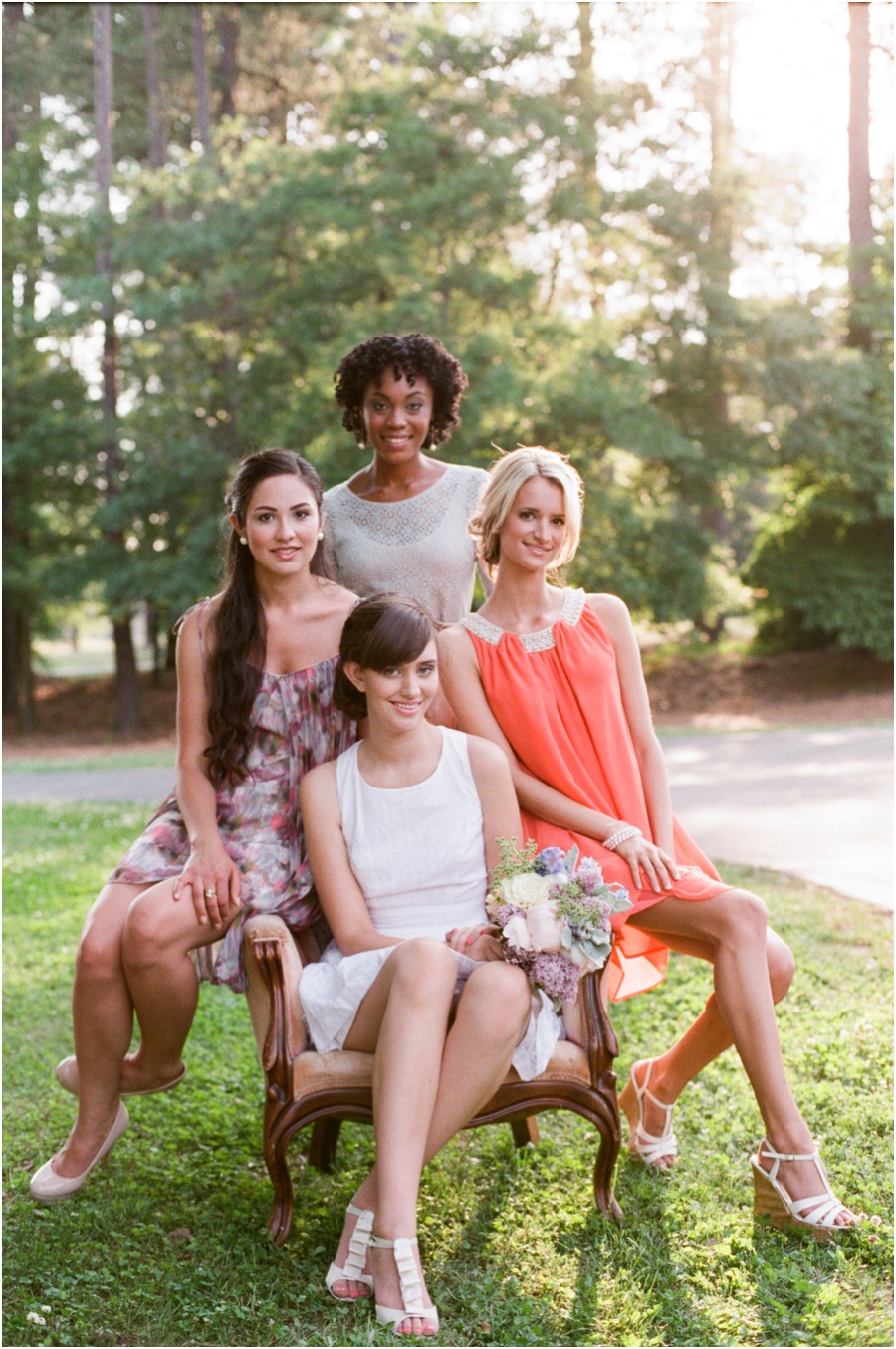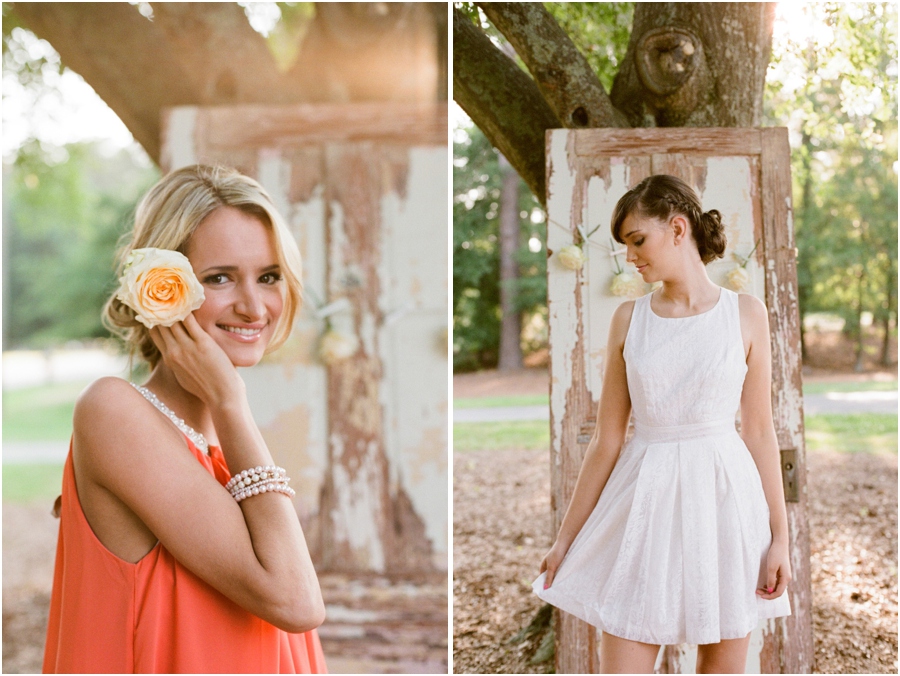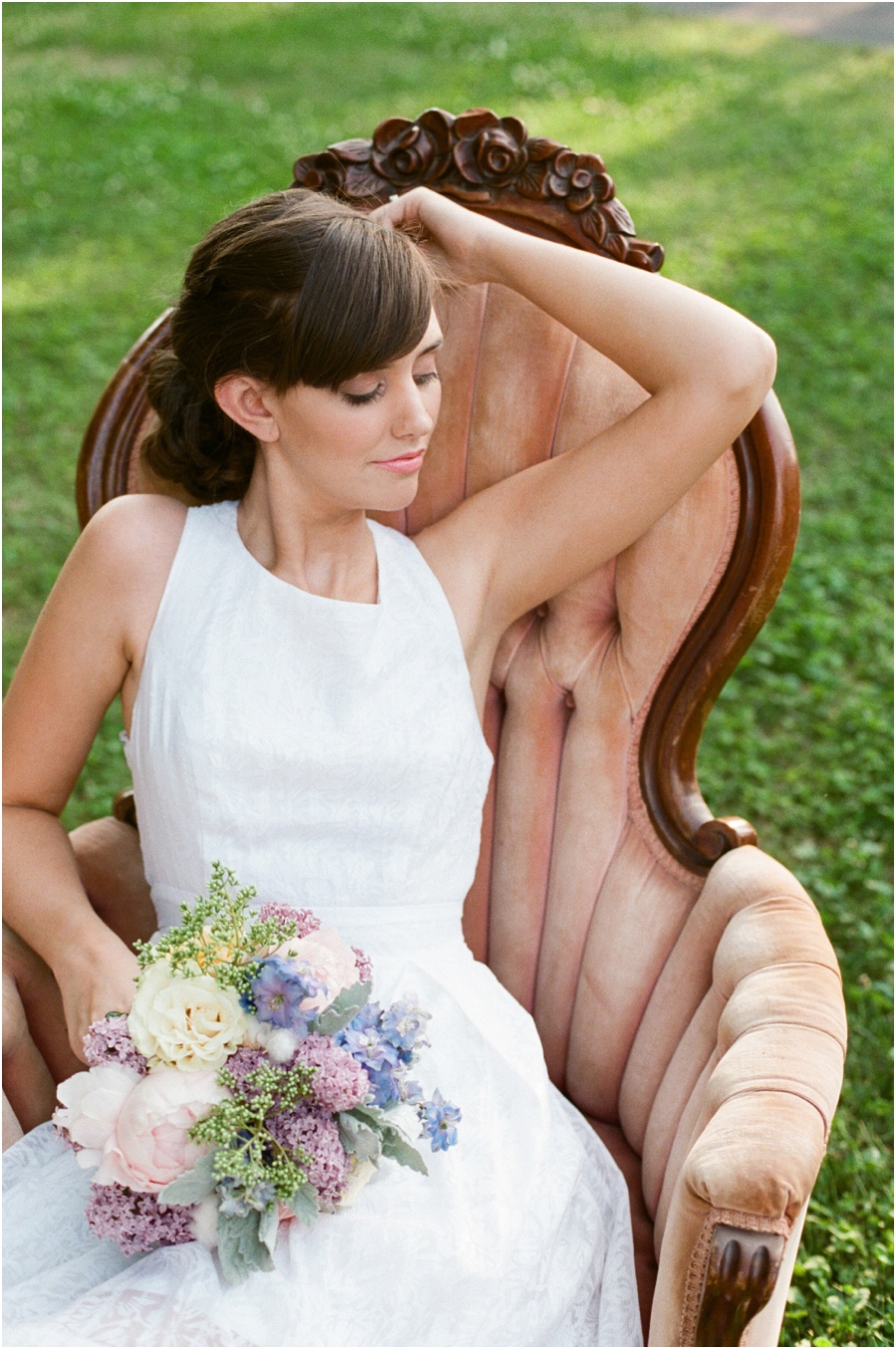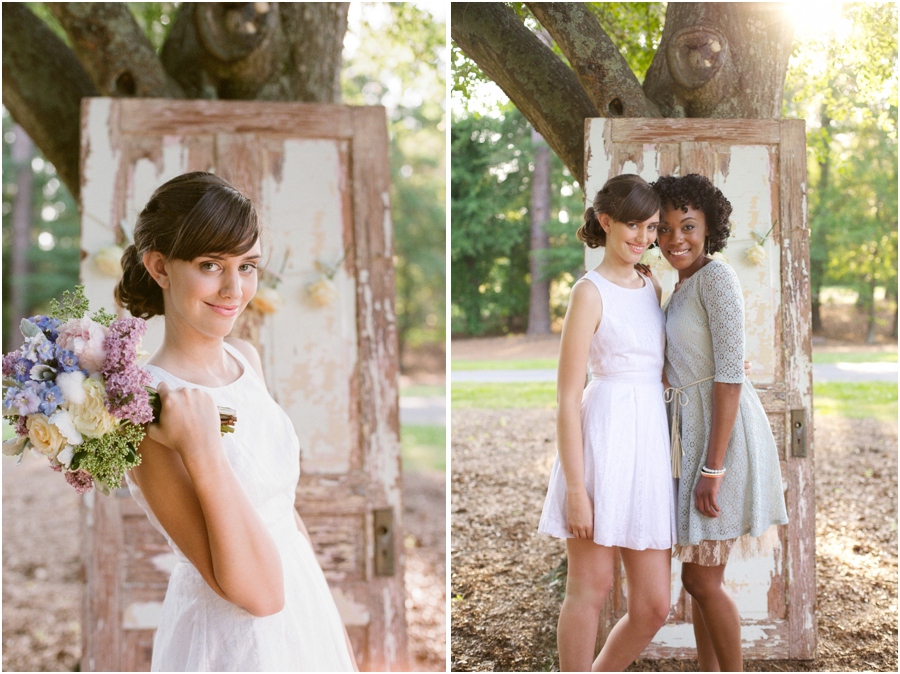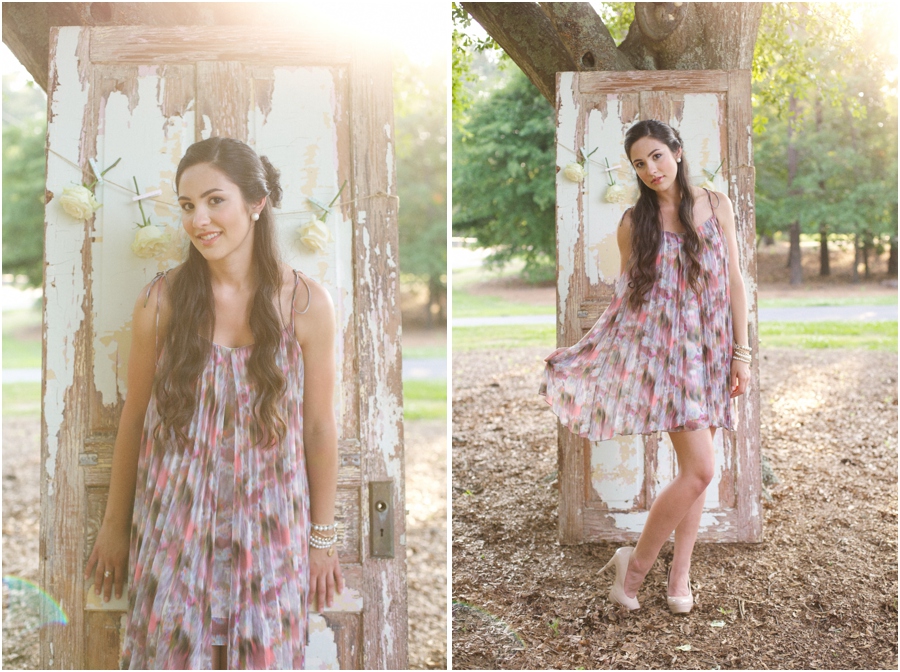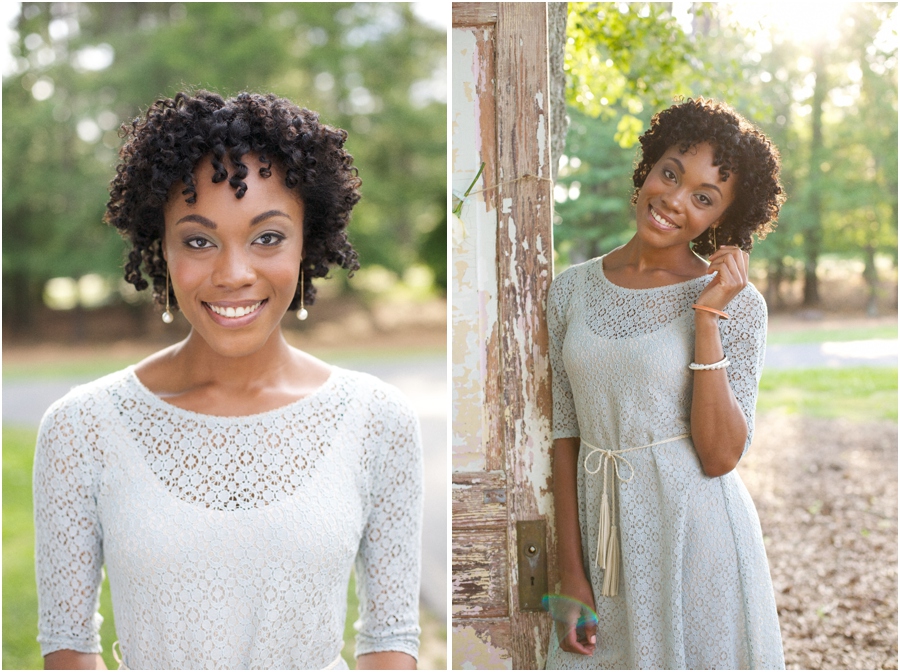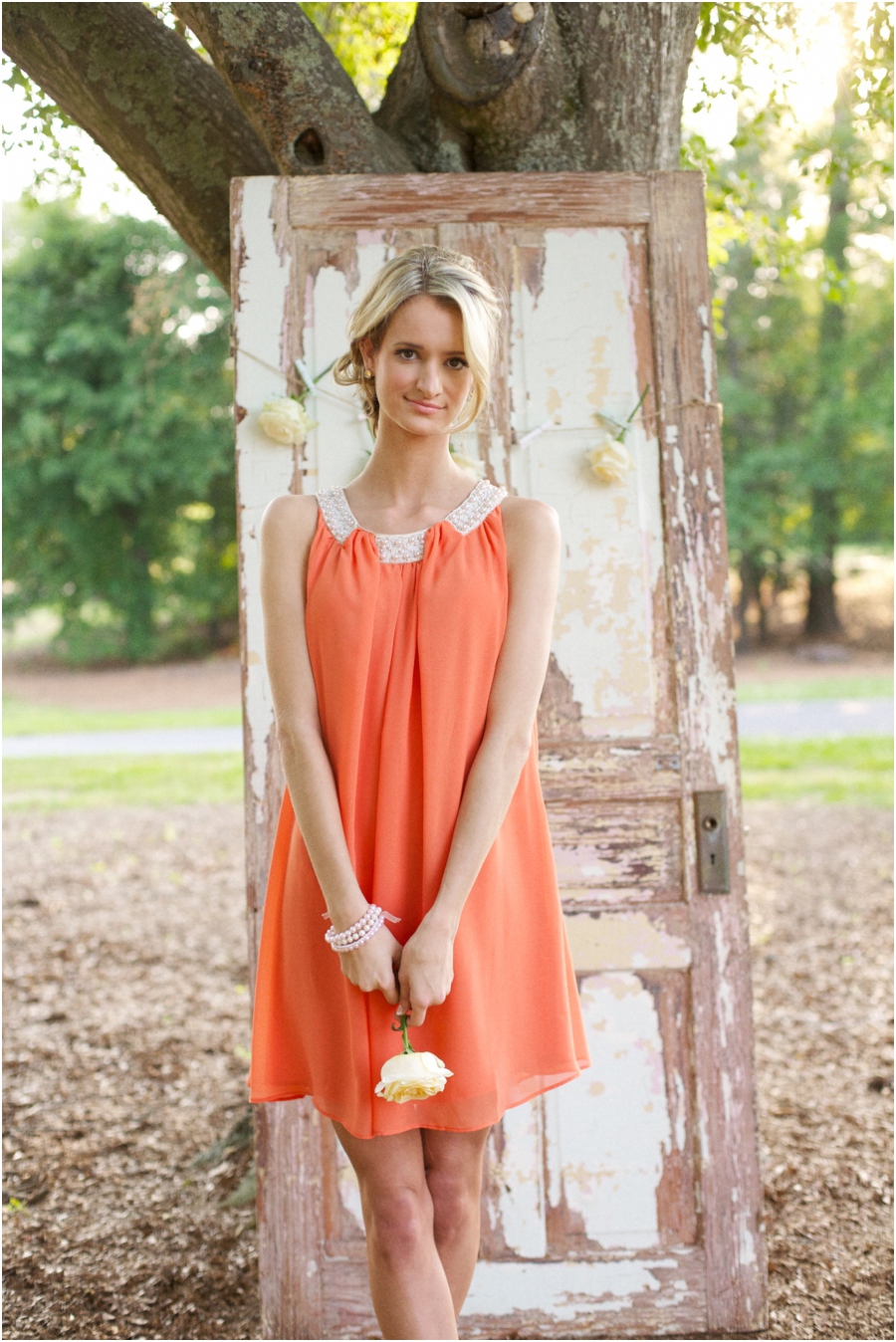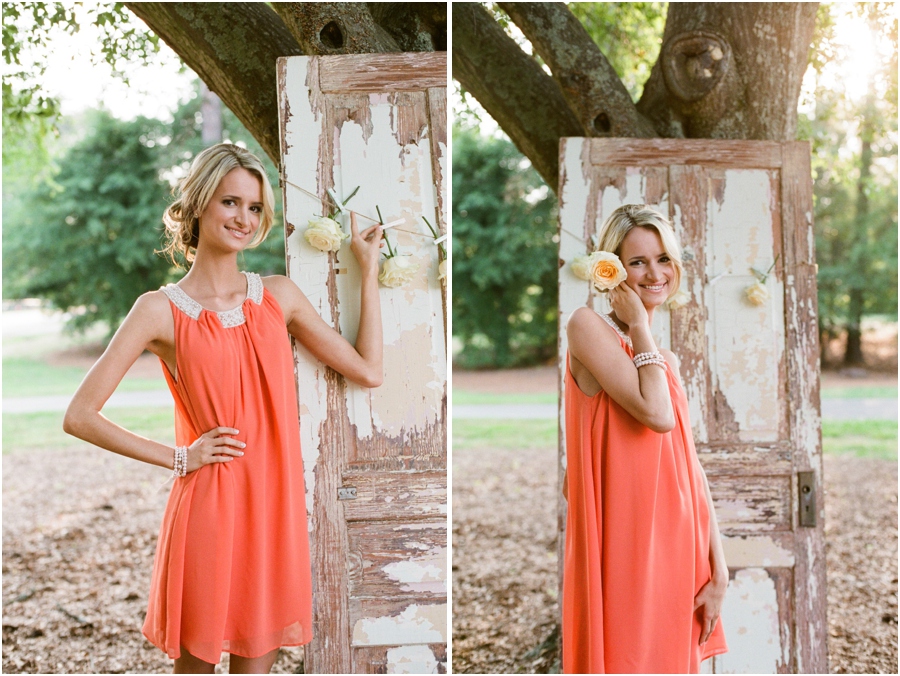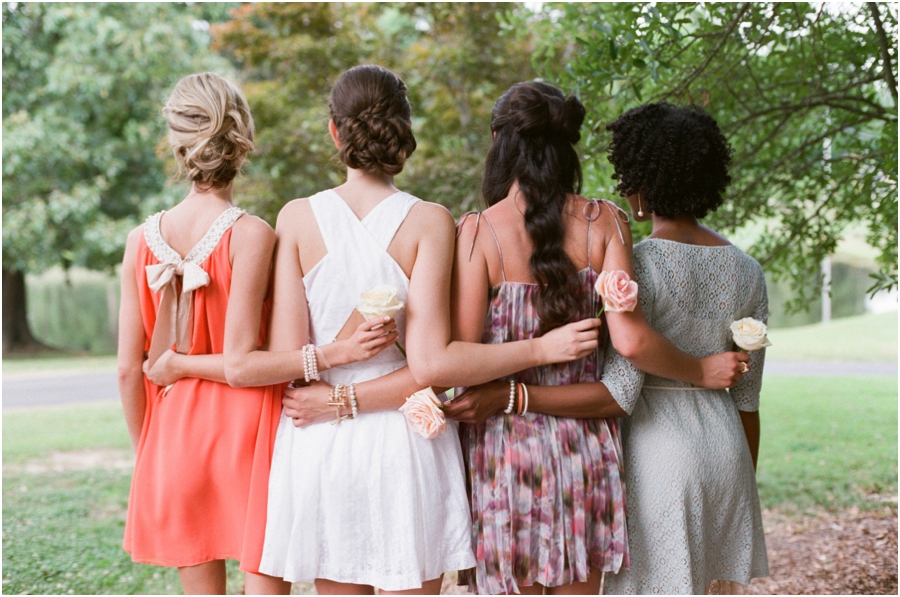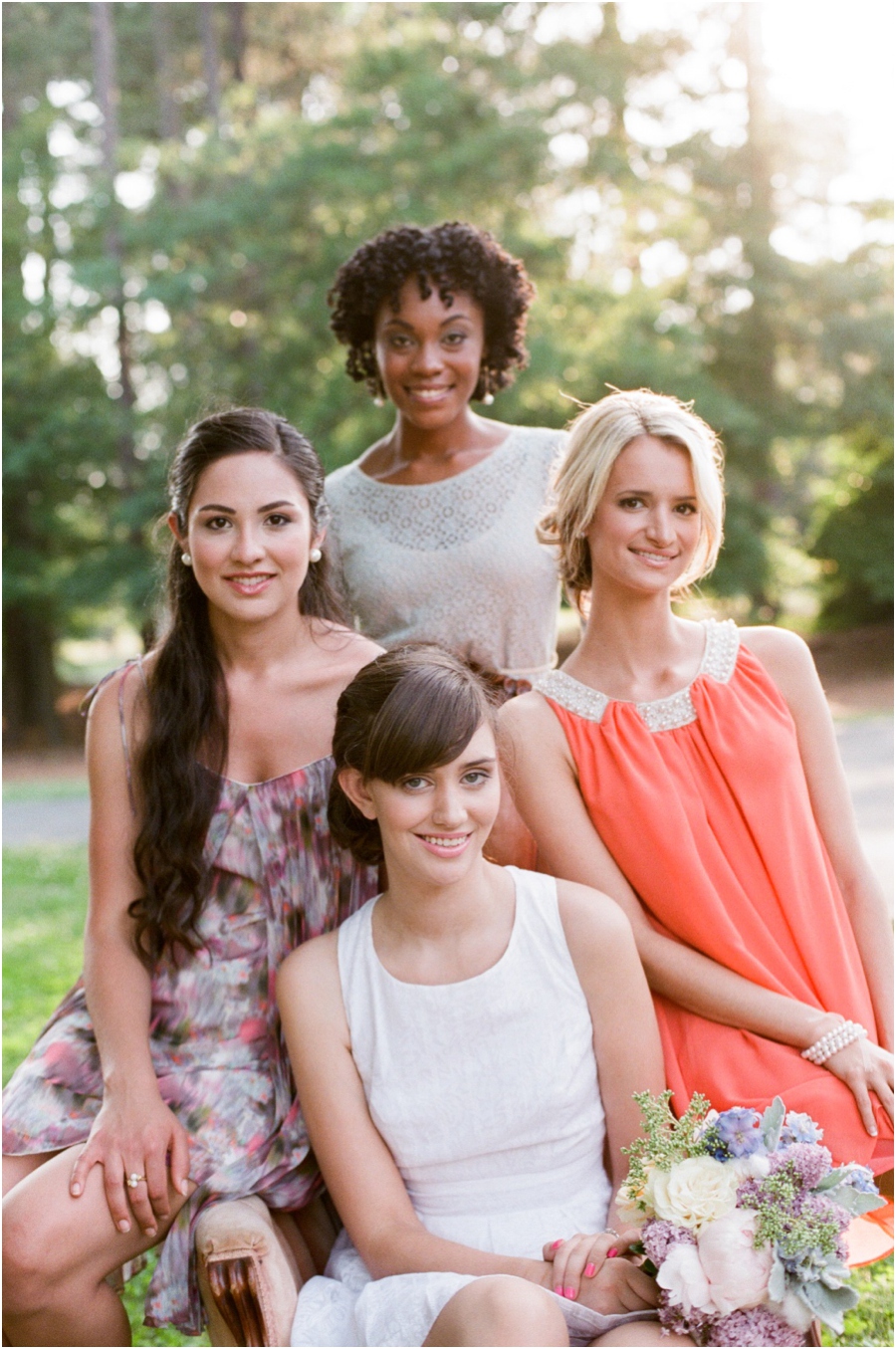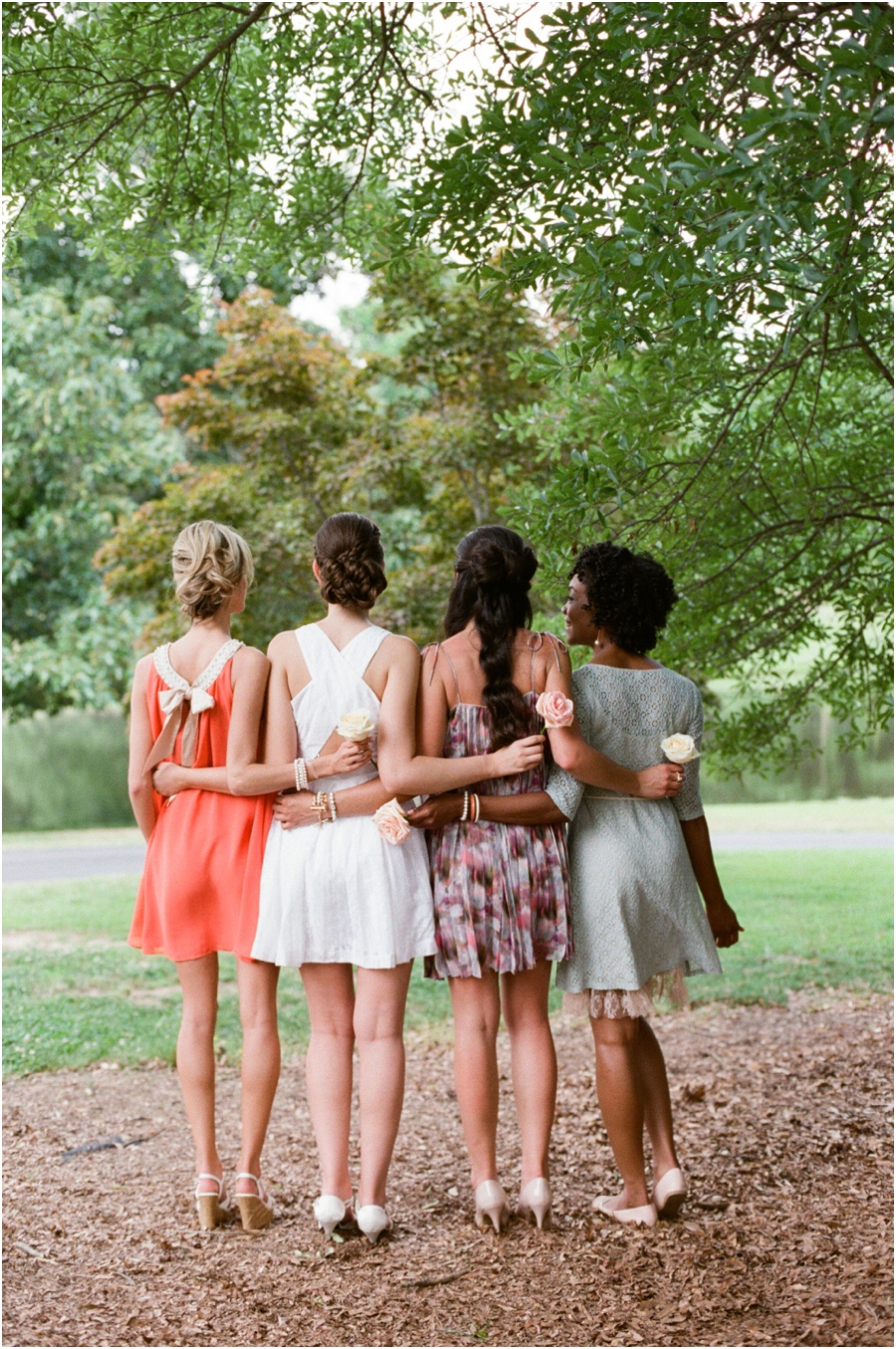 A HUGE thank you goes out to all of the vendors who lent their creativity, time, and resources for this shoot. Y'all outdid yourselves! And to our lovely models, Victoria, Natasha, Giuli, and Stephanie, you all are gorgeous and we absolutely loved working with each of you on this shoot. Thanks also to Amy, for the original inspiration and beautiful feature on The Lovely Find.
Photography + Styling: Brent & Anna @ Live View Studios
Venue: The Oaks at Salem
Florals: Embellished Blooms
Dress Boutique: Peachy Keen
Hair: Tousled
Makeup: Karen Michelle Clark
Pies: ABC Pie Company
Cake: Linacucina
Lemonade: Hubert's Lemonade
Stationary: Crafty Pie Press
Furniture / Tablecloths / Accessories: Simply Put Vintage Rentals