We're both not really morning people. I mean, I can be if I force myself to get up, but Anna usually has to be bribed out of bed with coffee and lots of kisses. The last week I've been waking up and going running each morning, usually before Anna wakes up. One day, when I came back and got on the computer for the day, I found a little note tucked inside my laptop. So, then we both started leaving each other some little note in the morning .. inside of the laptop is a perfect place, by the way! You lay a little note of sweetness on the keyboard, close it – and when it's opened in the morning BHAM! – a special love note just for you :)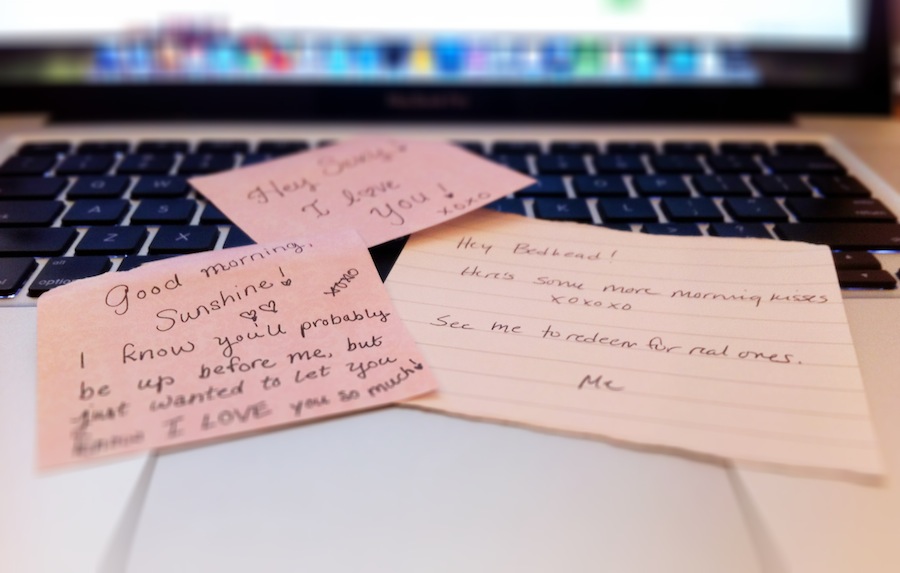 Sometimes we both get so obsessed with work (which we really love our job, so it's not hard) that at the end of the day we realize we haven't spent any time with each other or done anything out of the ordinary from what our usual daily work routine is. It's really important to do these little out-of-the-ordinary things for your spouse to keep your marriage fresh and interesting – and know when to shut work/computer off even if it's still inside your house and just go chill and relax or do something fun together.
What kinds of things do you do to surprise your husband or wife?